The 23 km Cuiabá VLT system will consist of two routes, which, except for viaducts and bridges, will operate entirely in the center meridians of existing roads in Cuiabá and Várzea Grande, the neighboring city across the river [see map above]. The airport is in Várzea Grande, which will also be the location of the VLT shops. Oddly, the VLT system will not serve the Arena Pantanal, the new 42,500-seat football stadium on the west side of town ("AP" on the map). This will be the first VLT line in South America that will not be built on former railroad rights-of-way. Cuiabá has no railroad rights-of-way. The 40 seven-section 400-passenger "Urbos" vehicles, below, are being built at CAF's factory in Zaragoza, Spain [CAF]: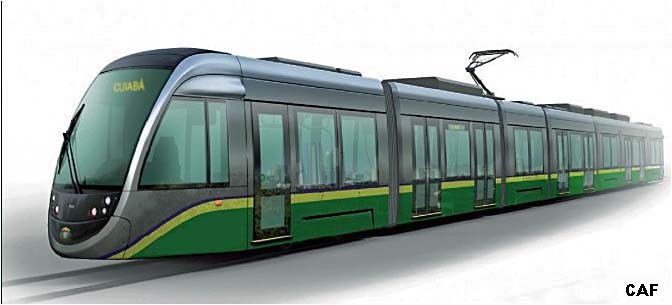 More photographs of the vehicles and a more detailed map of the light rail/VLT line will be added when the names of the 33 stations are finally decided. Meanwhile, there are links to other maps in the list below.
BIBLIOGRAPHY
(in order of publication)

Brasil. Instituto Brasileiro de Geografia e Estatistica. Directoria Geral de Estatistica. Annuario Estatistico do Brazil, 1908-1912. Rio de Janeiro, 1917. Statistics for the animal tramway in 1908.
De volta ao tempo do bonde in Diário de Cuiabá of 18/4/2002. Background, preparations, picture of "tram".
SESC Arsenal será plataforma do projeto 'Bondes Cuyabanos' in O Documento, 31/10/2002. Operation begins tomorrow.
Os Bondes estão de volta in Diário de Cuiabá of 4/11/2002. Tram has been running since first of month. Small photograph.
Mato Grosso. Prefeitura de Cuiabá, Prefeitura de Várzea Grande. Audiência Pública. Anteprojeto do Veículo Leve sobre Trilho. Impressive, 76-page PDF description of the rail project. Text, maps and many diagrams. (To download, click arrow under the word "Arquivos".)
Construcciones y Auxiliar de Ferrocarriles (CAF). Data page on the "Tranvía Cuiabá". Text, stats and four illustrations.
G1.globo.com/Mato-Grosso. Do Bondinho ao VLT, trilhos retornam a Cuiabá depois de quase um século. Nice article with drawings and pictures of trams and (rare) a tram ticket.
Robert Schwandl. UrbanRail.Net. Cuiabá. Map and data.
SkyscraperCity.com. VLT de Cuiabá e Várzea Grande. Forum for the latest news and illustrations.
See my index of
ELECTRIC TRANSPORT IN LATIN AMERICA
If you have comments, criticism or suggestions,
please e-mail me! Leio e escrevo português.
This site was placed online on
16 July 2013
Copyright © 2013-2113 Allen Morrison
ALL RIGHTS RESERVED
TODOS OS DIREITOS RESERVADOS