One of the three turnouts on Rua São Mateus [see
map
] [Raymond DeGroote]: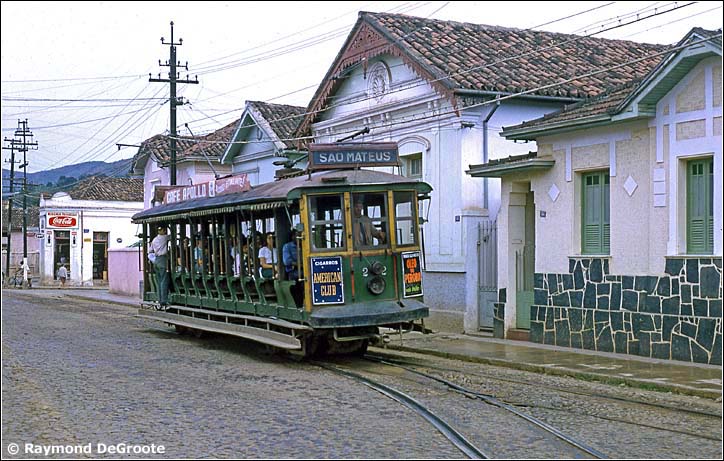 Work car number 1 at a turnout on Rua São Mateus [see map] [Raymond DeGroote]: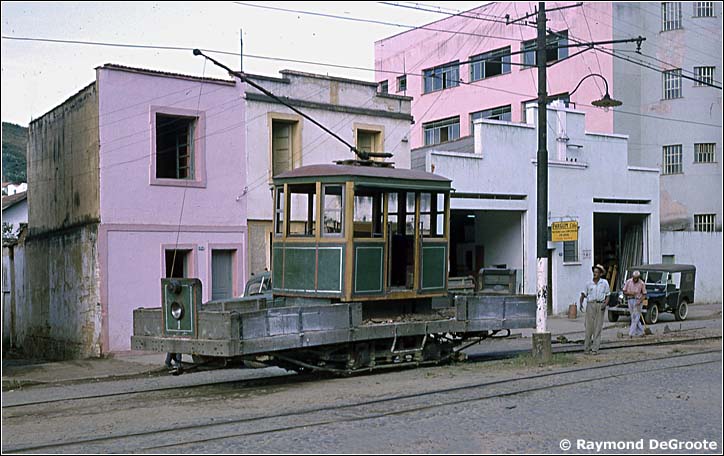 Tram 28 is at the edge of town, approaching the end of the line on Rua São Mateus [see map]. Note the poor condition of the track [Raymond DeGroote]: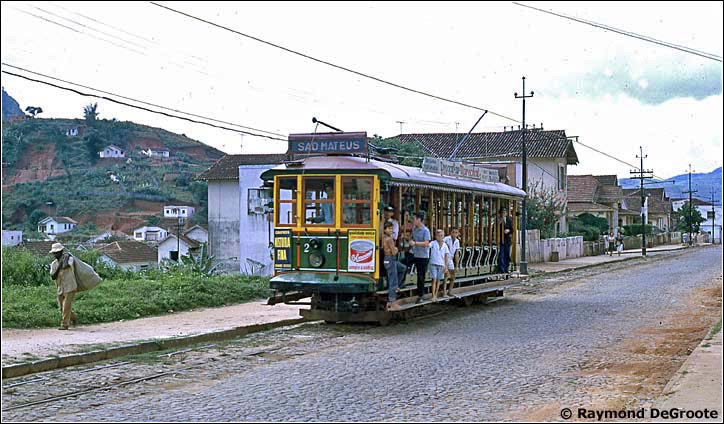 Detail of the previous photograph. Open trams were always playgrounds for young boys [Raymond DeGroote]: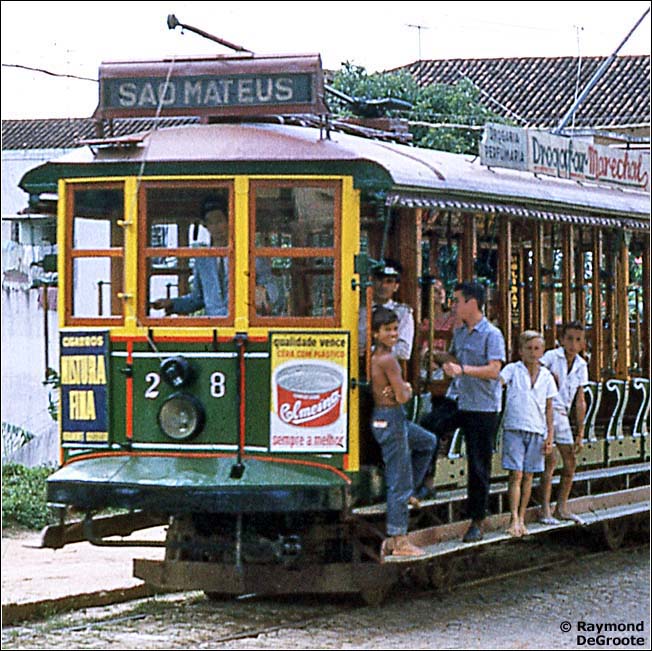 The end of the São Mateus line on Rua São Mateus [see map]. The building in the background, slightly altered, is still there today [see 2011 picture] [Raymond DeGroote]: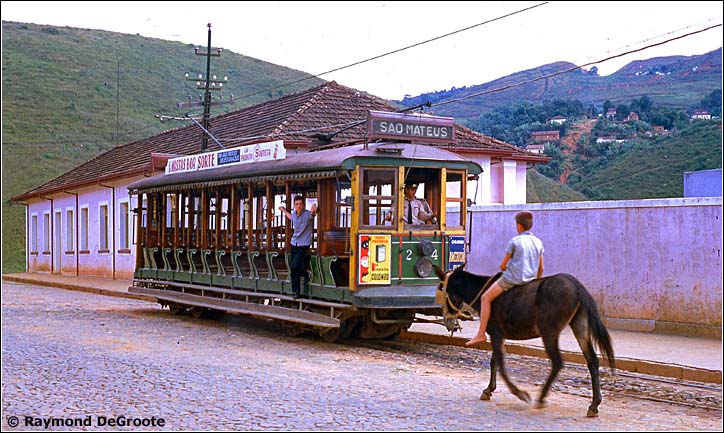 The crew and passengers of tram 28 – as well as local residents – posed for the photographer at the São Mateus terminus [see map] [Raymond DeGroote]: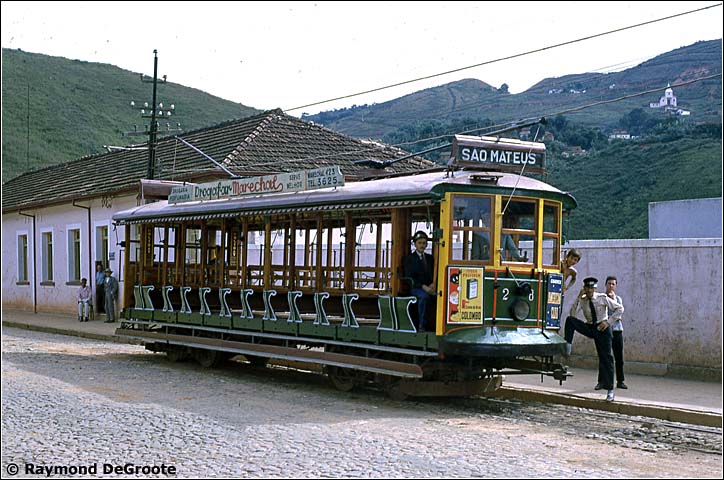 Detail of the photograph above [Raymond DeGroote]: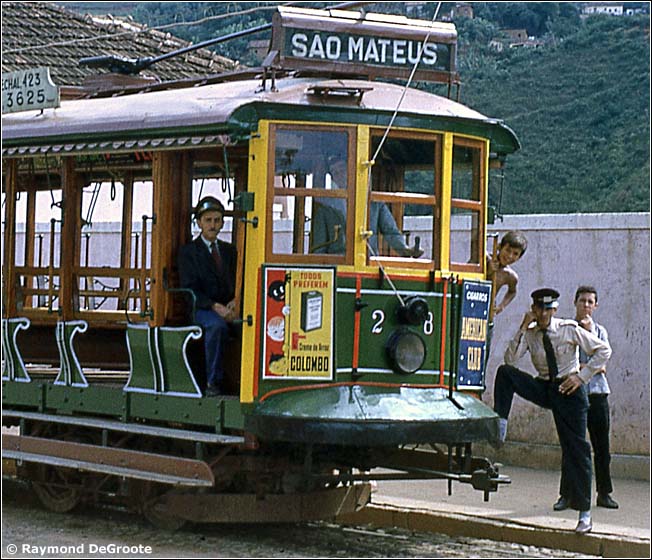 Juiz de Fora mayor Itamar Franco – who would later become president of Brazil – closed the Juiz de Fora tramway system on Thursday night 10 April 1969. The vehicles were 40-65 years old, the rails were in bad shape, and without extensive reconstruction the single-track network could no longer provide adequate transportation for the growing city. The photograph below shows the mayor (without a tie) and the bewildered staff of the tramway company about to take car 30 on its final run [col. Manoel Marcos Monachesi]: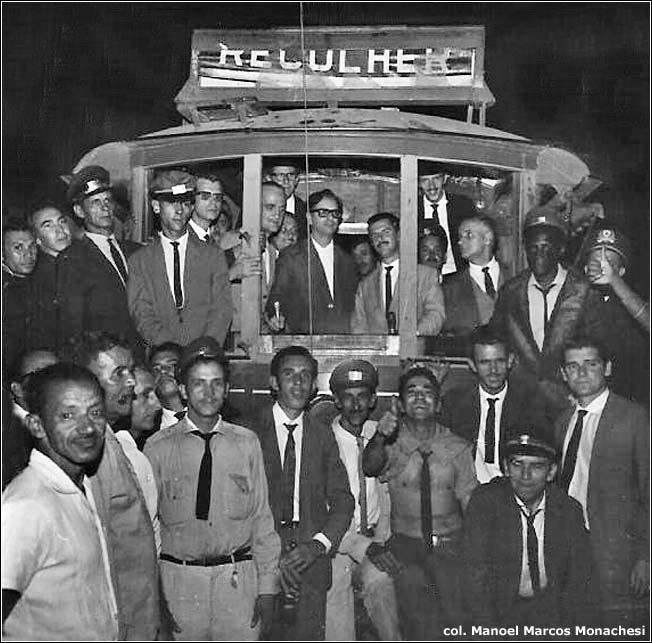 Eighty-eight years of street railway service in Juiz de Fora came to an end [col. Manoel Marcos Monachesi]: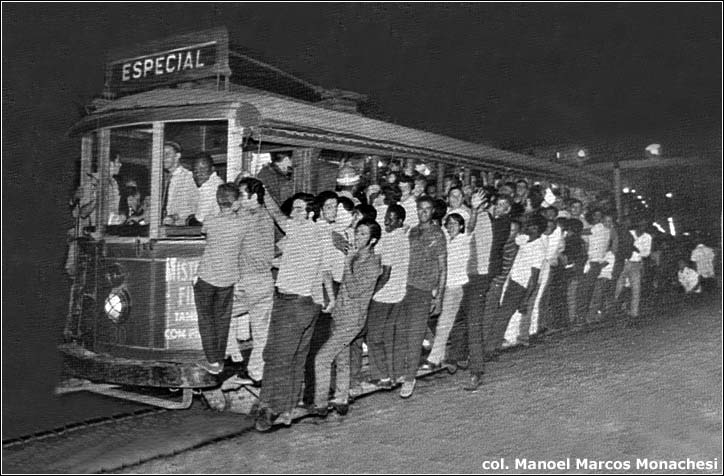 The following two color photographs – in addition to the first photograph on this page – were taken by Rio de Janeiro journalist João Resende, who went to Juiz de Fora to record the tramway closure but could not get satisfactory pictures at night. Somehow, in the following days, he arranged to load tram 9 with children once more and operate it along Rua Gustavo Freire in front of the tram depot [see map]. Power was restored. The date of his pictures is unknown, but it was no doubt sometime that weekend, 11, 12 or 13 April 1969 [João Resende, col. Ana Maria Ribeiro de Oliveira]: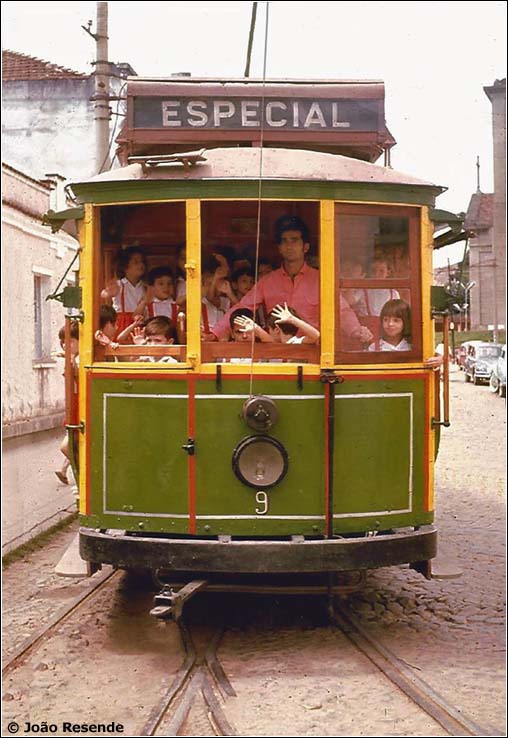 This side view shows the fine craftsmanship of the Companhia Mineira de Eletricidade when it modified Brill car 9 in the 1920s [João Resende, col. Ana Maria Ribeiro de Oliveira]: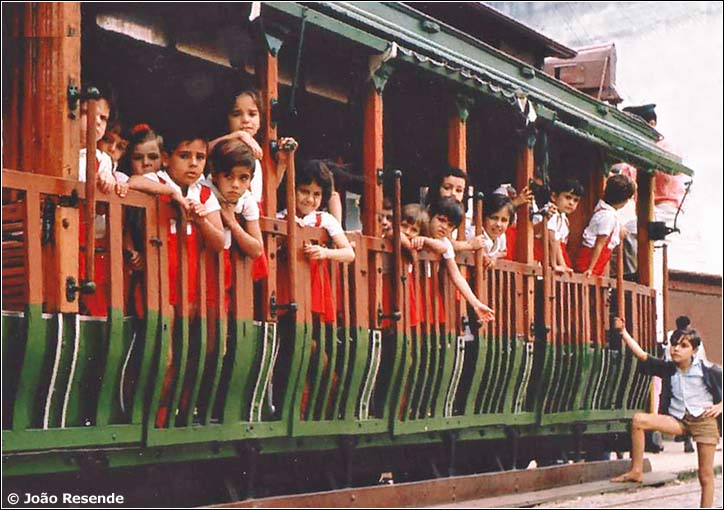 The same tram 9 at another time. The date, circumstances and author of this photograph are unknown – but the car bears the same livery as in the preceding color pictures, so it may have been taken that same weekend. It's the last time that these children will play on their favorite big toy [col. Manoel Marcos Monachesi]: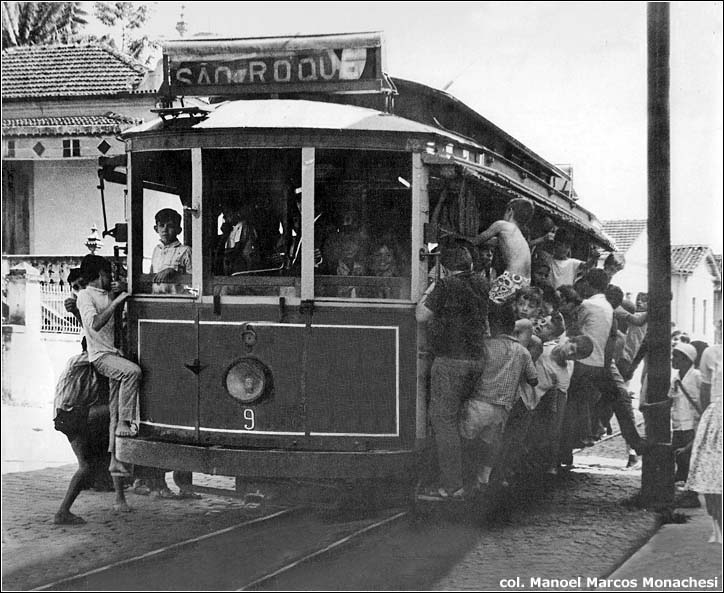 The author visited Juiz de Fora in April 1981 and took the following photograph at the Museu Mariano Procópio. Car 9 had much the same appearance that it had in the three pictures above [AM]: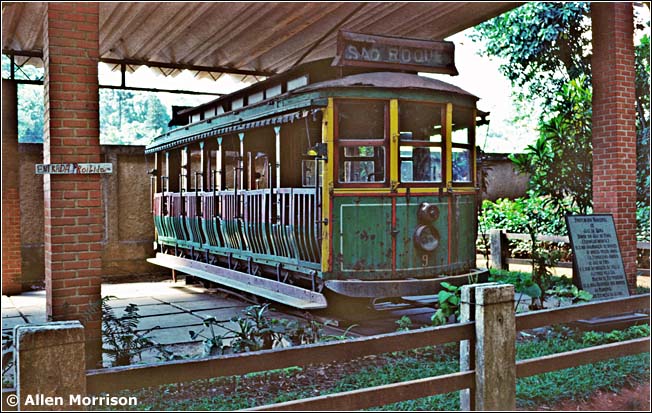 During his visit the author located several other discarded trams that had been placed in schoolyards about the city. This one was at a playground of the Associação Atlética Banco do Brasil [AM]: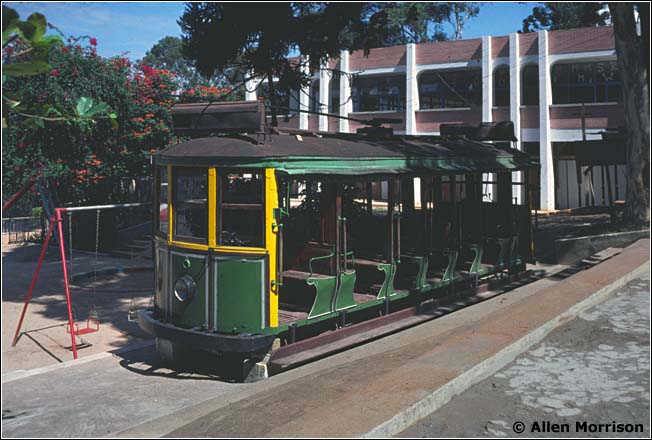 A taxi driver escorted the author to the Pousada de Juiz de Fora, a refuge for government workers in Nova Califórnia, near of the municipal airport. See the tram across the lake [AM]: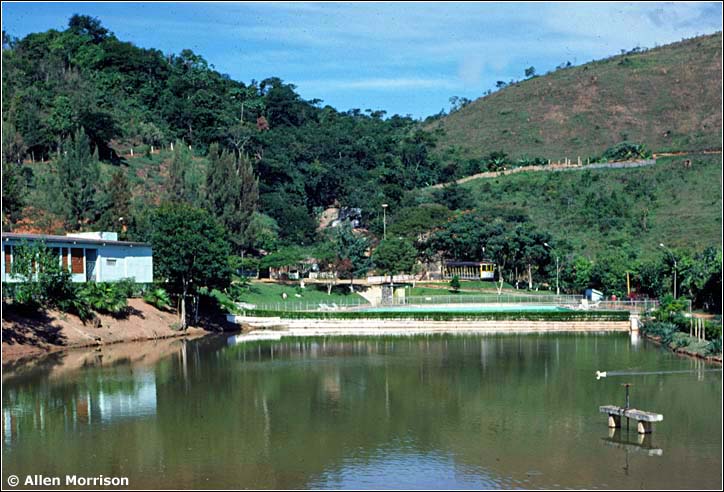 A closer view of the 13-bench car at the Pousada. Its fleet number could not be determined [AM]: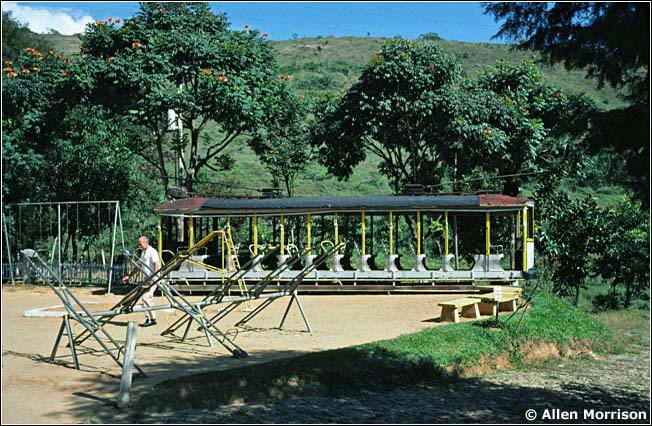 In 2001, 20 years after the previous photographs were made, a Juiz de Fora resident took the following pictures at Parque da Lajinha near the airport. "Escola Infantil" tram 9 and 13-bench car 25 had a splendid new home [Jorge A. Ferreira Jr.]:
A closer view of "Kindergarten" tram 9 in Parque da Lajinha. The exhibit is near the traffic circle at the intersection of Avenidas Guadalajara and Deusdedith Salgado, about 3 km southwest of the former São Mateus tram terminus [see map] [Jorge A. Ferreira Jr.]: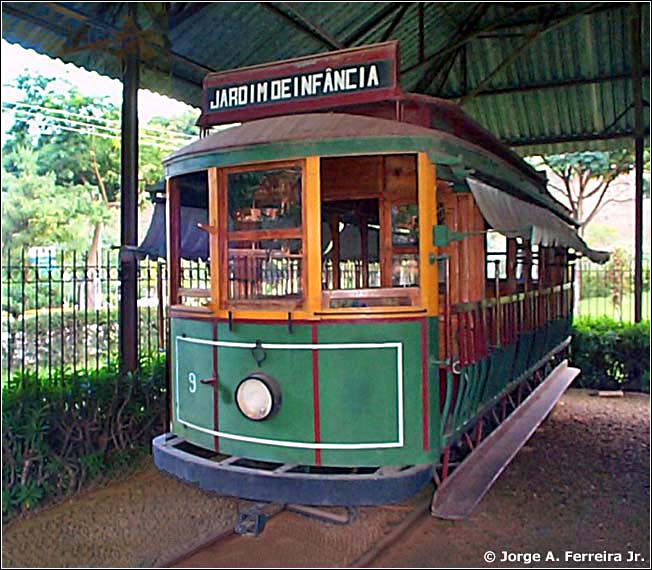 A plaque at the display provides a description and brief history of each car [Jorge A. Ferreira Jr.]: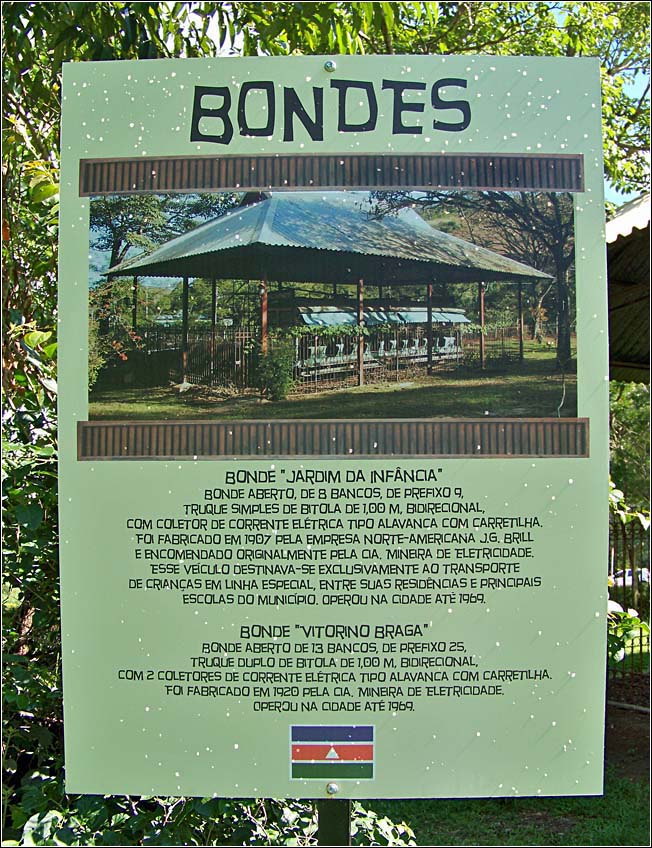 The Leopoldina Railway closed its meter-gauge line to São Geraldo in 1974 and Central of Brazil ended passenger service in 1996. Today there is no passenger rail service of any kind in Juiz de Fora. Here is a 2005 aerial view of the city.
BIBLIOGRAPHY
(in order of publication)
Percy H. Thomas. "Electric Transmission Plant at Juiz de Fora, Brazil" in The Electrical World (New York), 19/2/1898, pp. 240-241. Detailed, illustrated article about the Marmelos power plant and the electric installation in the city. Notes mule tramway (the electric tramway hadn't been built yet).
Brasil. Instituto Brasileiro de Geografia e Estatística. Directoria Geral de Estatística. Annuario Estatístico do Brazil 1908-1912. Rio de Janeiro, 1917. The "Emprezas de carris urbanos" section provides historical data and statistics for Brazil's tramway systems, including those in Juiz de Fora.
"Tramways" in Brazil-Ferro-Carril (Rio de Janeiro), 18/9/1924, p. 301. Five paragraphs about the plan for an electric tram line over the Carlos Otto Bridge to Botanágua.
Minas Gerais. Serviço de estatística geral. Annuário estatístico de Minas Geraes 1922/5. Belo Horizonte, 1929. The section "LXVII: Ferro-carris, Pessoal empregado e elementos do tráfego (1923)" describes fleet list.
Brazil, Serviço Geográphico do Exército. The "Juiz de Fora" topographic map, scale 1:50,000, dated 1937, shows the tramway system.
J. René Eyer Thomaz. Guia da Cidade de Juiz de Fora. Juiz de Fora, [1938]. Fold-out map shows ten tram routes. including a long line along the river, beyond Poço Rico. This map probably shows the system at its maximum extent.
Hildebrando de Araujo Góes. Inundações de Paraibuna em Juiz de Fora. Rio de Janeiro, 1943. Descriptions and analyses of the city's floods, especially the big one of 1940. The book is mentioned here because there is no mention how the flooding affected the tram system.
Brasil. Instituto Brasileiro de Geografia e Estatística. Conselho Nacional de Estatística. Transportation - Meios de Transportes - Transportiloj, 1945. Rio de Janeiro, 1945. Trilingual data for Brazil's principal tramway systems, vol. II, p. 93.
"Os Bondes da Cidade" in O Lince (Juiz de Fora), 2/1952. An article in this monthly magazine laments the elimination of the tram loop that passed the railroad station.
Paulino de Oliveira. História de Juiz de Fora. Juiz de Fora, 1953. "Os Primeiros Bondes," pp. 132-3, considers only mule trams. The author's 1964 notes on Os Bondes provides interesting data on electric trams.
"Conquistas do Povo" in O Lince (Juiz de Fora), 6/1956. The magazine says that the city has lost some of its nicest features, including four of its tram lines: Fábrica, Poço Rico, Vitorino Braga and Costa Carvalho; recommends trolleybuses.
Miguel R. Gomide. "O Bonde" in O Lince (Juiz de Fora), 3/1969, pp. 20-21. Two full pages of tram lore and tram cartoons. One of many such articles that marked the closure of the tramway system.
Waldemar Corrêa Stiel. História do Transporte Urbano no Brasil. Brasília, 1984. The "Juiz de Fora" chapter, pp. 166-173, presents history, three photographs and a timetable of the horsecar lines. Misinformation includes the statement that track gauge was 914 mm (it was 1000) and that some trams came from Europe (all came either from the U.S. or were built in Brazil).
Juiz de Fora. Prefeitura. Secretarias e Órgãos da Administração Municipal: Fundação Cultural Alfredo Ferreira Lage (FUNALFA). Patrimônio Cultural. Bens Tombados - Bondes. 1988. Official government page on the two trams in Parque da Lajinha.
"O namoro nos bondes" in Diário Regional (Juiz de Fora), ?/1998. An elderly woman recalls riding the Poço Rico tram line to the Curtume Surerus in Vila Ideal – indicating that at least at one time the line was much longer than others claim.
"Cidade chegou a ter trinta veículos" in Diário Regional (Juiz de Fora), 23/5/1999. Nice full-page chronology of tramway development. Valuable information on the Poço Rico and Botanágua lines.
"Cena urbana: Nostalgia inevitável" in Diário Regional (Juiz de Fora), 22/8/1999. Impressive three-part tribute to the city's tramway era.
Cleyton Souza Barros. Eletricidade em Juiz de Fora: Modernização por fios e trilhos (1889-1915). Master's thesis at Universidade Federal de Juiz de Fora, 159 pp, 2008. "O Serviço de bondes em Juiz de Fora", pp. 81-90, concerns mostly mule trams, fares on electric trams. Map p. 90.
Jefferson Gomes de Oliveira. História dos Bondes em Juiz de Fora. 2009. Concise history. Three photographs.
Pedro Carlos. "São Mateus - Memórias: Uma volta (de bonde) ao passado" in Revista Expressão (Juiz de Fora), 4/2012. Full-page article on the São Mateus tram line. Five photographs.
Juiz de Fora 150 Anos: Jardim da Infância Mariano Procópio. A nice paragraph about the school and the bondes that brought children there.
Ralph Mennucci Giesbrecht. Estações Ferroviárias do Brasil. History, map and photographs of the two railroad stations: Central of Brazil and Leopoldina.
Marcelo Lemos. Maria do Resguardo: Fotos Antigas de Juiz de Fora. An extraordinary, indexed collection of old photographs of the city and comments from viewers. The source of many of the images on this page.
The author wishes to express his special gratitude to Raymond DeGroote, Manoel Marcos Monachesi, Francino Salzer Rodrigues, Jorge A. Ferreira Jr., Joćo Resende, Wanderley Duck, Earl W. Clark and Ayrton Camargo e Silva for the assistance, information and illustrations that they provided for this page.
___________________________
See the Trams of / Veja os Bondes de
Além Paraíba / Belo Horizonte
Bom Sucesso / Lavras / Sacramento
See my index of
ELECTRIC TRANSPORT IN LATIN AMERICA
If you have comments, criticism or suggestions,
please e-mail me! Leio e escrevo português.
This site was placed online on 4 March 2013
Copyright © 2013-2113 Allen Morrison
ALL RIGHTS RESERVED
TODOS OS DIREITOS RESERVADOS
As fotos coloridas desta página são protegidas pela Lei do Direito Autoral (Lei N° 9.610 de 19 de Fevereiro de 1998) e não podem ser reproduzidas sem a expressa autorização do autor.