T h e
F U R A - F I L A
In the late 1990s São Paulo, Brazil, planned an unusual reserved-lane trolleybus system that would use double-articulated 4-axle vehicles with high-level doors on both sides for platform loading. Most of the line would run in "canals" on structures above the street; small side wheels would keep the vehicles in place. Both the line and the "Veículo Leve sobre Pneus" (Light Vehicle on Tires) were nicknamed "fura-fila" – a term that means bottleneck-breaker, a person that cuts ahead in line, a vehicle that gets around traffic. Construction began in 1997 and experimental operation of the first 2.8 km of Route 1 began on 30 September 2000. The photographs below were taken in October 2000 by Sergio Martire of São Paulo. The first view shows the terminal under construction at Parque Dom Pedro II – at the north end of the line. At this point the vehicles ran on the surface.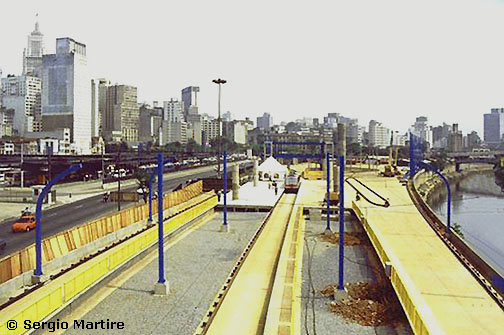 Here is another view of the terminal under construction at Parque Dom Pedro II. The vehicle in this photograph was a conventional articulated trolleybus borrowed from the city system; it is not a "VLP".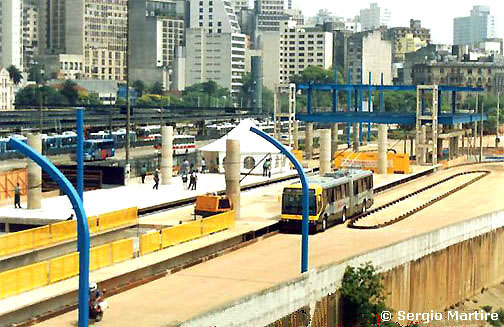 The temporary shelter set up at Parque Dom Pedro II for experimental operation of the line. The structure just beyond would be the new terminal. Note the high-level loading and "canal" for the VLP.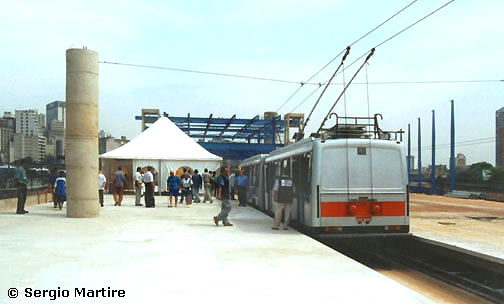 This photograph shows a genuine Veículo Leve sobre Pneus - a VLP or "fura-fila". It is 25 meters / 82 feet long, has a Volvo chassis, Marcopolo body, two articulations, four doors on each side, and 11 television cameras for surveillance of its 266 passengers.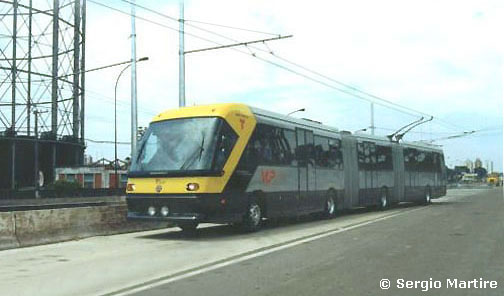 Another view of the VLP that shows the high-level doors. Next to the front axle one can (almost) see the little guide-wheels that keep the vehicle in place.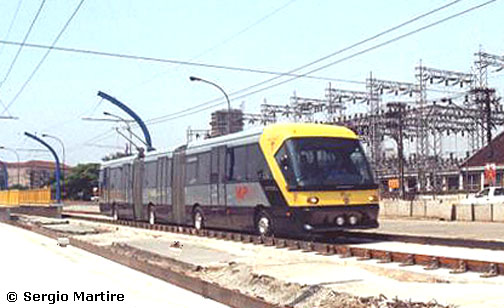 A nice view of Avenida do Estado, south of Parque Dom Pedro II, where the line began its climb to the elevated structure. The aerial sections of the line were not yet in operation.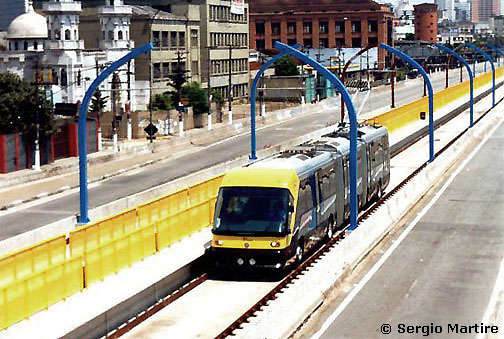 Alas, a new mayor elected in 2001 scrapped the fura-fila project, the prototype vehicle was mothballed and the line was rebuilt for ordinary non-electric buses. In 2010 a monorail is planned along part of the right-of-way.
Photographs Copyright Sergio Martire

This webpage was created by
ALLEN MORRISON
and originally uploaded on 15 November 2000.
It was revised on 27 March 2010.
RETURN TO MY HOME PAGE