AMERICAN, CHINESE,
FRENCH and SWISS
TROLLEYBUSES
in CHILE
by Allen Morrison

Trolleybuses have operated in two cities in Chile.
They run only in Valparaíso today,
but there have been three trolleybus eras in Santiago.
There was an experimental line in the Chilean capital in 1940;
a large trolleybus system operated from 1947 until 1978;
and Santiago had another line between 1991 and 1994.
A variety of vehicles has served these systems
and remnants of them still run in Valparaíso today.
Prominent among these is a group of American trolleybuses
that inaugurated the big Santiago system in 1947.
Valparaíso trolleybuses 801 and 814, shown below,
were among a group of 17 vehicles that were ordered
from the Pullman Standard Co. of Massachusetts in 1945
and were delivered to Santiago in 1946 and 1947.
When the Santiago system closed in 1978,
these and other Pullmans were transferred
to the Valparaíso trolleybus system,
where they have carried passengers ever since.
They are the oldest operating trolleybuses in the world.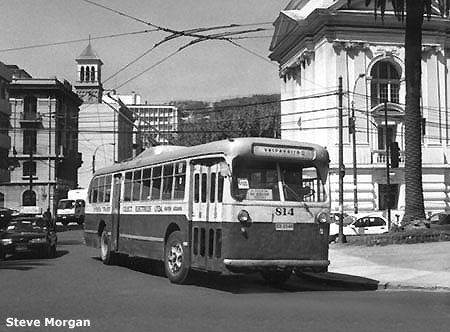 Ex-Santiago Pullman 814 is not only one of
the world's oldest trolleybuses in regular service.
It is the only Pullman still in its original 1947 condition.
Steve Morgan photographed 814
turning from Calle Edwards onto Avenida Brasil in Valparaíso
on 21 October 1996.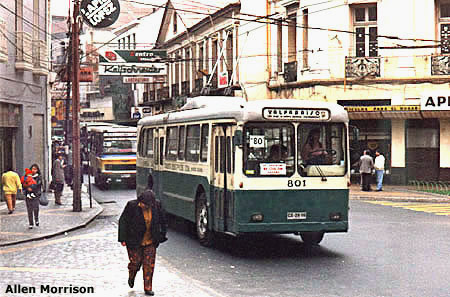 Valparaíso 801 was Santiago's first Pullman and is older than 814,
but was remodeled with new windows in 1989.
This was the vehicle that Chilean President González Videla
tested on 16 July 1947, and was one of two Pullmans
(the other was 811) that formally inaugurated
Chile's first big trolleybus system on 31 October 1947.
Allen Morrison caught it on Calle Esmeralda in Valparaíso
on 26 April 1994.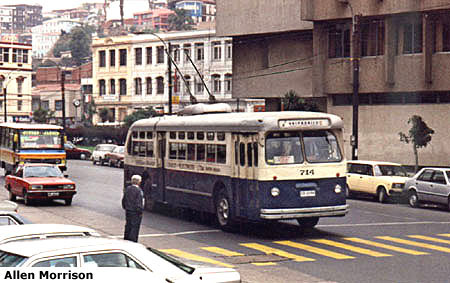 The Valparaíso trolleybus system opened in 1952
with a second group of Pullman vehicles,
which were similar to those in Santiago but had standee windows.
714 was still in its original 1952 condition
when photographed by Allen Morrison
on Avenida Brasil in Valparaíso on 27 April 1994.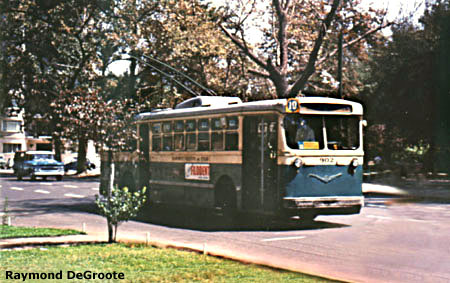 In 1953 the Santiago trolleybus company
acquired 100 new vehicles from Vétra in France.
Their standee windows suggest that they were designed
to resemble the new Pullman units in Valparaíso.
None of these French vehicles survives today.
This rare view of 902 in Parque Forestal in Santiago
was taken by Roger Knox in 1965.
The photograph is from the collection of Raymond DeGroote.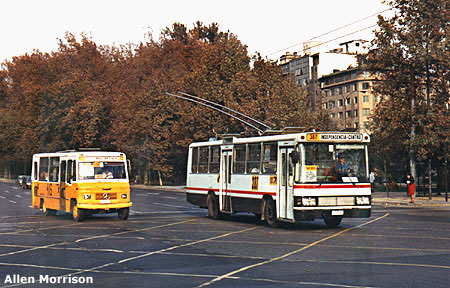 in 1991 Santiago opened a new trolleybus line
with a fleet of vehicles that included
eight Shenfeng units built for Chile in China.
Santiago, Chile, and Kathmandu, Nepal, were the only places
outside China where one could ride a Chinese trolleybus.
Allen Morrison took this picture of Shenfeng 607 (& German friend)
crossing Parque Venezuela in Santiago on 24 April 1994.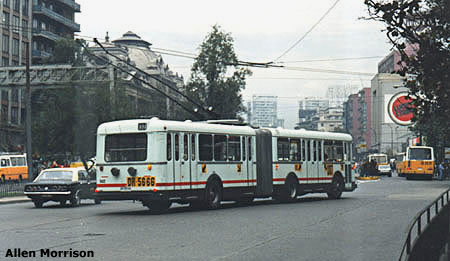 In addition to the Chinese vehicles,
the new Santiago company operated a group of second-hand units
purchased from various trolleybus systems in Switzerland.
Articulated trolleybus 502, above, was numbered 109 in Zürich.
Allen Morrison took this photograph at the corner of
Av. Bernardo O'Higgins and Calle San Antonio on 25 April 1994.
This trolleybus system closed three months later.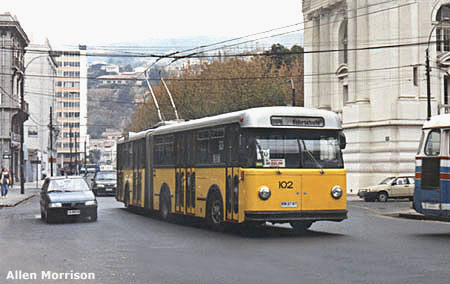 Some of the Swiss imports stayed in Valparaíso,
the Chilean port where they had arrived.
Articulated trolleybus 102, from Schaffhausen,
was photographed by Allen Morrison
on Calle Edwards in Valparaíso on 26 April 1994.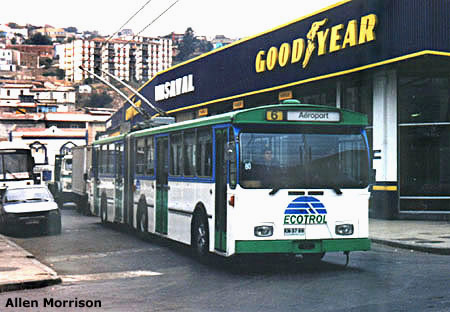 Ex-Genève trolleybus 643
is still signed for the airport in that French-speaking city.
"ECOTROL" means ECOlogical TROLebús.
Scene is Calle Rancagua in Valparaíso on 27 April 1994.
Photograph by Allen Morrison.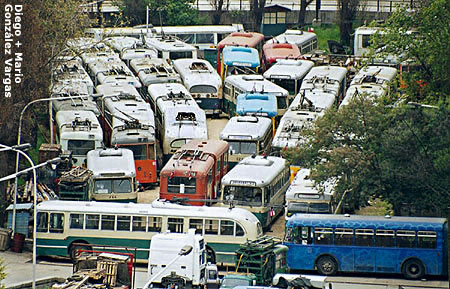 In June 2000 the Valparaíso government expropriated
the company's 97-year-old depot (built for trams in 1903)
and the fleet was banished to a yard on Av. España.
Diego and Mario González Vargas
captured this view in September 2000.

This webpage was originally created
by Allen Morrison on 15 December 1998.
See also my 2-part website about
The Trolleybuses of Valparaíso
and my webpage on
The Pullman Trolleybuses of Valparaíso
If you enjoy these pages please e-mail me
and/or
RETURN TO MY HOMEPAGE
Copyright © 2003 Allen Morrison - ALL RIGHTS RESERVED