Compared to the quantity and variety of lines in Mexico, there were relatively few tramways in the seven countries that comprise Central America. Each had a few horsedrawn railways on plantations, but street railway operations in cities were rare, and little Belize (ex-British Honduras) had none. Battery-powered trams served a suburban line in San Salvador, El Salvador, and there was an electric interurban railway between San Felipe and Quezaltenango in Guatemala. But only two cities in Central America had genuine electric trams that drew power from wires over their streets: Panama City and San José.
PUNTARENAS
Costa Rica is a small country, a little larger than Switzerland. Only 75 miles separate its Atlantic and Pacific coasts. Bananas, coffee and sugar are the exports and to facilitate trade the Costa Rican government awarded a franchise in 1854 to an English merchant named Richard Farrer to build a "camino de ferro o de madera" (iron or wood railway) from the Pacific port of Puntarenas to San José [see area map] . Farrer succeeded in building only a 9-mile horsecar line from Puntarenas to Barranca, which he inaugurated on 12 November 1857. El Burrocarril ("The Donkey Road") was the first railway not only in Costa Rica but in all Central America. (The Panama Railroad began partial operation in 1851, but Panama at that time was part of Colombia.) Author Joaquín Fernández Montúfar reproduced the following illustration on p. 7 of his Historia Ferrovial [see BIBLIOGRAPHY]: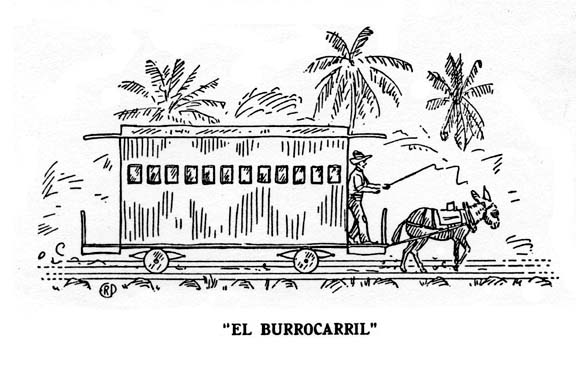 It is not certain that the vehicle looked like that, but a visitor in 1858 observed "dos docenas de ventanillas" (two dozen windows) on the car [Fernández, Historia, p. 11]. The Atlantic Railroad – the steam railroad from the Caribbean port of Limón – reached San José in 1874 [see area map], but the Pacific Railroad from Puntarenas did not reach the capital until 1910.
CARTAGO
Another Englishman named Silas Wright Hastings acquired a franchise in 1885 to build a street railway in San José and another franchise in 1886 to build a tramway in Cartago, 15 miles east of the capital [see area map]. In September 1886 he registered Costa Rica Markets & Tramway Co. in London and ordered seven trams for his Cartago line from J. G. Brill Co. in Philadelphia (Brill order #1524). All were 8-wheelers. Six of them were double-deckers, unique in Costa Rica [col. AM]: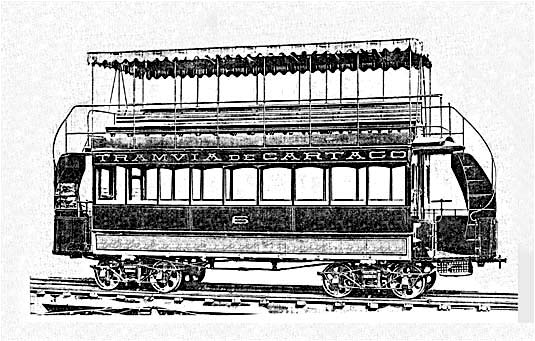 In March 1887 Hastings ordered three small steam dummy locomotives from Kitson & Co. in Leeds (orders #221-223). The photograph below shows one of them [col. Science Museum, London]: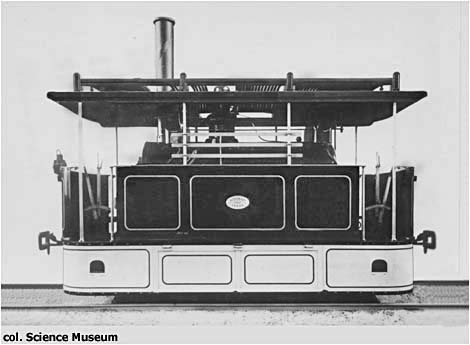 Costa Rica's first genuine street railway system opened in Cartago in 1888. There were two routes. Locomotives pulled the passenger cars from the cemetery across Avenida 2 and east to San Rafael, and from the railroad station down Calles 3, 10 and Cerrillos to San Francisco (Agua Caliente) [see map]. This was one of the very few 100% steam-powered street railways in the Americas. Unfortunately no pictures of it in operation have been found. The little town of 5,000 residents could not support the service and the east-west line closed about 1890. The timetable below, dated 1892, advises travelers to take an early tram from the railroad station in order to have time to bathe, refresh and have lunch in Agua Caliente and return to Cartago by 11:30 [Max Espinoza]: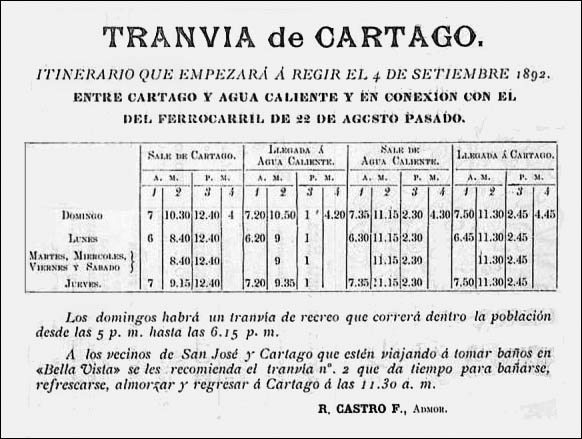 The company went bankrupt in 1898, the rails were removed and, in the words of author Mario Sancho,"the failed enterprise was added to the list of British eccentricities" [see BIBLIOGRAPHY, 1961].
The Cartago tramway story does not end there! A series of earthquakes in April and May 1910 destroyed 60% of the city. To help rebuild it, the government laid 2 km of Decauville track down the principal streets and hauled the rubble away in what an historian called tranvías [see Fernández Esquivel, 1995, in BIBLIOGRAPHY].
SAN JOSÉ
On 10 February 1888 Silas Wright Hastings ordered ten small 4-wheel cars from J. G. Brill in Philadelphia for his "Tramway and Hippodrome Company of San José" (Brill orders #1957-60). Most of the vehicles were windowless open models, with platforms at the ends and longitudinal benches inside. Here is a picture of car number 7 (the numeral is barely visible on the front panel), taken at the factory in Philadelphia before it was shipped to Costa Rica [Brill Collection, Historical Society of Pennsylvania]: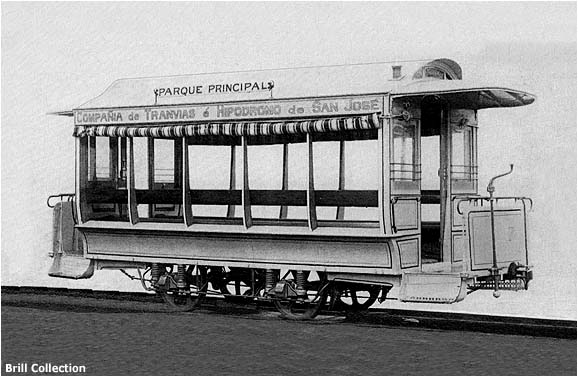 Tram number 2, shown below, was a special closed model designed for the personal use of Costa Rican President Bernardo Soto Alfaro [Brill Collection, Historical Society of Pennsylvania]: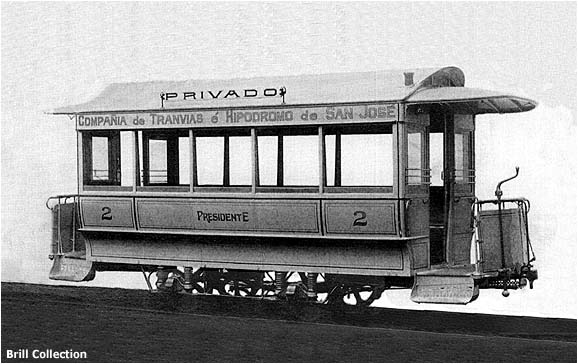 These are the only known photographs of the trams that ran on the first street railway in San José. Operation began in 1889, and there was only one line, along Avenida Central from the Atlantic Railroad station to the hippodrome in the "Parque Principal" – today called La Sabana [see map]. Like the steam tramway in Cartago, the horse tramway in San José lasted only 10 years.
A franchise to build an electric tramway in San José was awarded on 27 March 1896 to a French coffee trader named Amon Fasileau Duplantier. The contract was transferred the next year to New York industrialist Minor Cooper Keith, who had built the steam railroad line from Limón, and then to the Costa Rica Electric Light & Traction Co., organized in London in 1898. CREL&T purchased four electric trams from Jackson & Sharp Co. in Wilmington, Delaware, USA, in 1898 (J&S orders 1036-39). The four cars, numbered 1-4, arrived in San José that year and opened the San José electric tramway on 9 April 1899. The postcard view below shows one of them traveling eastward near the west end of the line [see map] [col. AM]: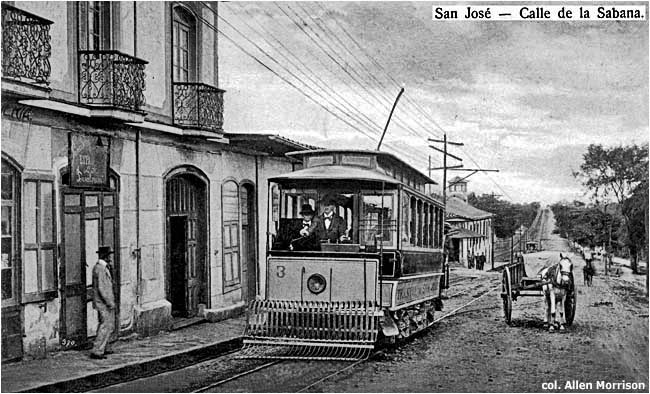 The tram depot was on Calle 21 a block south of the Atlantic Railroad station [see map]. Track gauge was 42 inches, the same used by the steam railroads of Costa Rica. CREL&T ordered three more 7-window electric trams from Jackson & Sharp, numbers 5-7, on 2 September 1899 (J&S orders 1459-61). Car 5 shown in the photograph below, taken at the J&S factory in Wilmington, Delaware, is similar or identical to car 3 above. It has a "Lord Baltimore" truck built by Baltimore Car Wheel Co. in Baltimore, Maryland [col. Earl Clark]: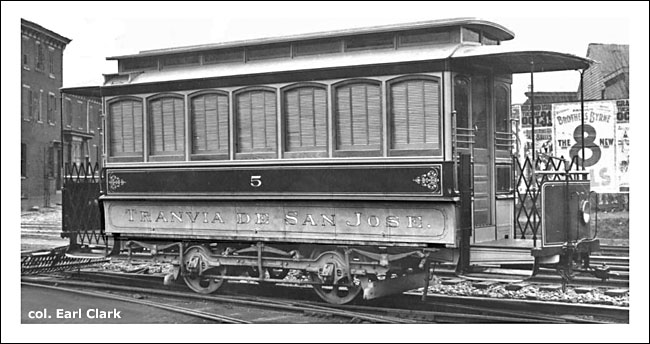 At some time between 1900 and 1908 CREL&T acquired three more electric trams, numbers 8-10, but their source is unknown. The new electric trams gradually replaced the horsedrawn trams and by August 1901 were running the entire length of Av. Central, from La Sabana to San Pedro [see map]. A branch to the cemetery opened in 1908 and, with much fanfare, CREL&T inaugurated a suburban line to Guadalupe in 1910. The photo below shows the inaugural run. Note that the front platform on the first car is enclosed [col. AM]: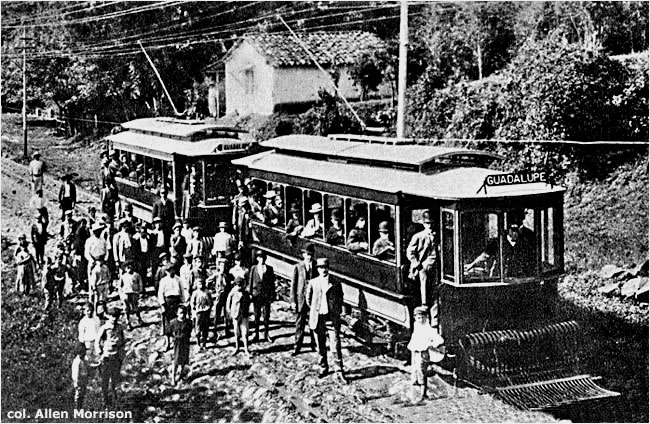 The English company ordered six cars from United Electric in Preston, England, on 9 June 1909. They were numbered 11-16, had Brill model 21-E trucks, electrical equipment from Allgemeine Elektricitäts Gesellschaft in Germany, and enclosed platforms at both ends [col. AM]: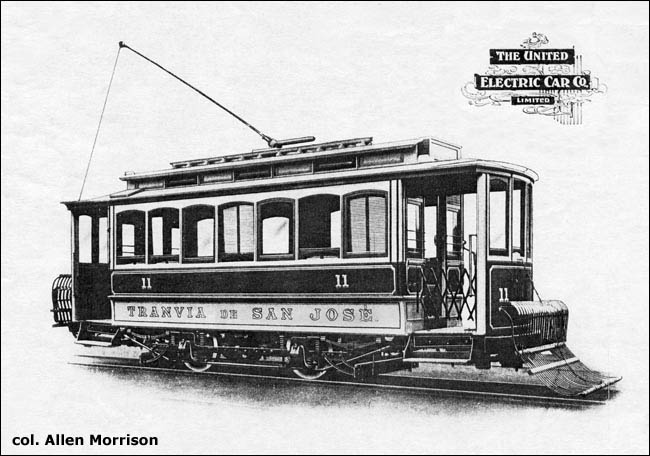 Number 15 in the postcard view below is presumably one of the English/German trams – but this is not certain since the date of the picture is unknown and the vehicle may have been renumbered. Av. Güell was the original name of Av. Central. The photo was taken near the west end of Av. Central [see map] [col. AM]: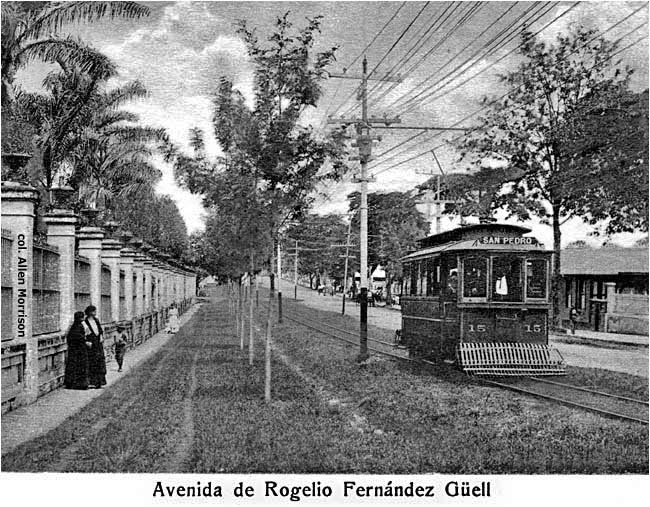 The Pacific Railroad from Puntarenas finally reached San José in 1910 and CREL&T built a branch south on Calle Central to the new "Pacífico" station [see map]. The postcard below, mailed in 1920, shows an unidentified tram in front of the Iglesia Metropolitana (cathedral) on Calle Central [col. AM]:
The following photograph is said to have been taken in 1924 [col. Max Espinoza]: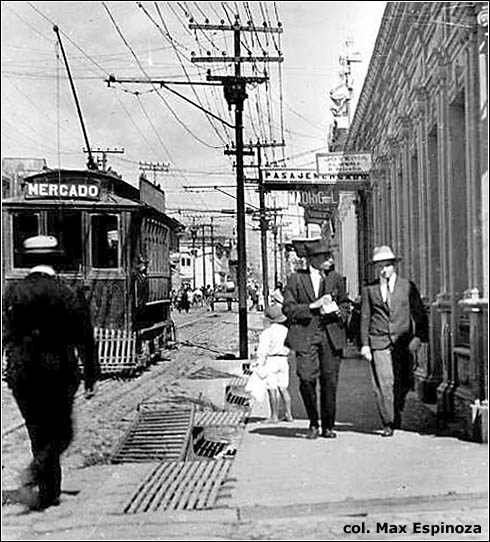 Motormen and conductors of the Tranvía de San José operated by the Costa Rica Electric Light & Traction Co. [col. AM]: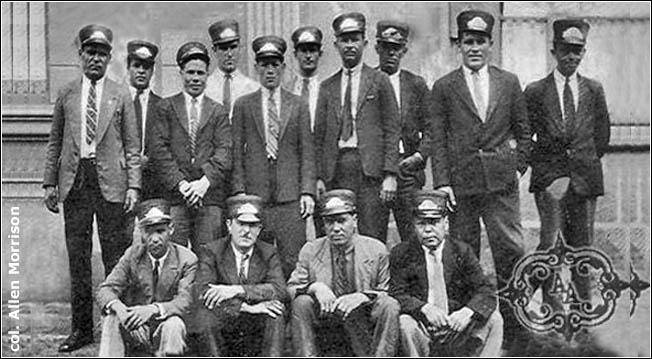 A hideously cropped later view [col. Max Espinoza]: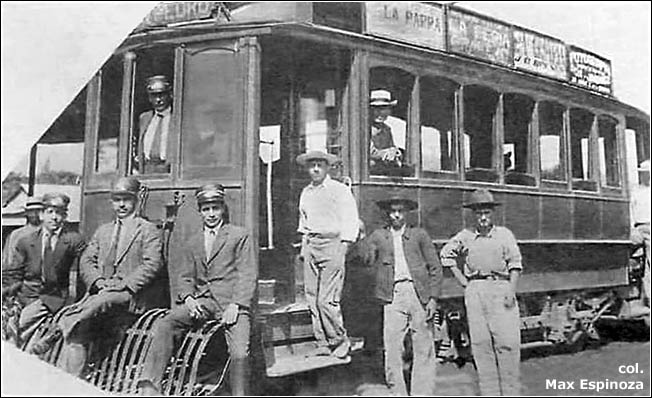 Another undated scene [col. AM]: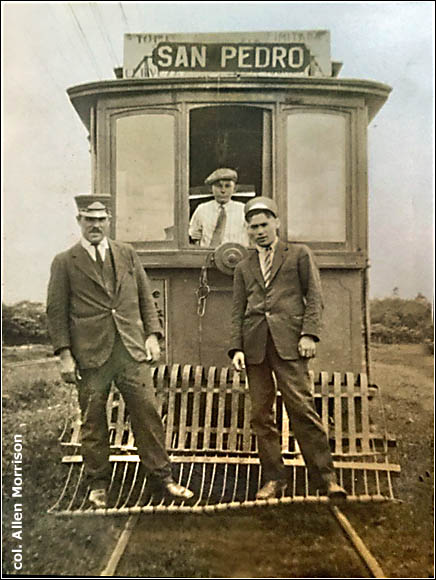 The following postcard shows a tram climbing the grade on Av. Central called Cuesta de Mora (Blackberry Hill), near the Atlantic Railroad station [see map]. The view is west. The tram is headed for San Pedro. Note the sidewalk for pedestrians [col. AM]: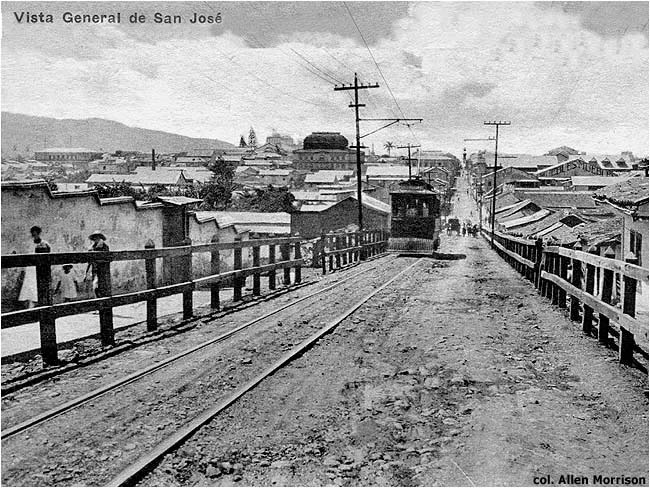 Another postcard view taken some years later from approximately the same angle as above. Tram number 1 looks like a reconstruction of one of the original cars [col. AM]: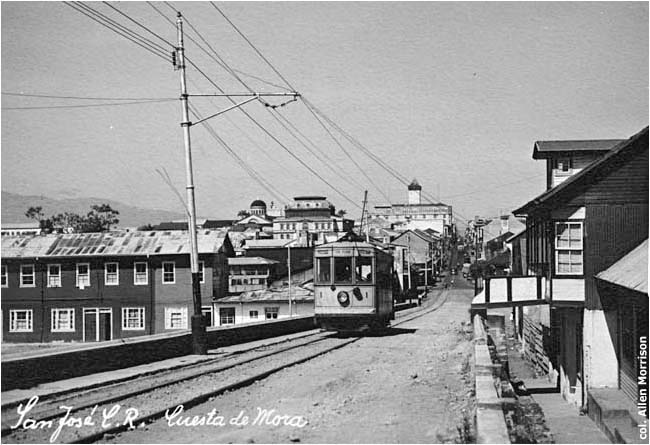 In 1912 CREL&T ordered three electric trams from J. G. Brill in Philadelphia (order #18315). Their appearance is uncertain, but they were presumably numbered 17-19. In 1922 CREL&T opened a branch down Calle 9 to Plaza Víquez [see map] and in 1925 purchased five more cars from Brill (order #22244), one of which is shown in the illustration below. They were numbered 20-24 and had Brill model 79-E trucks [Brill Magazine, 8/1926, p. 380]: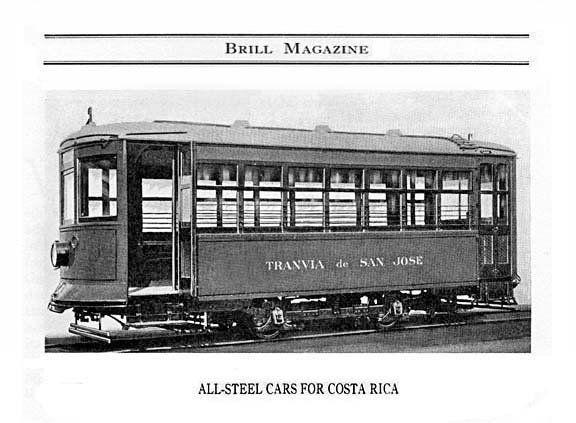 An interior view of the tram above [Brill Magazine, 8/1926, p. 381]: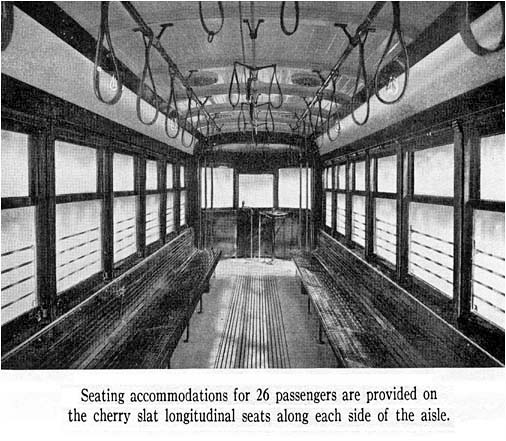 This placid view shows one of them at the San Pedro terminus in 1935 [see map] [col. AM]: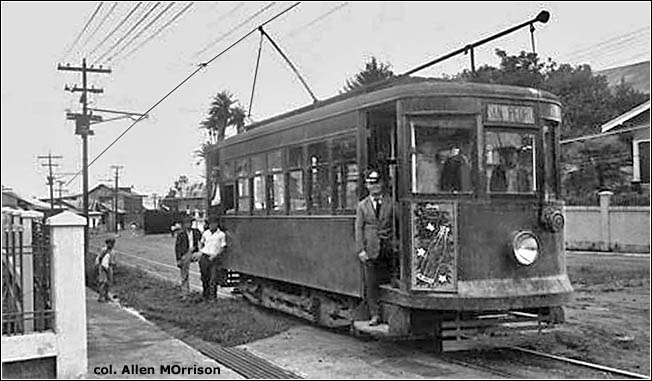 A busy scene downtown [see map] [col. Max Espinoza]: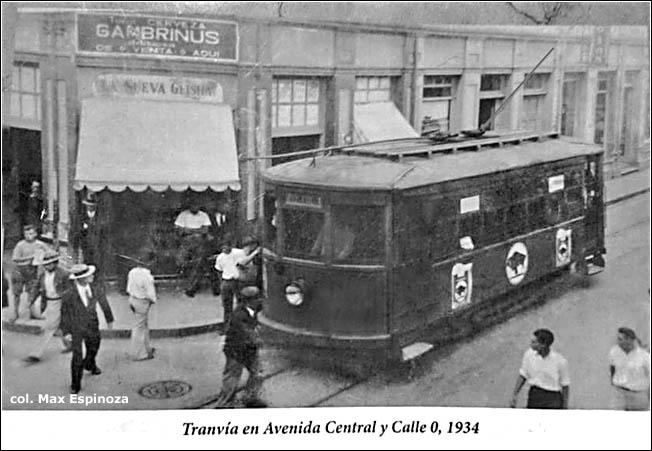 This elderly gentleman has probably been driving these trams his whole life [col. AM]: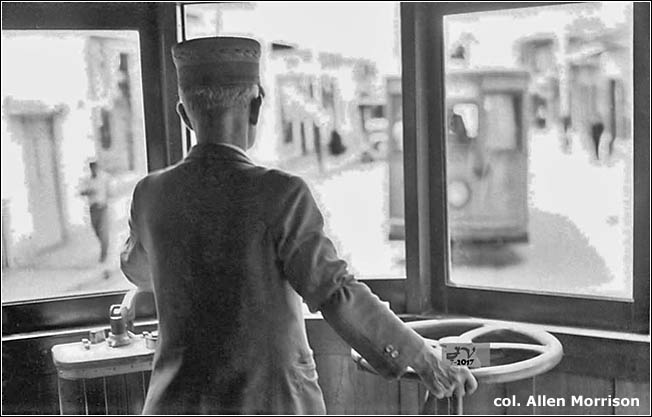 A derailment in 1919 [col. Max Espinoza]: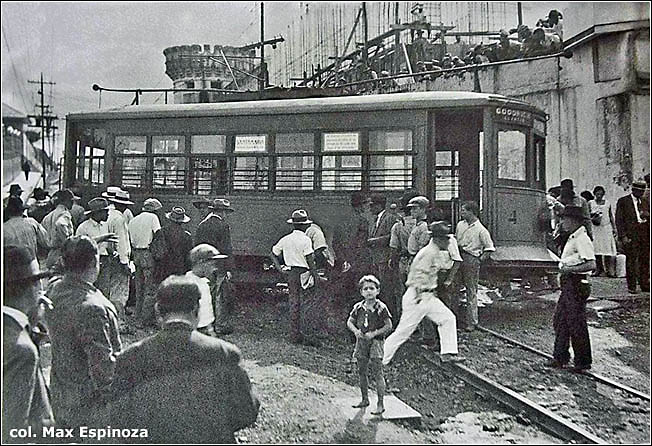 The western end of remodeled Av. Central [see map] [col. Max Espinoza]: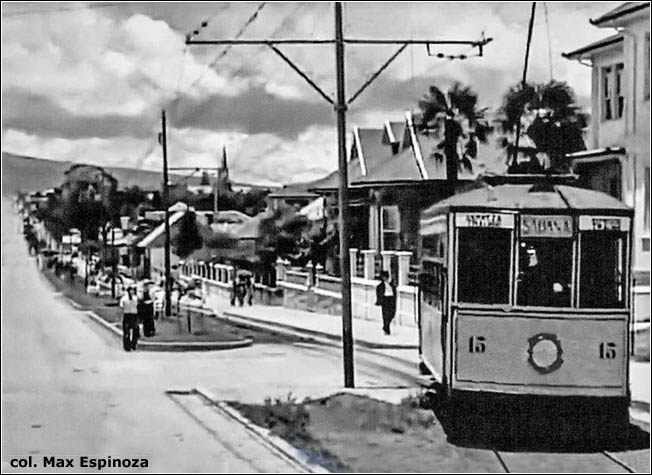 Another "selfie"! – probably from the 1940s: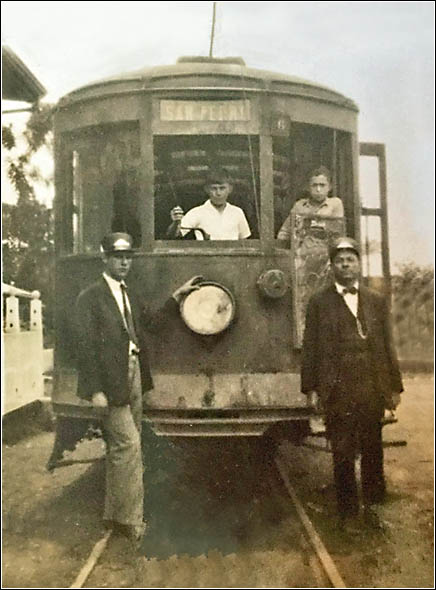 Between 1927 and 1929 the San José tramway system was controlled by the U.S. conglomerate Electric Bond & Share ("Ebasco"), which recorded a fleet of 22 trams operating on 16 km of track. The system was nationalized in 1930 and the cars were operated thereafter by the Compañía Nacional de Fuerza y Luz – as shown on the following ticket: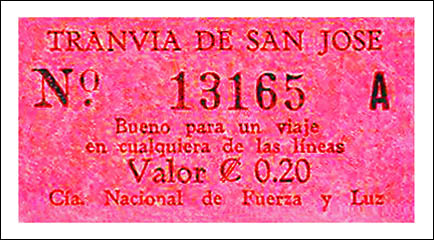 CNFyL rebuilt many of its trams in the style of the Brill cars of the 1920s, and thereafter it was difficult to determine a tram's origin. The vehicles were also renumbered. The postcard view below seems to show tram number 11 [col. AM]: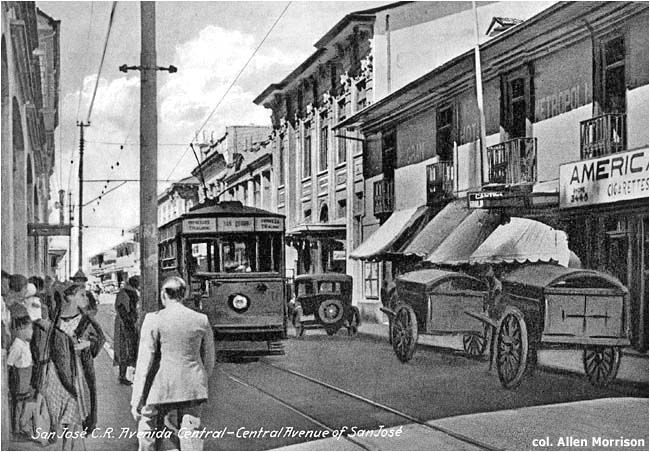 In 1930 the Pacific Railroad electrified its line to Puntarenas – and also the tracks in San José that connected its station with the Atlantic Railroad [see map]. It crossed the San Pedro tram line at grade on Av. Central; the arrangement of the wiring is unknown. Buses arrived on city streets in 1936 and the last mile of tram line in La Sabana park was closed in 1937, to make room for an airport. Thereafter the trams ran only to the end of Av. Central. The photograph of the Brill car below was taken in 1946 [Al Mankoff]: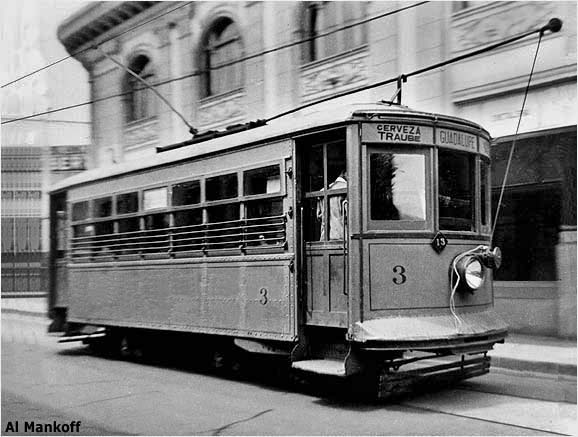 The date of this color view is unknown, but the automobiles indicate 1940s. Tram number 17 was the company's largest, the only one which, for some reason, had eight side windows. Location is La Sabana [see map]. The destination boards are illegible [col William Hoffman]: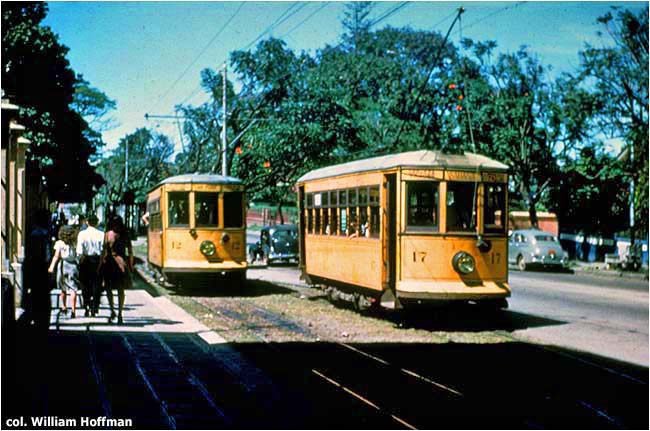 The San José tramway system consisted entirely of single track with passing sidings. It was never modernized and could not provide adequate transportation in a fast-growing city. Trams waiting on sidings blocked other traffic. Streets in the central area were too narrow for double track and the government wanted to make all streets one-way. The Compañía Nacional de Fuerza y Luz ran the last tram in San José on 1 August 1950. Brill car 3 made a final trip to Guadalupe [see map]. The city's tramway era had lasted 61 years.
Forty years later, in 1990, CNFyL constructed a tram in its shops on the design of the Brill model of 1925, shown above. It has a Brill model 79-E truck. The car was displayed for a while at its offices, but in 1994 was moved to the Pueblo Antiguo ("Old Town") section of the Parque de Diversiones, an amusement park on Autopista General Cañas 3 miles west of La Sabana. The photograph below was taken there in 2007 [IRAZU]: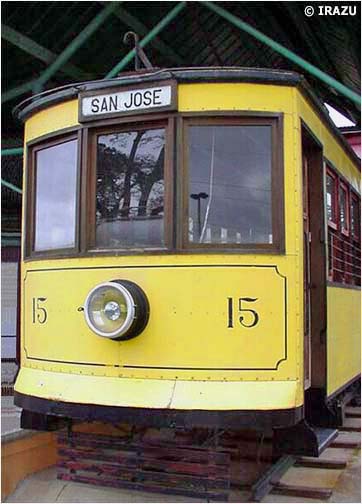 Here is a different tram 15 on the cover of the book written by Orlando Sandí Peña ("Sandy") in 2000 [see BIBLIOGRAPHY]: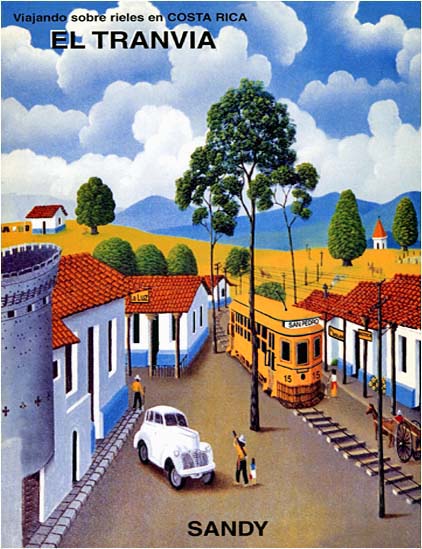 Costa Rica's long-distance railroads – the Northern (or Atlantic) and the Pacific – were merged in 1972 as Ferrocarriles de Costa Rica S.A. (FECOSA), which in turn was reorganized as Instituto Costarricense de Ferrocarriles (INCOFER) in 1985. The Northern line to Limón closed after landslides in 1990 and passenger service on the Pacific route ended in 1995. Between 1992 and 1995 INCOFER operated a suburban service called "Intertren" between San José and Heredia 10 miles northwest of the capital [see map]. In 2005 it inaugurated a new crosstown service called "Tren Metropolitano", using diesel railcars, which runs from Pavas, 5 miles west of San José, across the city to the university campus at San Pedro – not far from the terminus of the former tram line. The picture below was taken between San José and San Pedro in 2007 [IRAZU]: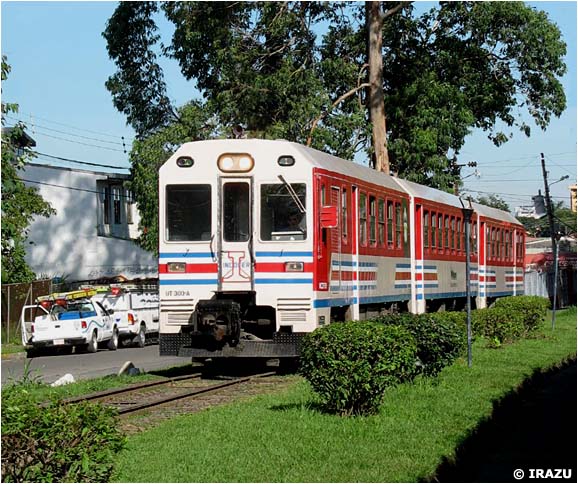 The Costa Rican government awarded franchises for the construction of electric tramways in the city of Heredia in 1902 [see map], between San José and Cartago in 1908, in Alajuela in 1911, and in Limón in 1914. None of these lines was built. There are new plans in the 21st century to restore electric rail service to San José, but as of August 2008 no decision has been made [see BIBLIOGRAPHY, below] .
GUÁCIMO
Guácimo is a small town on the Guápiles branch of the Northern Railroad, about 35 miles (by air) northeast of San José [see map]. Population is about 3,000 today. In 1956, a few years after closure of the tramway in the capital, the Northern Railroad purchased PCC-type streetcar 7078 from the transit company in Baltimore, Maryland, USA, rebuilt it with a gasoline motor, altered its wheel gauge from 64 1/2 to 42 inches, renumbered it 189, and placed it in service on its lines around Guácimo. A Cincinnati tramway enthusiast went there in 1969 and took the following picture [Earl Clark]: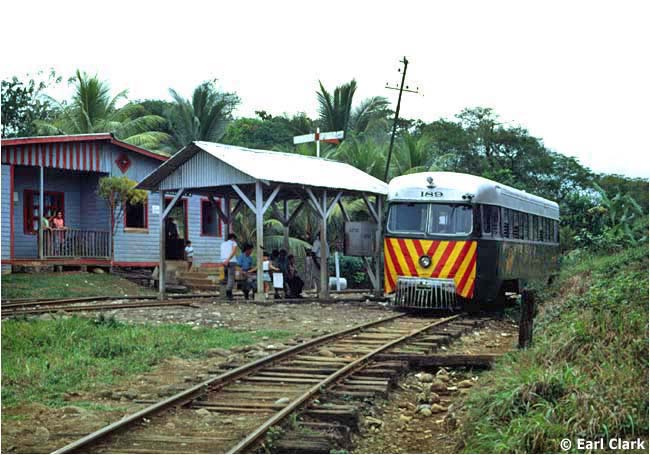 A few minutes later the Cincinnatian photographed the vehicle below on the same track! Since he could not understand Spanish he could not determine whether this was a common carrier or a private family car! The house in the background is the same as in the color view above [Earl Clark]: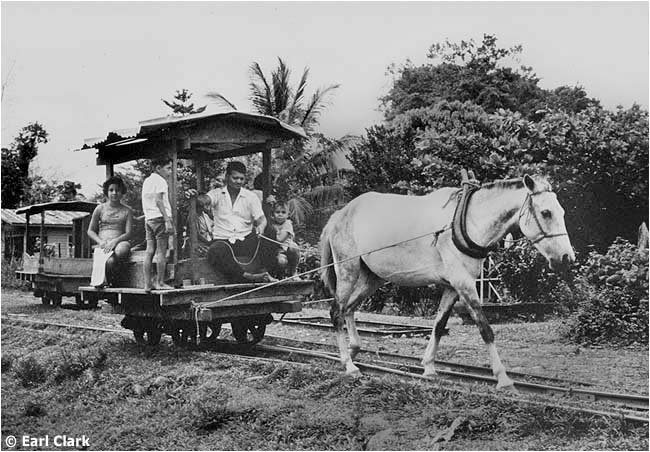 Costa Rica had an extensive network of secondary railways, many of them marked "TRANVIA" (tramway) on this topographical map of 1952. Some of these lines were operated by United Fruit Co. to transport bananas and other produce from the plantations. Some of them also carried passengers. They perhaps still do . . .
BIBLIOGRAPHY
(in order of publication)

Francisco Montero Barrantes. Geografía de Costa Rica. Barcelona, 1892. The Cartago section on pp. 189-190 briefly describes the city's tranvía lines (but not the vehicles).
Dan Wells Casement. "An Electric Railway in Central America" in American Electrician (New York), November 1899, pp. 504-505. Feature article notes the new tramway operation, but is primarily about electric turbines, generators and switchboards. Four photographs of the power plant, none of the trams.
"Costa Rica Electric Light and Traction Company Ltd." in Manual of Electric Undertakings (London), 1914, pp. 338-339. Description of the company, its finances and operations.
U.S. Bureau of Foreign & Domestic Commerce. Trade Promotion Series no. 5. Washington, 1925. "Railways of Central America: Costa Rica", pp. 99-100, provides a concise history of the country's railways, including the primitive Puntarenas-Barranca line.
"Five All-Steel Cars for Costa Rica" in Brill Magazine (Philadelphia), August 1926, pp. 380-382. Description of the five cars that Brill built for San José in 1925. Three good illustrations.
U.S. Bureau of Foreign & Domestic Commerce. World Survey of Foreign Railways. Washington, 1933. Corporate data and brief description of the San José tramway system, p. 109.
Joaquín Fernández Montúfar. Historia ferrovial de Costa Rica. San José, n.d. [1934]. Excellent data on railroad and tramway development, pp. 7, 10-11, 13, 118-119. Pictures of the "Burrocarril", of the first electric locomotive, and of the inauguration of the Plaza Víquez tram line in San José. A very scholarly work.
J. Fred Rippy. Latin America and the Industrial Age. New York, 1944. "Technological Advance in Costa Rica", p. 119 ff. Interesting information on railway development, but in a paragraph on p. 119 the author writes: "By the late 1890s trolley cars were in operation on the streets of Alajuela as well as those of San José, Cartago and Heredia". Nonsense. Costa Rica never had "trolley cars" in any city, at any time, except in San José.
Costa Rica. Instituto Geográfico Nacional. Costa Rica - 1:25,000. San José, 1952. "Matina" sheet shows railways labeled "TRANVIA".
Mario Sancho. Memorias. San José, 1961. Cartago memories and anecdotes. . . . "El tranvía", pp. 43-44 . . . "put an end to that failed enterprise and record it in the book where they keep count/track of British eccentricities".
Richard Yudin. "Costa Rica Electrics: Costa Rica Electric Light & Traction Co. - San José Tramway" in Traction & Models (Indianapolis), October 1975, p. 11. Brief history of the San José system. Map and four large photographs.
Theodore S. Creedman. Historical Dictionary of Costa Rica. Metuchen (New Jersey), 1977. Nice transport survey, of both railroad and tramway lines.
Costa Rica. Instituto Geográfico Nacional. Costa Rica - 1:10,000. San José, 1980-82. "Ciudad de Cartago", 1980, and "San José", 1982. Modern topographical maps show streets and railroads to scale.
San José - apenas ayer. San José: Credomatic de Costa Rica, 1991. Reproductions of watercolor painting by Juan Carlos Camacho Hernández – many of them based on old postcards showing trams.
R. Yudin. "The Tramways of San José, Costa Rica" in Tramway Review (London), date uncertain [1991-1992]. Expansion of the author's article noted previously. New map, but same photographs.
José María Valero. "Los Tranvías en San José de Costa Rica" in El Tren #11-12 (Zaragoza), Otoño-Invierno,1992-1993 (publication of AZAFT = Asociación Zaragozana de Amigos del Ferrocarril y Tranvías). Three articles . . .
Franco Fernández Esquivel. Terremoto. Cartago, 1995. Survey, with dozens of illustrations, of the series of earthquakes that decimated Cartago in 1910. References to the Decauville railway that was built to help rebuild the city: pp. 82, 95-98 and 106.
"Estudian tranvía para capital" in La Nación (San José), 9 de octubre de 1997. One of several articles about plans for new tramway in San José.
Enrique Valverde Runnebaum. Cuentos, aventuras y andanzas. Cartago, 1999. "El Tranvía de Cartago", pp. 61-64, is the best history of the Cartago tramway. Picture of a surviving rail, but not of a tram.
Jesús Mata Gamboa. Monografía de Cartago. Cartago, 1999. Briefest mention of the tramway project on p. 102. Otherwise, this 802-page town history totally ignores the subject. Hundreds of nicely printed photographs, but not one of them shows a tram.
Sandy [Orlando Sandí Peña]. Viajando sobre rieles en Costa Rica: El Tranvía. San José, n.d. [2000]. Delightful 112-page book about the San José tramway written by a local author. Maps and photographs.
"Añorados rieles" in La Nación Digital Revista Dominical (San José), 4 de junio de 2000. Superb article about the Sandy book above. Excellent synopsis of tramways development in San José.
Forum on Tren Eléctrico Metropolitano project ("TREM"). Discussion, nice maps.
_________________
In addition to the authors and photographers noted above, I would like to express my gratitude to Max Espinoza of San José and tramway specialist Harold E. Cox of Wilkes-Barre for their invaluable assistance in the preparation of this page.
See my index of
ELECTRIC TRANSPORT IN LATIN AMERICA
If you have comments, criticism or suggestions,
please e-mail me! Leo y escribo español.
This site was placed online on
2 August 2008
Copyright © 2008-2108 Allen Morrison
ALL RIGHTS RESERVED