The Tramways of
CIENFUEGOS

BY
Allen Morrison
"La Perla del Sur" (The Pearl of the South) has a beautiful location on Cienfuegos Bay on Cuba's south coast. The city was reached by steam railroad in 1860 and tried three times to build an electric streetcar system. It finally succeeded, but the wires were used only a short time. Cienfuegos also had battery and gasoline-powered trams, but not horsecars. The stereocard below, published in New York in 1899, is labeled "A Street Car in Cienfuegos, Cuba". The photograph was no doubt taken at a nearby plantation [col. AM]: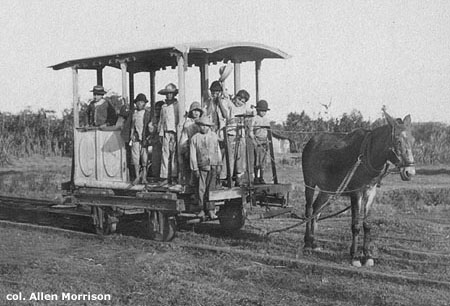 In 1902 Cienfuegos, Palmira and Cruces Electric Railway and Power Company was chartered in Maine, U.S.A., to develop electric power and transportation in Santa Clara Province, Cuba. (Cienfuegos has been the capital of the new Cienfuegos Province since 1975.) CPCERPC planned an electric railway network of 450 km in and around the capital, but only 46 km were built [see map]. Here is a stock certificate [col. AM]: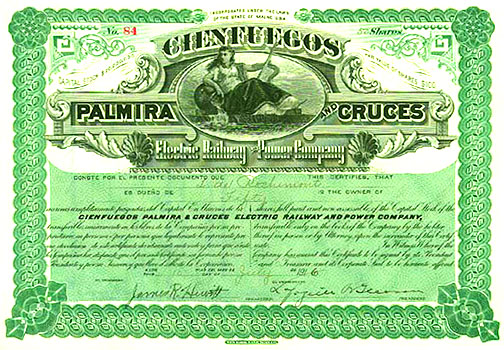 [The image of the stock certificate was copied from this webpage and reproduced on a stamp pane in 2004: see Cuban Tram Stamps.]
The new company constructed a power plant at Hanabanilla Falls, 45 km east of the city, and a tram depot on the south side of Calzada de Dolores at the steam railroad crossing [see map]. This would be today's intersection of Av. 64 and Calle 73 NE. Here is a wonderful, rare photograph of the depot from the collection of M. D. Ceballos: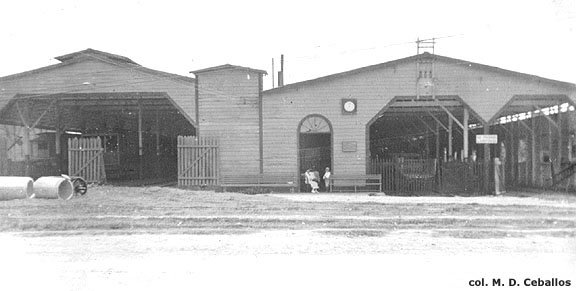 Alas, because of engineering problems at the power plant, a long drought and general financial difficulties, CPCERPC's first passenger cars were powered by electric storage batteries. Between 1912 and 1917 it purchased 27 acumulador trams: 12 from J. G. Brill in Philadelphia and 15 from St. Louis Car in St. Louis. Trams 102 and 103 in the undated photograph below are from the latter group [col. M. D. Ceballos]: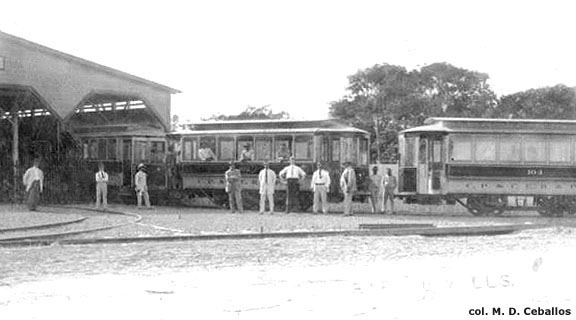 Two battery-powered trams began testing along Calzada de Dolores on 8 February 1913 and the Cienfuegos tramway was officially inaugurated at the corner of Calles San Fernando and D'Clouet (Av. 54 and Calle 31 today) on Thursday 13 February 1913 [see map]. The photograph below shows part of the celebration [col. M. D. Ceballos]: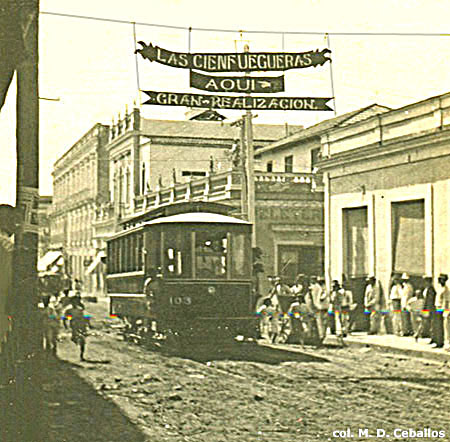 In the postcard view below, the company's initials run the length of the car! [col. AM]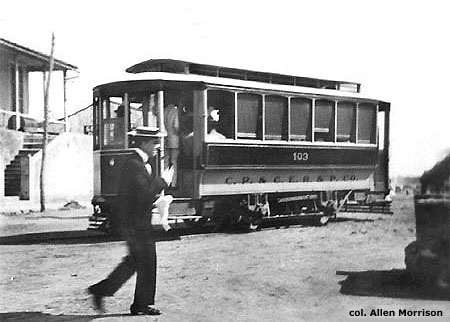 This postcard shows St. Louis car 103 (again!) at the intersection of Calles Argüelles and D'Clouet, known today as Av. 52 and Calle 31 [see map] [col. M. D. Ceballos]: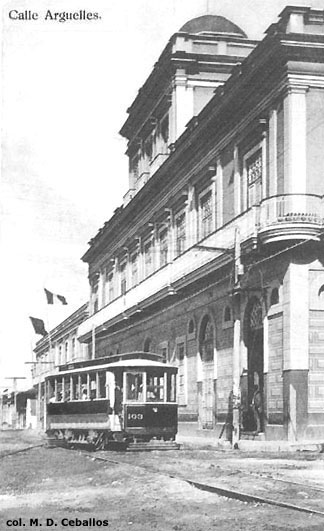 In 1917 the tramway system was extended 25 km across open country from Caunao to a sugar mill at Hormiguero [see map]. It passed near the town of Palmira, but did not enter it, and the line never reached Cruces. Here is a Brill car at the sugar mill. Note the battery compartment between its axles [col. M. D. Ceballos]: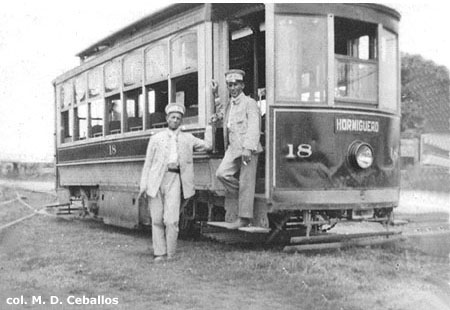 Several freight branches were constructed in 1918, from Caunao to Punta Yerba on Cienfuegos Bay, and from the steam railroad station at Camarones to Cumanayagua and a pyrite mine at Carlota. The mine brought prosperity and CPCERPC decided to try again to convert to overhead wire. Orders were placed in the United States for a half million dollars of electric equipment including generators, transmission wire, trolley poles and cross arms, and in February 1919 CPCERPC ordered six large 8-wheel trams with trolley poles from Cincinnati Car Co. in Ohio [col. Harold E. Cox]: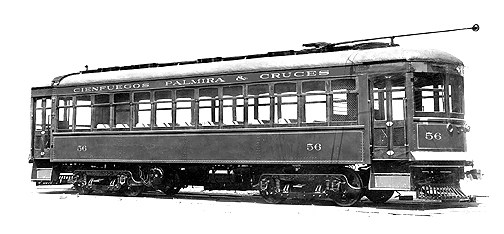 The Cincinnati cars arrived later that year but never ran in Cienfuegos. CPCERPC had overextended itself, could not pay its bills or electrify its railway, so kept its battery cars. It sold the Cincinnati cars to the Hershey Cuban Railway in 1924 and, with the proceeds, purchased additional battery cars - probably from the tramway company in Matanzas, which had successfully converted to overhead wire. The photograph below shows number 47 from the new group, in front of the carbarn on Calzada de Dolores [col. M. D. Ceballos]: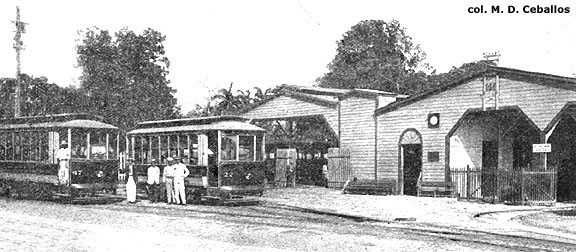 The U.S. conglomerate Electric Bond & Share purchased the Cienfuegos power plant and a genuine electric streetcar system using trolley poles and overhead wire finally opened in Cienfuegos in 1926. Both series of battery cars - Brill and St. Louis - were rebuilt for electric operation. Details are sparse and illustrations almost nonexistent. Cienfuegos resident M. D. Ceballos located the following rare images in the collection of Francisco Eduardo Otero, the son of Francisco Manuel Otero Cossio, who was General Manager & Chief Engineer of the CPCERPC in that period. The first tram is a rebuilt Brill, like number 47 in the photograph above. Even though it is now powered by electricity from an overhead wire, it still seems to have a battery pack between its axles [col. Francisco Eduardo Otero]: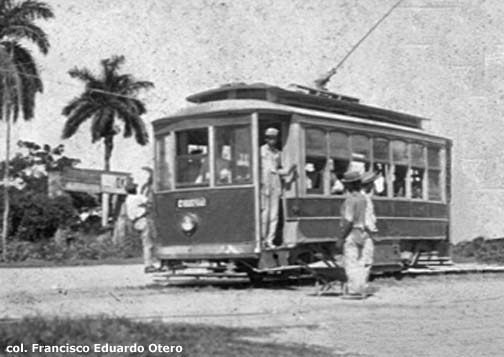 Here is another view of a Brill battery tram reconstructed for overhead power collection. This car's battery compartment is empty [col. Francisco Eduardo Otero]: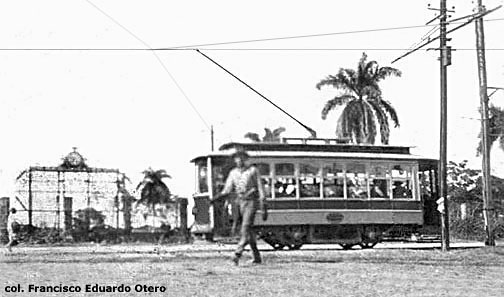 Car 9 below seems to be a rebuilt St. Louis. A window has replaced the front vestibule - another may have replaced the rear, if the car was made single-end. The photo has been crudely cropped [col. Francisco Eduardo Otero]: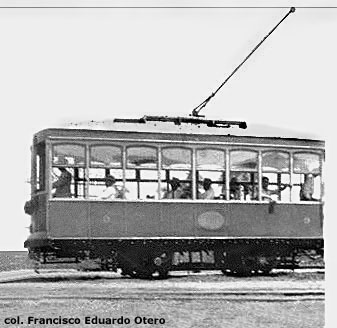 The streetcar in the third photo is also numbered 9. The roof sign shows advertising. The panel below indicates the "CAUNAO" line [see map] [col. Francisco Eduardo Otero]: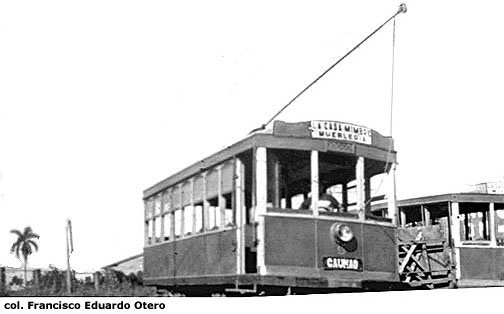 Unfortunately, electric operation lasted only a short time, perhaps as little as two years. There are indications that trolley service ended when CPCERPC went bankrupt in 1928 - but others say that the overhead wire was brought down by a hurricane in 1935. The unnumbered open car below was photographed at the end of the Punta Gorda line [see map]. How was it powered? [col. AM]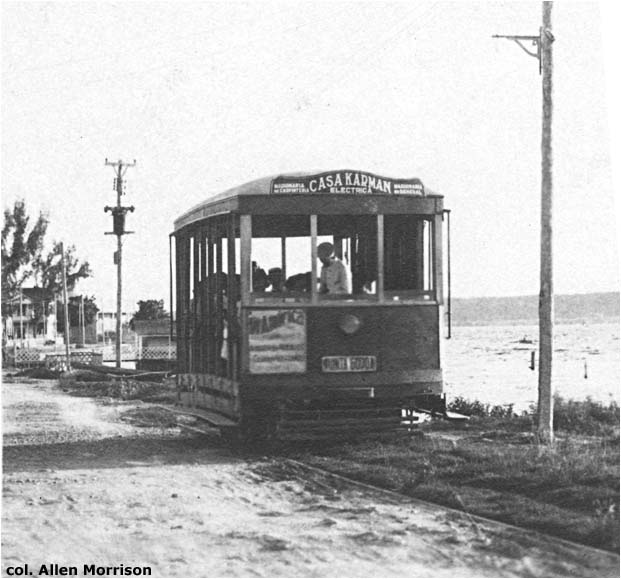 In the 1930s, 1940s and early 1950s, passengers in Cienfuegos were transported on gasoline-powered trams which they nicknamed cucarachas (roaches). The vehicle under construction in the photograph below may derive from one of the St. Louis cars shown above; compare the running gear on battery tram 103 in the sixth photograph on this page [col. M. D. Ceballos]: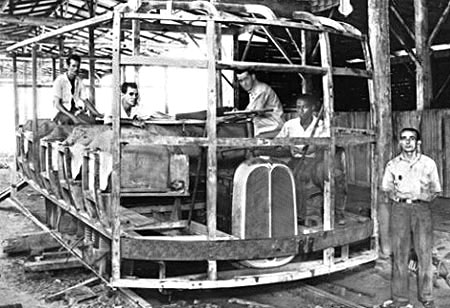 The open tram in the picture below may have been fashioned from one of the Brills. It is headed east on Calle Argüelles toward La Juanita and Tulipán, and will return downtown on Dolores [see map]. [col. Rafael Fiol]: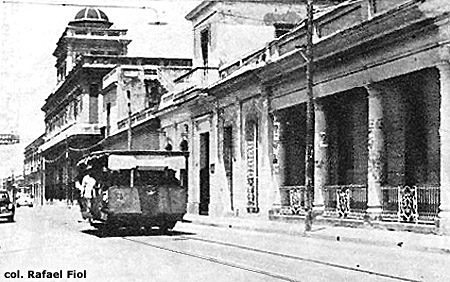 Gasoline motors powered trams in Cienfuegos for 25 years - longer than batteries and trolley poles combined! The street railway quit completely in 1954, after 41 years of operation. It may have been the last tramway in Cuba - if it continued after 29 October 1954, when the last streetcar ran in Matanzas. Today, the wires are gone but tram tracks remain in the streets. The photograph below was taken in downtown Cienfuegos in February 2003 [M. D. Ceballos]: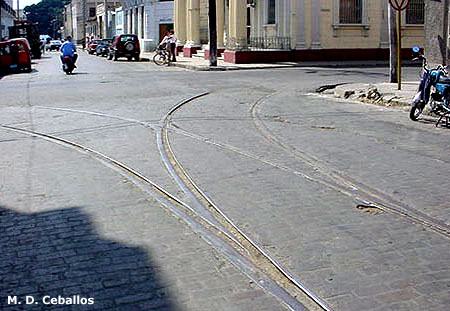 Tramway nostalgia thrives in Cienfuegos! Here is a recent view of the patio of Restaurante El Tranvía, on Avenida 52 between Calles 45 and 47. The tram's doors are new, but the vehicle sits on trucks and other parts seem authentic. Compare to the sixth photo at the top of this page [col. AM]: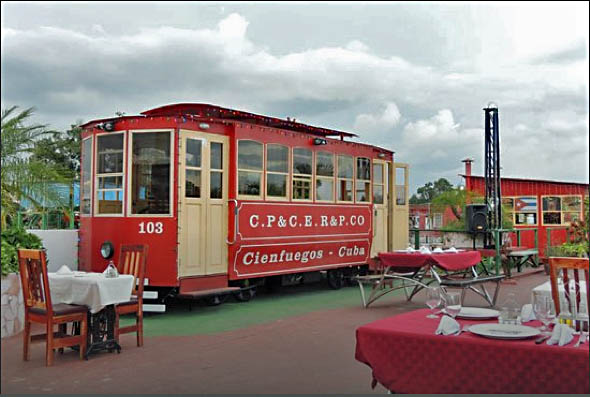 The author would like to express his sincere appreciation to Rafael Fiol, Jesús Lorenzo, Harold E. Cox, Andrew Beech and especially M. D. Ceballos and Francisco Eduardo Otero in Cienfuegos for the valuable information and extraordinary illustrations that they supplied for this page. Other details were found in the works listed below.
BIBLIOGRAPHY (in order of publication)
"New Electric Railway for Cuba." Cuba Bulletin (New York), September 1904, pp. 18-19. Description and map of the proposed Cienfuegos line.
Cuba Review (New York). Short articles about the construction and operation of the Cienfuegos tramway in August 1910, p. 22; July 1911, pp. 21 and 25; March 1913, p. 35; October 1913, p. 25; February 1917, p. 32; and October 1920, p. 24.
"Cienfuegos, Palmira & Cruces Electric Railway & Power Co. Survey of Development." U.S. Bureau of Foreign & Domestic Commerce, Trade Promotion Series #5 (1925), pp. 252-258. Detailed history and description.
R. Carrillo. Cienfuegos: Plano Central de la Ciudad y de Punta Gorda. Cienfuegos, 1933. Large-scale map shows tram lines in central area.
Plano General de Cienfuegos. Cienfuegos, 1940. Large map shows the entire urban tram system, notes the "Estación Tranvías".
Municipio de Cienfuegos. La Perla del Sur. Cienfuegos, 1994. A 2-page article entitled "Transporte Urbano en el Cienfuegos de Ayer", by Francisco and Julio Jiménez, notes the "tranvías eléctricos de trolley" of the CPCERPC and the later "cucarachas". But the text is mostly about buses and does not say much about trams.
El Tranvía restaurant. A nice page about a tram-themed restaurant in Cienfuegos. Click on the tram picture and "visitor photos" to see other views of the tram and the food.
Cienfuegos. El Tranvía. Extraordinary 11-minute video about the restaurant and Cienfuegos trams. (All the old photographs were copied from this webpage.)
___________________________
return to

INTRODUCTION & INDEX MAP
Copyright © 2002-2102 Allen Morrison - ALL RIGHTS RESERVED