The Tramways of
Santiago de Cuba

BY
Allen Morrison
The capital of Santiago de Cuba Province is the island's second-largest city and is located on the east side of Santiago de Cuba Bay, 850 km (by rail) southeast of Havana. (The name in each case is officially Santiago de Cuba, not just Santiago - but the short form will be used in this text.) There were little rail lines in the Santiago area as early as 1844, but the main railroad from Havana did not arrive until 1902. Like most Cuban cities, Santiago never had an animal-drawn street railway.
The Compañía Eléctrica de Santiago, registered in Cuba in 1904, began construction of an electric tramway in 1906 and ordered 14 streetcars with trolley poles from Brill in Philadelphia in 1907. Tram service from Vista Alegre to the electric plant ("Planta") was inaugurated on either 12 January or 8 February 1908 [see map]. One of the cars was a convertible named "Mayo" [Lloyd, p. 501: see BIBLIOGRAPHY below]: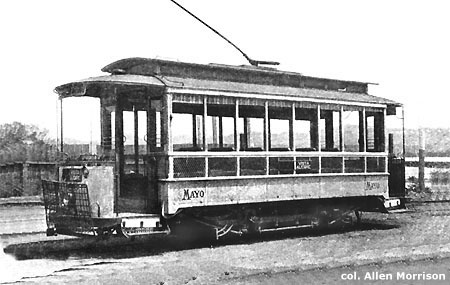 CES began building its own trams in 1910 and operated a fleet of 30 by 1913. Santiago-built 22 posed after an overhaul [col. AM]: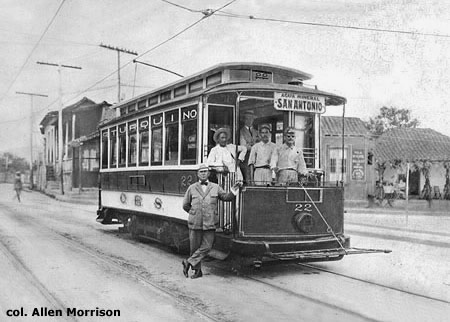 [The image above was reproduced on a postage stamp in 2004: see Cuban Tram Stamps.]
All Santiago trams were small 4-wheel models, necessary to negotiate turns on the narrow streets. For many years every tram in Santiago advertised "San Antonio" mineral water. The destination sign is the smaller panel on the dash. Brill car 9 below is marked "Trocha - Camino Cubitas" [see map] [postcard, col. AM]:
\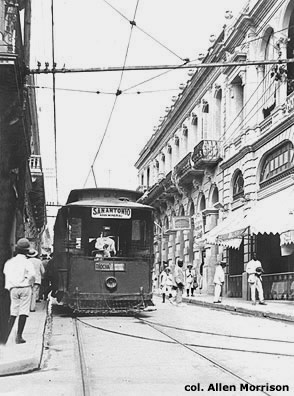 The "Planta" (electric plant) and carbarn were located south of the city near the bay [see map]. Note the "San Antonio" boards [postcard, col. AM]:
\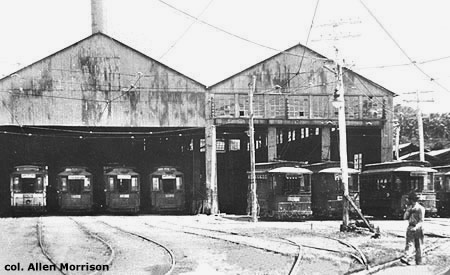 Here is a photograph taken by CES inside its repair shops in the early 1920s [col. AM]: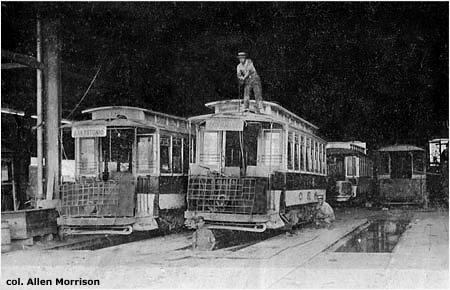 The postcard below shows Cuban-built cars 25 and 29 at Plaza de la Libertad, called Plaza de Marte (Mars) today [see map]. 25 is signed "Vista Alegre - Alameda"; 29 says "Camino Cobre - Vista Alegre". The company's initials "CES" are just visible above the boy. All Santiago trolleys seem to have used Brill model 21E trucks [col. AM]: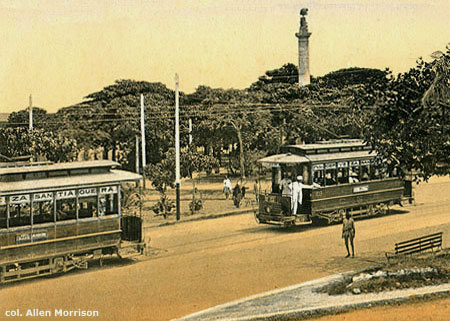 In 1926 the tramways in Santiago and Camagüey were purchased by the Havana Electric Railway in the capital. The picture below, taken on 3 March 1939, shows the oval emplem of "Havana Electric" on its side [photographer unknown]: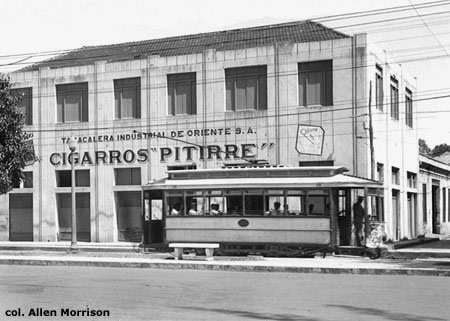 Car 28 in this photograph has nine side windows typical of Havana trams and was no doubt brought to Santiago from the capital. The single pole confirms its location. Note "Vista Alegre / PLANTA" board [see map] and two Havana plaques [col. AM]: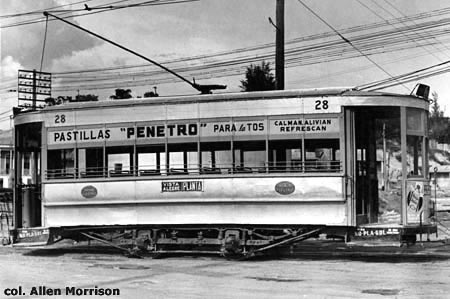 A closeup of the right-hand plaque [col. AM]: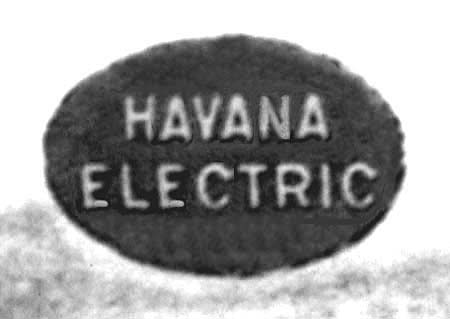 The same tram number 28 (with different advertising) photographed in the late 1940s [Paul Lauver, col. Tom Lehman, from his flickr page; reproduced with Mr. Lehman's permission]: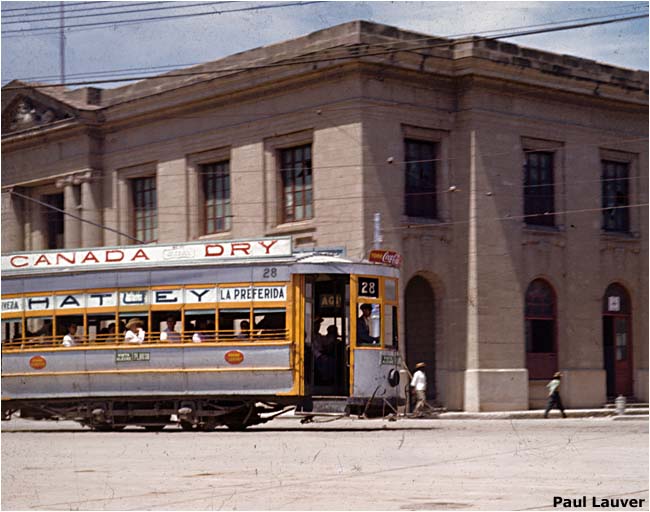 Little is known of the system's development after 1940. Town histories ignore the tramway. Maps disagree. Many streets in Santiago changed their name several times in the 20th century - and have another name today. Names of the tram routes also changed and there were numerous "short turns". Because of its remote location few tram fans visited Santiago and photographs from the 1940s and 50s are rare. What happened to the system after Havana Electric Railway was sold to Autobuses Modernos in 1950? The only thing certain is that the Santiago tramway closed on 26 January 1952, three months before the system in the capital.
A half century later, many traces of the tramway remain. The following photograph, which shows how trams turned corners on narrow streets, was taken in 2002 by Ian Robinson of England. This is the junction of Calles Hartmann and Masó [see map] [Ian Robinson]: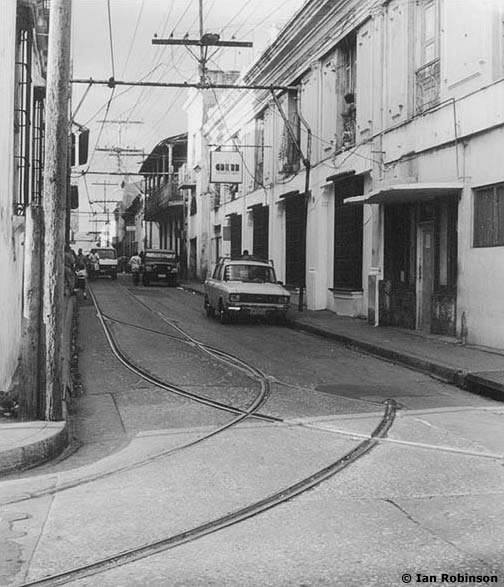 The three pictures below were taken in April 2003 by Ray Gardiner of Australia. His fiancée, Yuselis, is looking south on Calle Hartmann [see map]. Note the steep grade [Ray Gardiner]: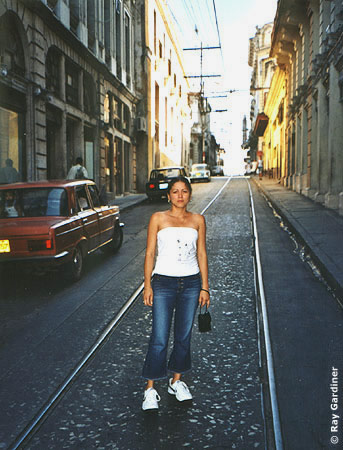 The view below is north on Calle Padre Pico – where the trams jogged between Calles Robert and Sagarra [see map]. One can almost hear them chugging up this hill [Ray Gardiner]: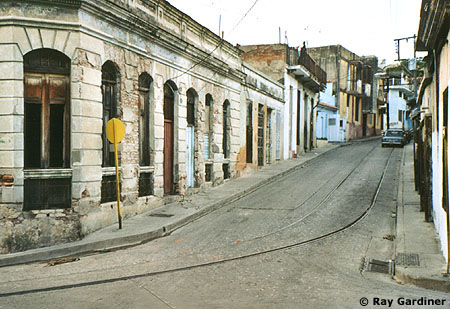 The following view is south along Calle Corona [see map]. Who can explain the track layout? [Ray Gardiner]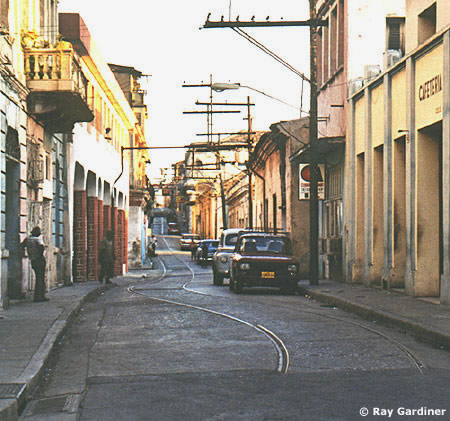 The next three photographs were taken in January 2008 by Jürg Tanner of Switzerland [Jürg Tanner]: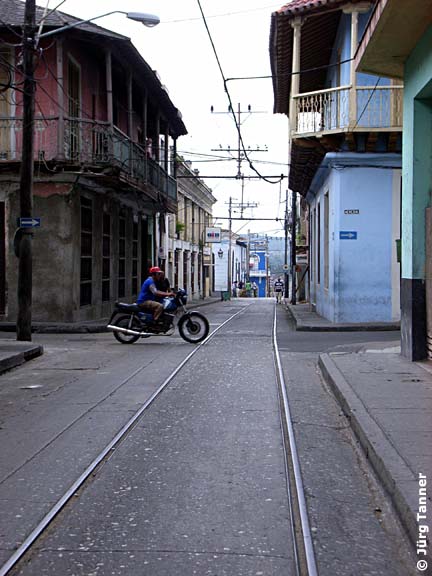 Note the heavy brackets over the street which once held the trolley wire. They can also be seen in other pictures on this page [Jürg Tanner]: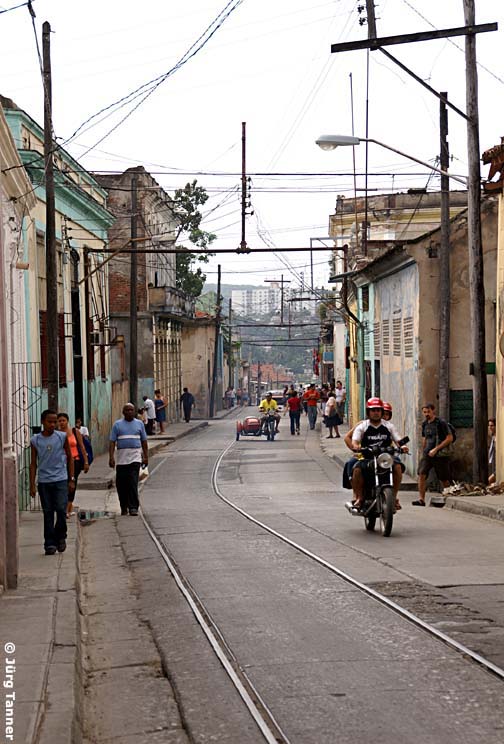 This must have been a very picturesque city – with a very picturesque tramway system – many years ago. That's Santiago de Cuba Bay in the distance [see map] [Jürg Tanner]: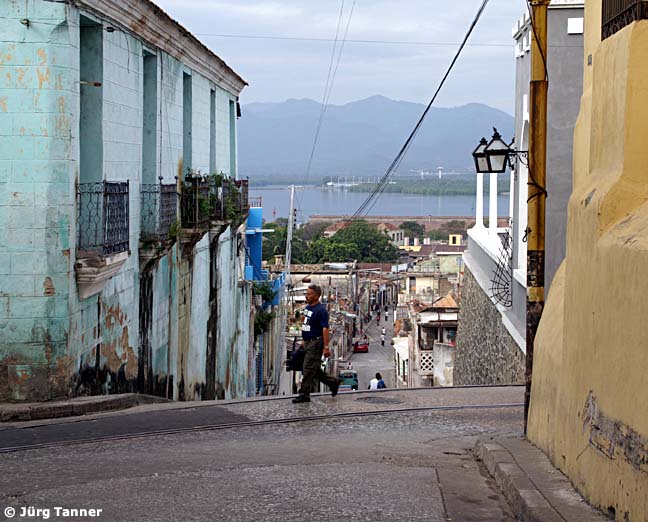 In addition to Mr. Gardiner, the author would like to thank Camagüey resident Héctor Juárez Figueredo and Santiago de Cuba resident Santiago Carnago Muñoz for the information that they provided about the tramways of Santiago de Cuba.
BIBLIOGRAPHY (in order of publication)
"Cars for New System in Santiago, Cuba" in Brill's Magazine, September 1907, pp. 175-177. Description and two photos of Santiago trams.
Cuba Review (New York). Photograph in October 1910 issue shows Santiago tram barn. Article entitled "Santiago Light and Traction Co." on p. 23 of October 1912 issue describes new tramway.
Reginald Llyod. "Compañía Eléctrica de Alumbrado y Tracción" in Impresiones de la República de Cuba en el Siglo XX, pp. 499-503. London: Lloyds [sic] Greater Britain Publishing Co., 1913. Unusual article describes tramway's early history and shows four photographs.
United States Army. Plano General de la Ciudad de Santiago de Cuba. Washington, 1937. Extraordinary map shows track layout of entire tram system.
Aurelio Ballenilla Portuondo. Como pasar una estancia agradable en Santiago de Cuba. Santiago de Cuba, 1950. Guidebook notes the five remaining tram routes.
"El Ultimo Tranvía de Santiago de Cuba". El Mundo (La Habana), 27 January 1952, p. 4. End of tram service.
Carlos E. Forment. Crónicas de Santiago de Cuba. Santiago de Cuba, 1953. Brief tramway references on pp. 114, 254-6 and 434.
return to

INTRODUCTION & INDEX MAP
Copyright © 2002-2102 Allen Morrison - ALL RIGHTS RESERVED