The New Tramway in
CUENCA, ECUADOR
BY
Allen Morrison
[ Ver versión en español ]

Cuenca is Ecuador's third largest city (after Guayaquil and Quito) and is the capital of Azuay province in the south, near Ecuador's disputed border with Peru. At altitude 2,550 m/8,366 ft, it is one of the world's highest large cities. Current population is about 400,000. The region has been inhabited since at least 8000 BC and for 3,000 years was ruled by the Cañari and Incas. The latter named their capital Tomebamba, which because of its riches some think was the mythical city of El Dorado. The Spaniards conquered the Incas and founded Santa Ana De Los Cuatro Rios De Cuenca in 1557. (The city is traversed by four rivers: see map.) Because of its relatively remote location, Cuenca did not develop like other Ecuadorian cities and has retained much of its colonial architecture and style. UNESCO declared its historic center a World Heritage Site in 1999. Cuenca was not reached by railroad or paved highway until the 1960s and never before had a street railway. Today it is building the Tranvía de Los Cuatro Rios – the Tramway of the Four Rivers, which will be the highest street railway in the world: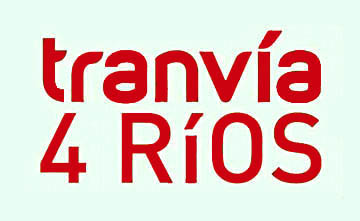 Plans for a tramway in Cuenca were first reported in an Informe of its municipal government in 2009. In 2010 it engaged Artelia of France for studies and in 2013 signed a contract with Alstom of France to build a 10.3 km electric tram line between the city's north and south sides [see map]. Alstom supplied fourteen 5-car 108-ft/33-m 300-passenger Citadis model 302 trams, which will use APS (Alimentation Par le Sol), rather than overhead wires, on the narrow streets of the historic center.

Construction began in 2013 and the first Citadis tram, number 1001, arrived at the new tramway shops on Av. México [see map] on 1 July 2015 [Xavier Ochoa]: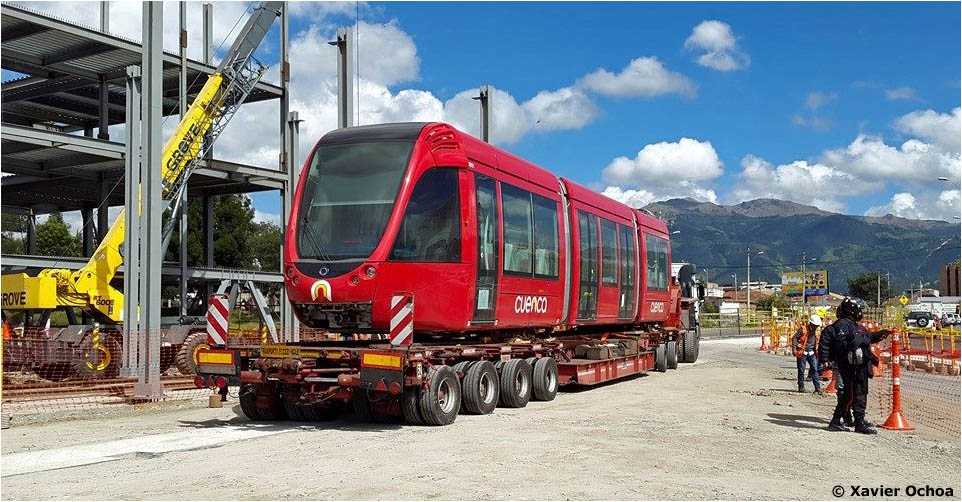 The photograph below shows two sections of the articulated five-section vehicle [Xavier Ochoa]: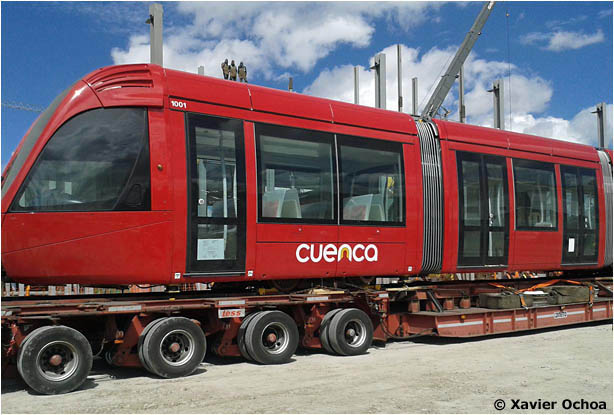 The municipal government is enthusiastic about the project and has supplied interesting information to the public: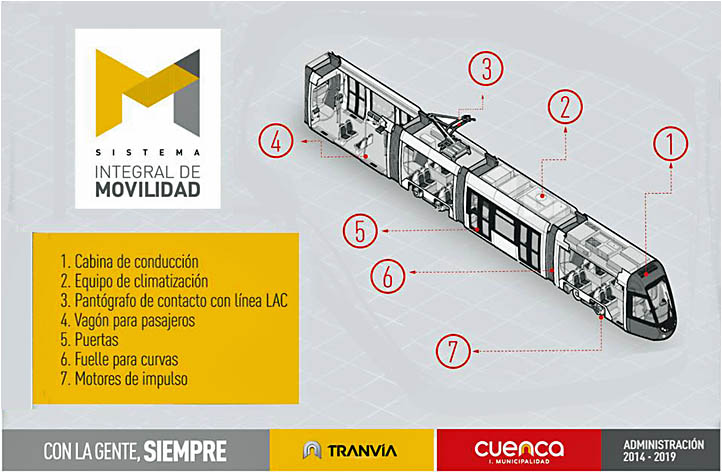 Here is a view of the driver's control panel – taken at the Alstom plant in La Rochelle, France, before construction had been completed and the vehicle was shipped to Ecuador [Alstom]: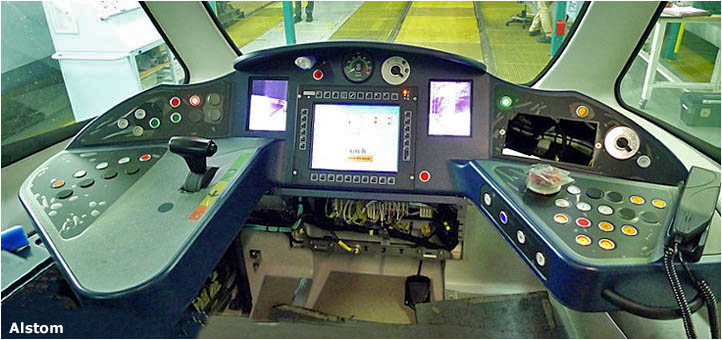 Tranvía 1001 was formally presented at the shops on Av. México [see map] on 9 July 2015 [Municipio de Cuenca]: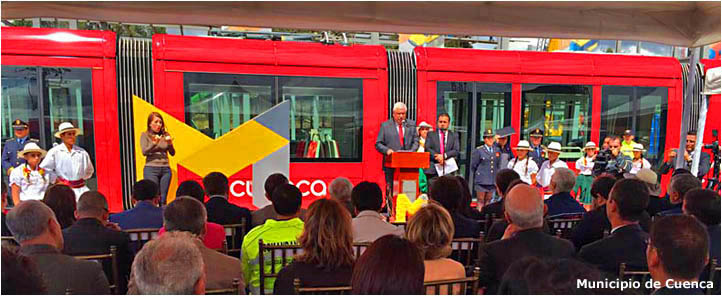 More trams continued to arrive. Here is 2/5 of number 1011. The llamas seem to approve [Xavier Ochoa]: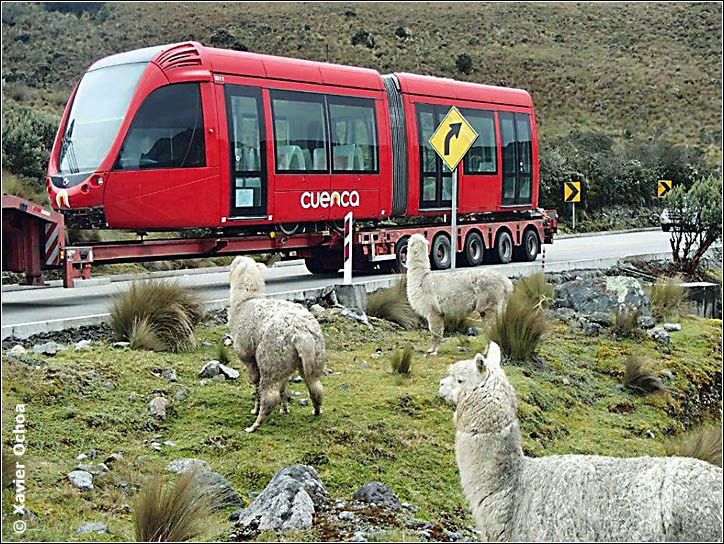 A half-dozen trams were in Cuenca by September, although there was no overhead wire yet in the yard [see map] [Municipio de Cuenca]: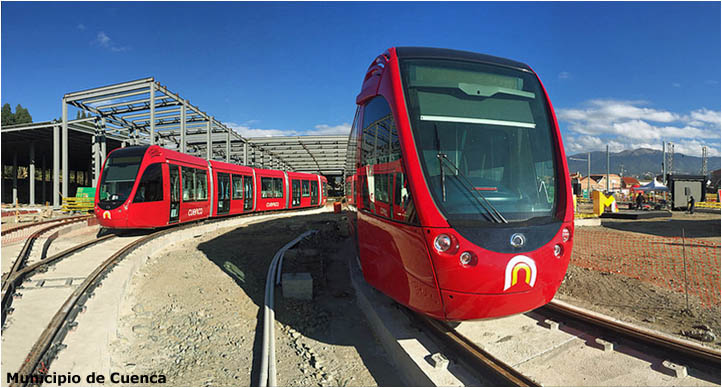 Wire was installed and power was connected in October [Unsión TV]: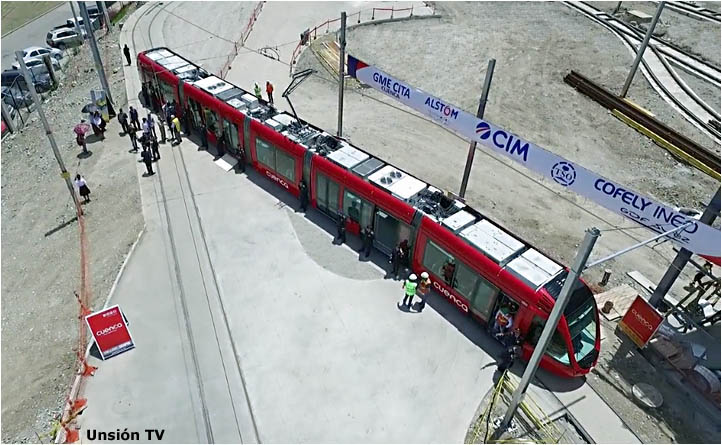 The big event finally took place on Friday morning 23 October 2015. Alstom engineer Philippe Guinand took the controls of tranvía 1001 as it prepared to leave the shops for the very first time [Xavier Ochoa]: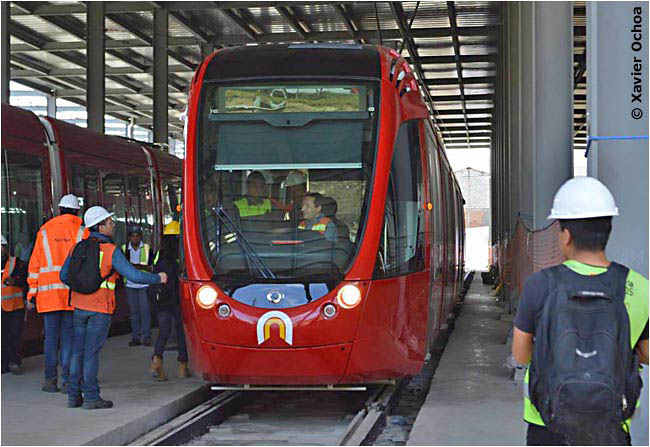 The tram headed west on Av. México [see map] [Unsión TV]: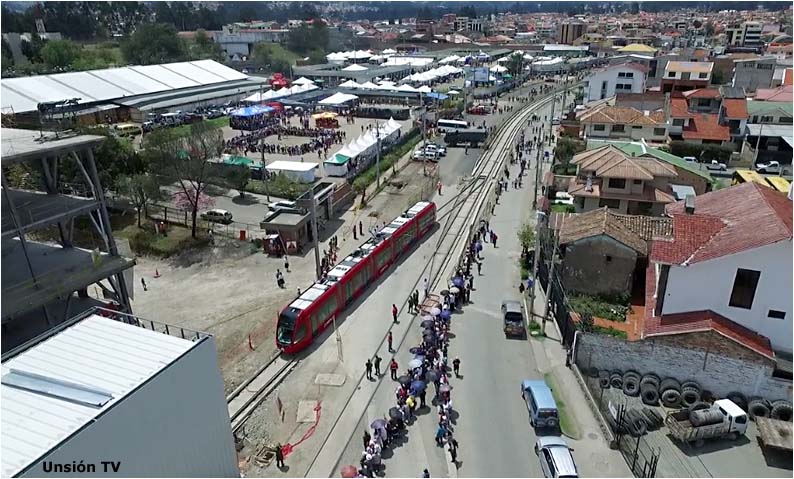 The turn from Av. México onto Av. de Las Américas [see map] ["El Telégrafo"]: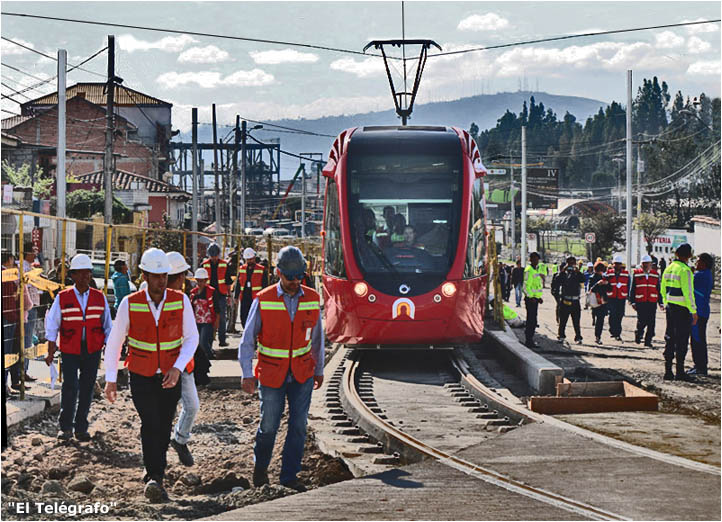 The car traveled short distances north and south on Av. de Las Américas, then returned to the garage [see map]. The 1.3 km excursion lasted less than an hour and – because it took place during the morning rush – good photographs were difficult to obtain. This one succeeded in showing not only the whole vehicle, but also its pantograph, the overhead wire and hangers, and even the word CUENCA near its front door! [Xavier Ochoa]: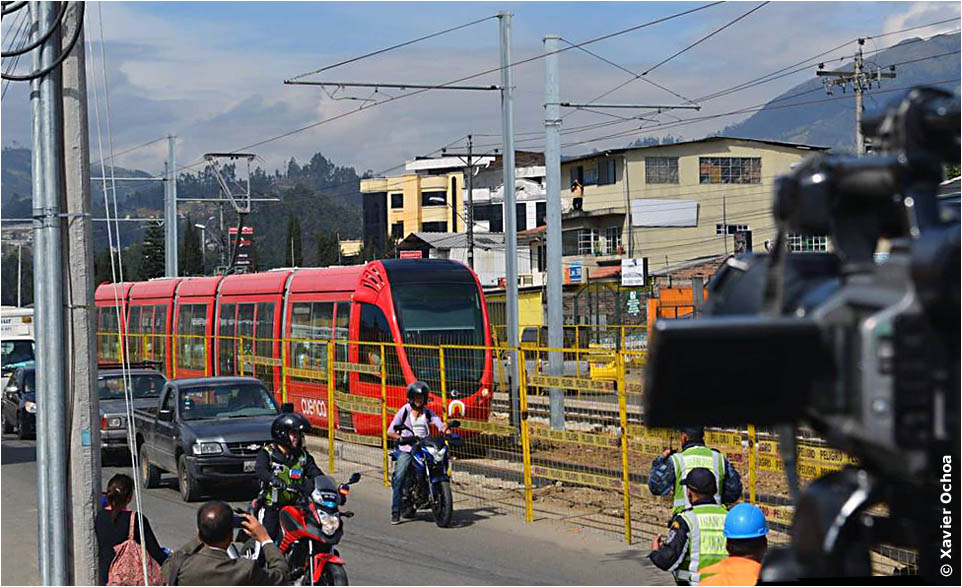 By late October the Cuenca tramway fleet consisted of nine vehicles. Number 1009 tested on Monday 26 October 2015 [Xavier Ochoa]: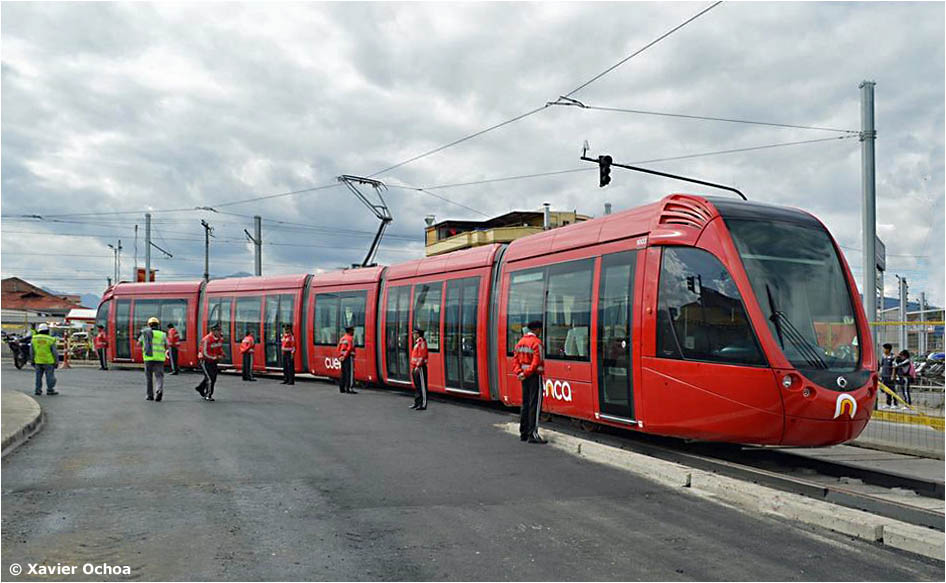 3 November 2015 was Independence Day in Ecuador – the 195th anniversary of its independence from Spain. Trams 1001 and 1003 provided free rides for residents all day. Tram 1014, the last of the 14 units ordered from Alstom, arrived on 30 December, completing the fleet.
Construction of the system continued in 2016, but was interrupted for contractural and financial reasons on 14 October of that year. There was no activity on the line for eleven months. Finally, a new Alstom consortium called ACTN Tranvía Cuenca was formed on 18 September 2017 and work resumed. ACTN published this image – showing a section of the wire-free APS track on Calle Gran Colombia [see map] – in an effort to appease an impatient public: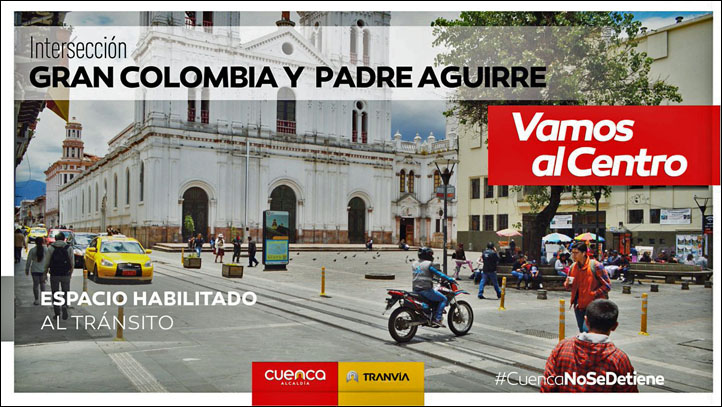 For USD $48 million ACTN must complete and place the system in full commercial operation within 300 days of the contract signing, which took place on 5 December 2017. That means that inauguration day will be on or before 3 November 2018...

[ To be continued...]
–––––––––––––––––––––––––––––––
The author wishes to express his gratitude to Cuenca resident Xavier Ochoa for his extraordinary contributions to this page.
[ Ver versión de esta página en español ]
See my index of
ELECTRIC TRANSPORT IN LATIN AMERICA
If you have comments, criticism or suggestions,
please write to Allen Morrison! Leo y escribo español.
This site was placed online on
18 October 2015
Copyright © 2015-2115 Allen Morrison
ALL RIGHTS RESERVED
TODOS LOS DERECHOS RESERVADOS