The Tramways of
Chihuahua

BY
Allen Morrison
[set monitor at 640x480 or 800x600 dpi]
Chihuahua is Mexico's largest state, about the size of New Mexico in the United States, which it adjoins. Its capital of the same name is 359 km south of Ciudad Juárez and 1,614 km north of Mexico City, on the Mexican Central Railway main line. The city's population was 40,000 in 1900, is about 600,000 today.
The Ferrocarril Urbano de Chihuahua purchased equipment from the John Stephenson Company in New York and opened a horsecar line between the Mexican Central station and Plaza de Armas in 1887 [see map]. It bought more cars from Brill in 1900. Compañía Eléctrica y de Ferrocarriles de Chihuahua was organized in 1908 to develop electricity and electric transport in the region. CEFC ordered six convertible electric trams from American Car Company on 13 July 1908 and inaugurated an electric tramway on 4 October 1908. The sign on the triumphal arch below commemorates Mexican President Porfirio Díaz, who promoted the electrification of his country's streetcar lines. The trailer is probably a Stephenson horsecar [postcard, col. AM]: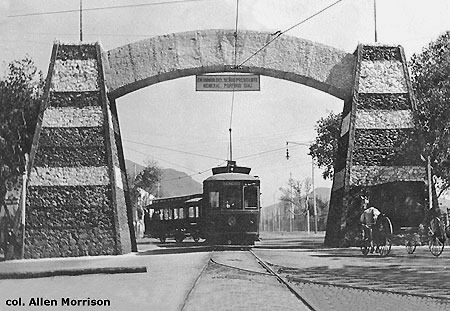 CEFC purchased 8 more convertible trams, 2 conventional open trams and 8 open passenger trailers from Brill in the next two years. It also acquired equipment from the tramway in nearby Parral, which closed in 1909. In hot weather the side panels on Chihuahua's convertible model, shown below, were slid up into the roof [Brill's Magazine, Philadelphia, June 15, 1909, p. 128]: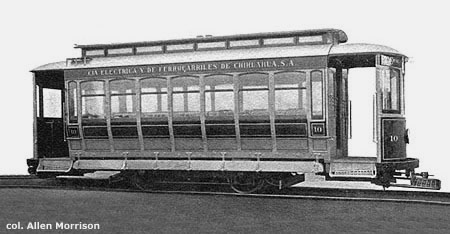 The Chihuahua tramway had basically two routes - between the two railroad stations and between the two shrines at Nombre de Dios and Santuario de Guadalupe [see map]. The Mexican Revolution was getting underway when this photograph was taken at the Mexican Central station in 1909 [pc, col. AM]: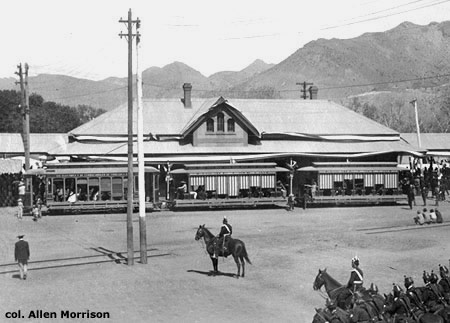 The tram depot was a few blocks east of the Mexican Central station [see map] [Brill's Magazine, Philadelphia, June 15, 1909, p. 127]: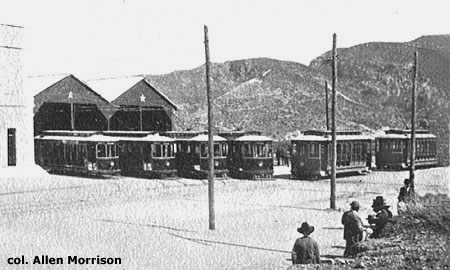 The tramway closed during the recession of 1922, after only 14 years of operation. The disposition of its 24 cars is unknown.
Chihuahua also had another electric railway. Two steam railroads, one of 762 mm/30 inch gauge, the other 914 mm/36 in, served the Santa Eulalia silver mine 20 km east of the city. The latter line began near the tram depot and Mexican Central station. The 762 mm gauge line, known as Ferrocarril Mineral de Chihuahua and later Ferrocarril El Potosí (El Potosí Railway), began at Robinson a few kilometers east [see map]. The Ferrocarril El Potosí purchased five 26-ton General Electric locomotives and electrified its line in 1924. The railroad is presumably still operated today by Minerales Nacional de México. In 1975 it was featured in the Mexican motion picture Actas de Marusia, about a revolt by miners in northern Chile in 1907. The film was released in the United States as Letters from Marusia and was nominated for an Academy Award as Best Foreign Film in 1976. It did not win, but is available today on videocassette and DVD.
BIBLIOGRAPHY (in order of publication)
Modern Mexico (Mexico City). Notes on Chihuahua's electric streetcar system in 11 February 1908, p. 11; and 13 October 1908, p. 14.
"Cars for Chihuahua, Mexico" in Brill's Magazine (Philadelphia), June 15, 1909, pp. 125-132. Eight photographs, description of the rolling stock and the system.
José Rogelio Álvarez, director. Enciclopedia de México. Mexico City, 1998. A paragraph in the Chihuahua chapter on p. 2098 of vol. IV says that the tramway opened in 1887 and closed in 1922. No other information.
Gerald M. Best. Mexican Narrow Gauge. Berkeley, 1968. Photos of the FC Mineral electric line on pp. 87, 90 and 100; description on p. 94.
return to
INTRODUCTION & INDEX MAP
Copyright © 2003 Allen Morrison - ALL RIGHTS RESERVED