The Tramways of
Monterrey

BY
Allen Morrison
With 3.5 million inhabitants, the capital of Nuevo León state is the third most populous city in Mexico, after Mexico City and Guadalajara, and the Mexican metropolis that is closest to the U.S. border. Monterrey (sometimes misspelled Monterey) is 1,220 km from the capital and 240 km from Nuevo Laredo.
The Ferrocarril Urbano opened its first mule lines in 1883 and another company, the Ferrocarril de Monterrey y Topo-Chico, built a tramway to the mineral baths north of town in 1887 [see map]. Since the latter was financed by New Yorkers the urban company nicknamed itself "Empresa Mexicana" (Mexican Enterprise). The postcard below, mailed in February 1907, shows the suburban line. Note the message [col. AM]: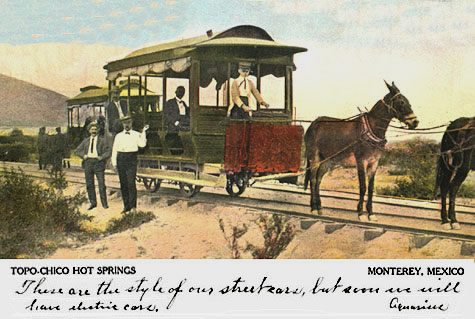 The city awarded franchises for electric tramways in 1892, 1896, 1903 and 1904, but nothing materialized until the Monterrey Railway, Light & Power Co. was founded in Toronto on 16/5/1905. The tram ticket below shows its name in Spanish - but no name appeared on its cars [col. AM]: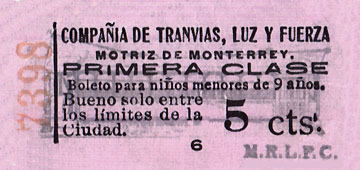 The Canadians purchased the horse tramways and the power plant, began construction of a standard gauge electric tram system and asked Toronto Railway Co. to supply 25 electric streetcars. MRLPC inaugurated Monterrey's first electric tram line, the suburban route to Topo-Chico, on 25/7/1907 [see map]. This postcard, mailed in 1908, still shows a horsecar, but the message is clear [col. AM]: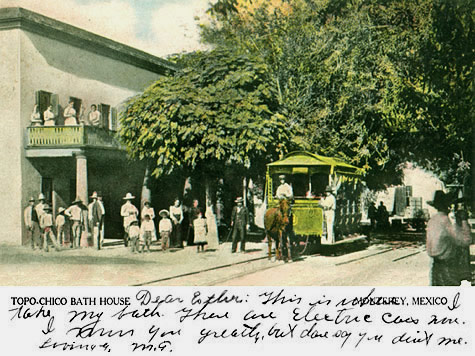 (Maybe M.A. should have found a better bath house.) The photos below show the electric trams that Toronto Railway Co. built for the Topo-Chico line. Numbered 58-63, these vehicles were completely new, single-end, had center doors (only) on both sides and St. Louis model 47 trucks. The first view was probably taken near the spa [Electric Railway Journal, New York, 6/6/1908, p. 38]: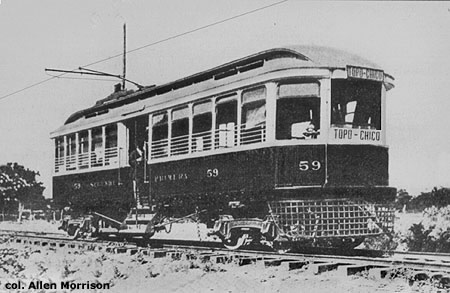 "Nacional" was the Ferrocarril Nacional steam railroad station at the end of Av. Pino Suárez [see map] [Western Electrician, Chicago, 25/7/1908, p. 58]: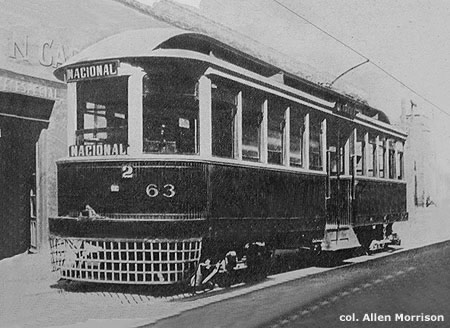 The photographer of the postcard view below was looking north on Av. Pino Suárez, toward the Independence Arch and the railroad station [see map]. According to Mexican records, the trams went around, not under, the arch [col. AM]: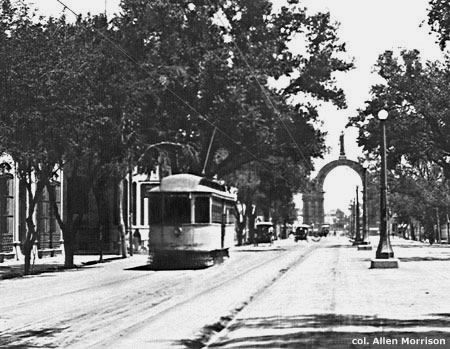 Bulkheads separated the classes and the passengers from the motorman. Car 58, below, had a separate paint scheme for Second Class - which went through the roof! The identity of the tram behind is unknown. (Was this picture taken in Canada?) [col. AM]: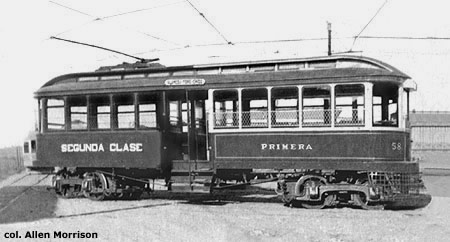 In addition to the center-door cars, Toronto Railway rebuilt and sent 14 of its 4-wheel open trams that had been running in Toronto since 1894. How they were numbered in Monterrey is unknown, but TR's "G2" series was numbered 363-409 (odd only) in Toronto and in the photograph below it looks like "PRIMERA" is hiding three digits [ERJ article referenced above]: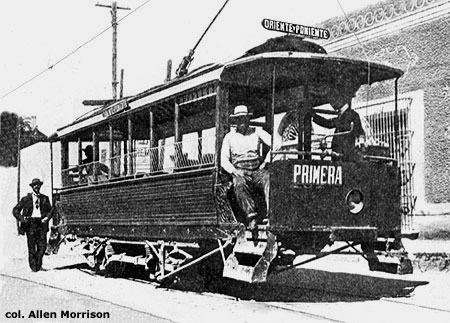 The car above is on the "Oriente y Poniente" (East and West) local line, which opened on 10 March 1908. Both Electric Railway Journal of 6/6/1908 and Western Electrician of 25/7/1908 [see BIBLIOGRAPHY] state that Monterrey had 12 single-truck and 13 double-truck electric trams. What were the other seven 8-wheelers? They were probably numbered 51-57, but no picture of them could be found. The postcard below shows an ex-Toronto car signed "Cuarteles" on Calle Padre Mier downtown [see map]. It is followed by a tram numbered 2 [col. AM]: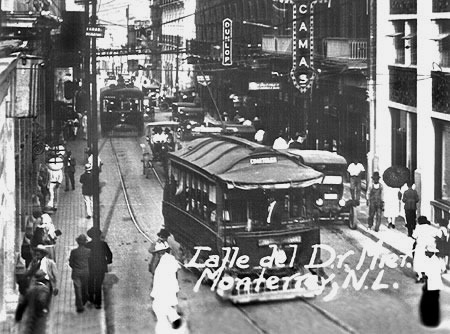 Car 2 above looks to be of the same type as car 3 in the postcard below, which is headed west on Calle Hidalgo toward the "Obispado", the 18th century Bishop's Palace that is one of the city's tourist attractions [see map]. The Santa Catarina River is behind the trees in the background [col. AM]: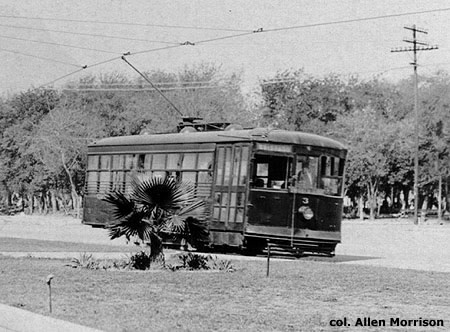 But the origin of cars 2 and 3 is unclear. Tramcar authority Harold E. Cox says that they are Birneys of a type that was built only for Steubenville, Ohio. Were they acquired second-hand from Ohio? Or, like other Monterrey trams, did they have a Canadian source? In 1921-1923 MRLPC ordered five single-truck arch-roof trams from Perley A. Thomas Car Works in High Point, North Carolina. No suitable illustration of them in Monterrey could be found, but Mr. Cox supplied the original Thomas drawing below [col. Harold E. Cox]: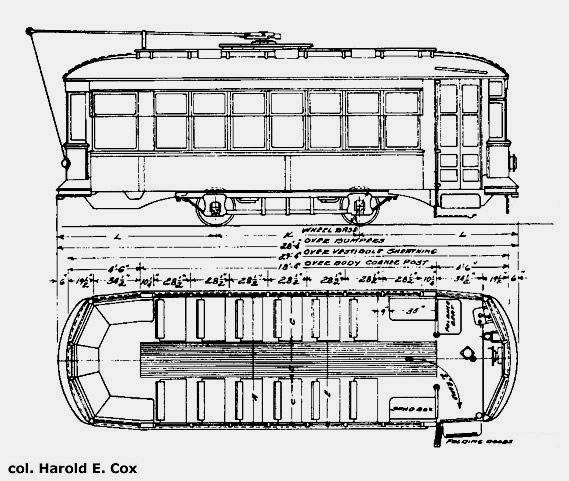 The McGraw Electric Railway Directory of 1924 reported 29 passenger cars on 37 km of track in Monterrey. The World Survey of Foreign Railways of 1932 found 34 trams on 40.2 km of track.
No other illustrations or information could be found about the Monterrey streetcar system, which is one of the most mysterious and least documented in Latin America. In 1930 the tramway was acquired by the Sociedad Cooperativa de Tranviarios y Autobuseros de Monterrey (Tram and Bus Workers Cooperative), which closed it on 30/5/1932. Monterrey's trolleycars had run only 24 years. The horse trams had run 25.
There were/are three other electric railways in the area. The 1907 Anuario Estadístico reported 2.7 km of 1435 mm gauge electric railway track operated by the Cervercería Cuauhtémoc, Mexico's largest brewery, between its factory and the Ferrocarril Nacional station [see map]. But no later reports could be found. The brewery has relocated and still makes Bohemia, Carta Blanca and Dos Equis beer.
Metrorrey opened the first route of its elevated "light rail" system in 1991, which parallels the Topo-Chico tram line of 1887. Line 2, which opened in 1994, begins at the Museo de Monterrey, the art museum which replaced the Cervercería Cuauhtémoc. The view below is south: a westbound train on line 1 has just turned north at the west end of town [see map] [Foster M. Palmer]: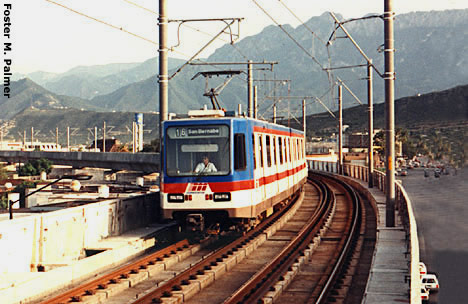 40 km west of Monterrey a funicular carries passengers 750 m (2,460 ft) up the side of a mountain and into the Grutas de García, an elaborate network of caves discovered in 1843. There is a plan to replace the railway, shown in the postcard below, with an aerial cableway [col. AM]: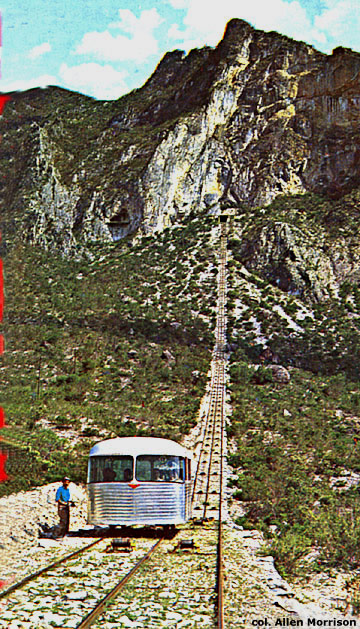 BIBLIOGRAPHY (in order of publication)
"Electric Traction for Monterey" in Street Railway Journal (New York), 13/8/1904, p. 246. Four paragraphs.
"Pay-As-You-Enter Cars for Mexico" in Electric Railway Review (Chicago), 22/2/1908, pp. 239-240. Description, drawing and photo of the strange center-door model. Text says that Toronto Railway is building 20 cars.
"Electric Railway System of Monterey, Mexico" in Electric Railway Journal (New York), 6/6/1908, pp. 38-39. Text and pictures of both the 4-wheel and 8-wheel models.
"Electric Street Railways at Monterey, Mexico" in Western Electrician (Chicago), 25/7/1908, pp. 58-59. Photo and text.
Isidro Vizcaya Canales. Los Orígenes de la Industrialización de Monterrey. Monterrey, 1969. References to tramway development on pp. 15-17 and 103-105 end with the electric inauguration in 1907 . . .
Andrés Montemayor Hernández. Historia de Monterrey. Monterrey, 1971. Another nearly useless Mexican text, with brief tramway references on pp. 227, 228, 286 and 287. Tramway chronology ends in 1908!
return to
INTRODUCTION & INDEX MAP
Copyright © 2003 Allen Morrison - ALL RIGHTS RESERVED