The Tramways of
VERACRUZ
BY
Allen Morrison
Mexico's ancient seaport has been a favorite destination of conquistadores, pirates, immigrants, traction imperialists, cruise ships and railway and tramway enthusiasts from around the world. Veracruz had Mexico's first steam railroad, one of its first tramways, its first interurban tramway and its second-oldest electric streetcar system. It is located 440 km east of Mexico City and 530 km south of the port of Tampico.
Construction of Mexico's first railroad, from the port to the capital, began in 1842 and steam trains began carrying passengers along the first 9 km of the line, between Veracruz and El Molino, in 1850 [see area map]. Mexico's first railroad station was at the spot presently occupied by the market near Parque Zamora [see street map, inset 2]. The Ferrocarril Mexicano built a new station on the north side of town in 1874, but the old station continued in use by other railroads until 1911.
Ramón de Zangróniz acquired permission to build a street railway in Veracruz in 1863 and opened the first line in early 1864. This was Mexico's second known tramway, preceded only by the 1858 line in Mexico City. There were extensions in April and August of that year - all within the ramparts of the old Spanish settlement between Av. Independencia and the harbor [see street map]. The Ferrocarril Urbano de Veracruz built the first line outside the walls, along Alameda de la Libertad (Av. Díaz Mirón today), in 1875. The walls were demolished in 1880.
In 1865 Zangróniz secured a franchise to build another tramway, a 114 km line from Veracruz to Xalapa (Jalapa), capital of Veracruz state. Zangróniz laid 55 km of track along the highway as far as Puente Nacional, but sold his enterprise to the Ferrocarril Mexicano in 1873. FM completed the tramway and began animal-powered passenger service from San Juan to Xalapa, a distance of 88.4 km, in 1875 [see area map]. Xalapa is at altitude 1,370 m and the uphill journey required 11 1/2 hours, with five changes of mules. The downhill trip to the seaport took a mere 9 hours. The Ferrocarril Interoceánico built a steam railroad along a parallel route in 1891 and the animal tramway closed in 1893.
In 1885 the Ferrocarril Urbano published a 15-page booklet describing its five routes in the city [see BIBLIOGRAPHY below]. Tramway equipment came from John Stephenson Co. in New York. In 1894 a new company, Ferrocarril del Puerto de Veracruz al Cementerio, built a line down Avenida 20 de Noviembre to the Cementerio Particular Veracruzano (Private Cemetery) south of town. FPVC provided an elaborate funeral tram service.
No suitable illustrations could be found of any of these operations in the 19th century. The postcard below shows a mulecar on Av. Independencia in Veracruz about 1905 [see map]. The cameraman was looking south toward the old railroad station. That's the cathedral tower on the left [col. AM]: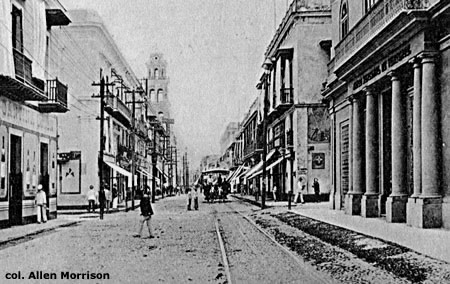 Compañía de Luz, Fuerza y Tracción de Veracruz was registered in London on 28 July 1906. The new English company purchased the Ferrocarril Urbano and ordered 10 cross-bench open trams from J. G. Brill in Philadelphia on 16 September 1907. CLFT inaugurated three routes of a new electric tram system on 5 July 1908. All started from the new railroad station on Calle Montesinos and ran down Av. Independencia toward the old station on Calle Rayón [see map, inset 2]. The postcard view below is looking north up Av. Independencia from Calle Rayón; note the cathedral tower in the distance [col. AM]: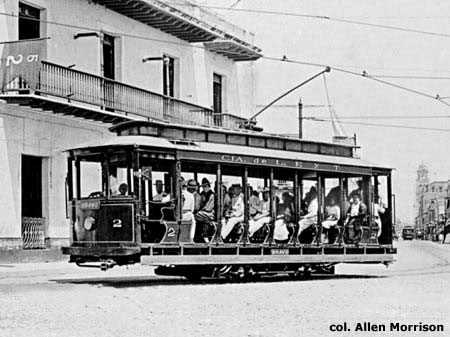 At Calle Rayón the Bravo line went west and returned north on Av. Bravo. Playa cars went east on Doblado and north on Hernández. Laguna trams ran south down the Alameda de la Libertad (Av. Díaz Mirón) to the electric tram depot at Calle Uribe. Returning north on Av. 20 de Noviembre, Laguna trams connected with the funeral trams of the FPVC [see map].
The Veracruz electric tramway system had several odd features throughout its existence. (1) Its open cars had center aisles. (2) Except in short sections all tram routes were belt lines; there was no 2-way operation or double track. (3) Because of that, all trams were built or rebuilt single-end and ran only one way. (4) They traveled north on five different streets, but south only on Av. Independencia. (5) Routes were constantly altered. For example, Playa cars at first ran north on Av. Hernández and west on Serdán. About 1920 the tracks were moved from Serdán to Malecón. In 1930 they were moved from Hernández to Xicoténcatl. About 1940 they were moved from Malecón back to Serdán. The postcard below shows a Playa car running west on Malecón [see map]. The lighthouse tower in the background and the street lamps in the foreground are still there today [col. AM]: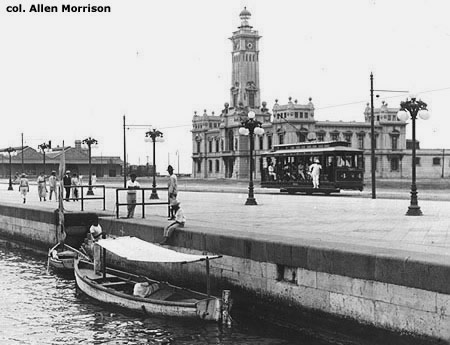 The following postcard shows tram 9 in approximately the same spot as tram 4 above, but viewed from the Lighthouse tower. The waterfront route was moved a block south to Calle Serdán about 1940 [see map] [postcard, col. AM]: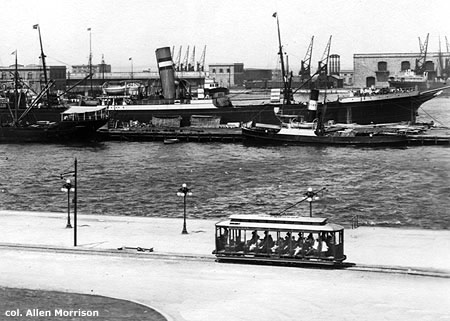 Here is part of a rare, early stereocard. Tram 7 is on the Laguna line, but location is uncertain. The tall buildings in the distance suggest the central area and the wooded area on the right might be Parque Zamora [see map]. The sign below the headlight says "A los TOROS" (To the BULLS) [col. Jim Hutzler]: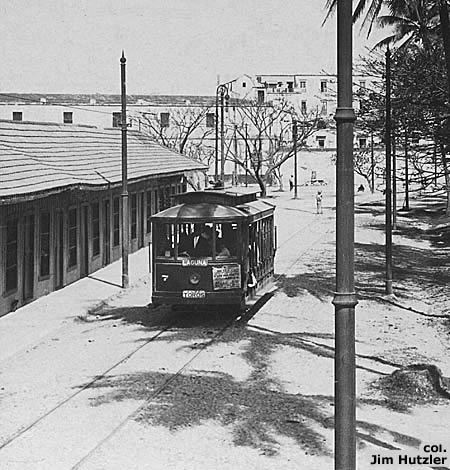 CLFT ordered two more open trams from Brill in 1911, another pair in 1913 and four in 1914, producing a fleet of 18 open cars numbered 1-18. The postcard below shows an open car numbered 19. Its origin is unknown [col. AM]: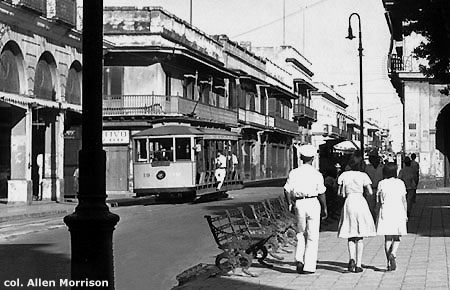 CLFT built its fourth electric line in 1914 on Av. Pino Suárez, a few blocks west of Bravo, but continued animal operation on Av. Madero [see map]. The postcard below, from 1920, shows mulecars 28 and 23, both with the inscription "Cía. de L. F. y T.", at the new Ferrocarril Mexicano station [col. AM]: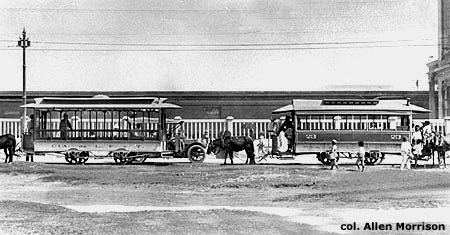 In 1922 CLFT placed an order with Brill for six trams of an entirely different sort: closed with 13 windows, arch roof and 2 trucks, numbered 35-40. They had controls at only one end. The postcard below, from 1924, shows car 35 traveling south on Av. Independencia [see map]. The tram ahead of it is number 32 of an unknown type [col. AM]: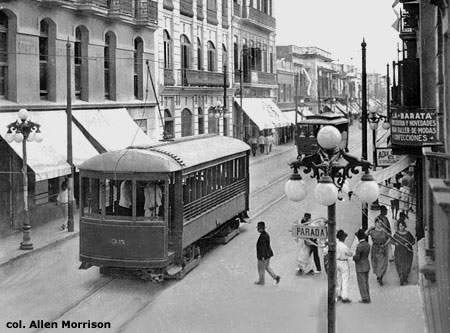 Years later the workers at the Veracruz carbarn told visiting tramway enthusiasts that these closed cars were purchased secondhand from Tampico. They also said that the system's open cars came secondhand from Philadelphia. Strange rumors originate in carbarns. The view below, from 1930, shows two of the new cars on Av. República at the new Mexicano station [col. AM]: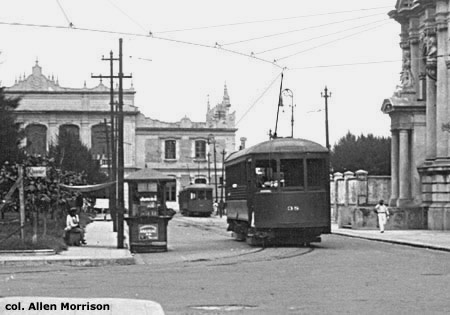 And this undated postcard shows number 36 on the loop at the beach pavilion at the south end of Av. Ávila Camacho [see map] [col. AM]: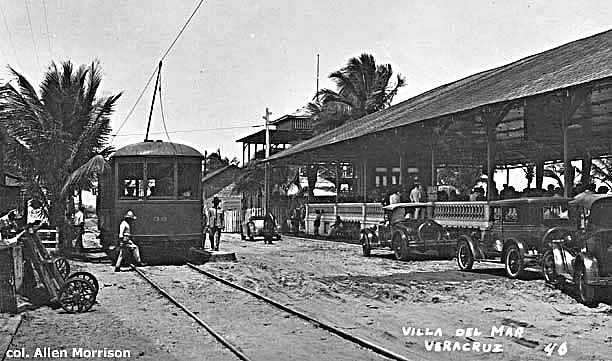 After the removal of the city walls and the old railroad station, the area at the south end of Av. Independencia was redeveloped and the tram routes were rearranged. Streetcars went west on the north side of Parque Zamora, but south on its east side to Av. General Prim, in a strange case of left-hand operation [see map, inset 1]. The Laguna line was moved from Av. Díaz Mirón to Av. González Pagés and the tram depot was transferred to an abandoned railroad shed on Calle Uribe. This reconstruction combined with the 1922 purchase set off a series of financial crises and strikes. The tram system closed for four months in 1927 and was acquired by the U.S. conglomerate, Electric Bond & Share, in 1929. In 1932 the Mexican government purchased the tramway system for its employees, who created the Cooperativa de Tranviarios y Similares del Puerto de Veracruz, S.C.L. (Sociedad Cooperativa Limitada).
CTSPV extended its track on Av. Flores Magón to the beach at Villa del Mar in 1935 and the following year purchased 10 "Birney" cars secondhand from El Paso, Texas. The new closed trams, which had been built by American Car Co. in 1920, kept their original numbers, 100-109. Number 103 was photographed in 1978 on Av. Avila Camacho at Villa del Mar beach [AM]: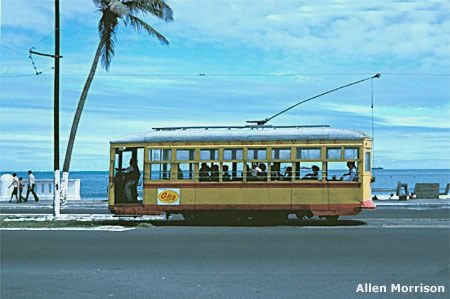 In 1939 CTSPB renamed itself Sociedad Cooperativa de Transportes Urbanos y Sub-Urbanos de Veracruz and purchased the Ferrocarril del Cementerio Particular Veracruzano, which was still operating funeral trams to the cemetery. SCTUSUV ran the city's last animal-powered streetcar that year and electrified the line, which it called Panteones [see map]. The photograph below was taken on "Avenida" Lafragua in 1954 [Ray DeGroote]: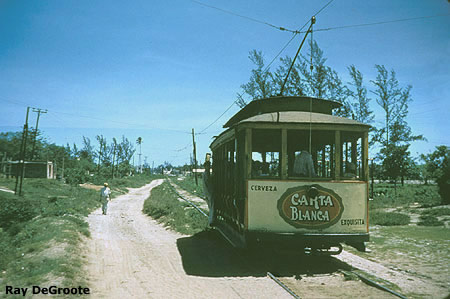 There was a loop at the cemetery entrance to turn the trams around. Here is a view from a hillside in 1955. The white stuff in the foreground is sand [Earl Clark]: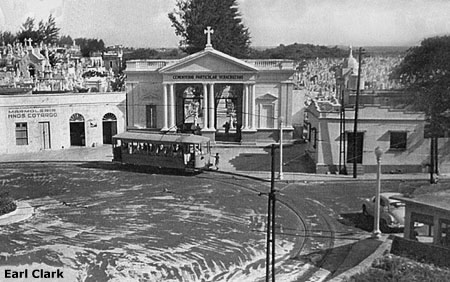 Between 1940 and 1960 SCTUSUVSCL purchased 34 more trams secondhand: 8 from Hartford, Connecticut, in 1940, which it numbered 41-48; 15 from Los Angeles, California, in 1950, numbered 200-214; and 11 cars from Mexico City in 1960, numbers 600-610. It rebuilt some of its open cars as closed cars, rearranged the track around Parque Zamora [see map] and constructed two new tram lines. Track was laid along Avenidas de Las Américas, España and Héroes de Puebla in the Reforma district and the new Reforma Zaragoza line opened in 1957. Another new circuit was constructed around Avenidas de Guadalupe Victoria and Constituyentes on the city's west side, creating the Cortés Lerdo line in 1965. Tramway enthusiasts came from all over to see the vehicles from five cities, many a half century old, on "the world's largest operating tramway museum".
The picture below shows a happy (or at least crowded) scene during this period. The date, location and name of the photographer are unknown [col. AM]: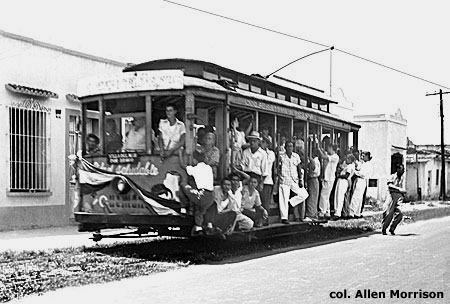 Here is Brill car 9 from 1908 still running on Av. Independencia in 1953 [J. Wallace Higgins]: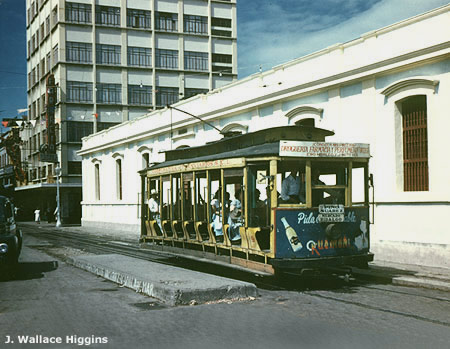 Here is Brill car 15 from 1914 still going to the beach in 1974. It has lost its clerestory roof [Earl Clark]: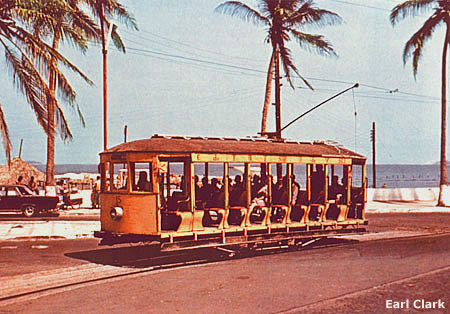 The "Peter Witt" car below was built by Brill for Mexico City in 1924, two years after Brill supplied the closed cars (shown above) to Veracruz. The center door on the "off" side has been sealed for single-end operation. These tracks on Av. República [see map] were closed a few weeks after this photograph was taken in March 1976 - see below [AM]: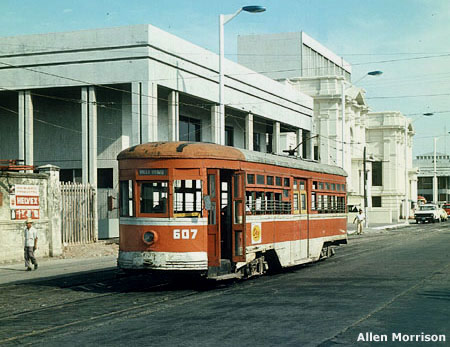 The tramway system reached its peak in 1965. Trams were removed from Calle Paso y Troncoso in 1967 and the branch to the cemetery in 1969 [see map]. In order to reverse traffic direction on Av. Independencia, all the track north of Parque Zamora was closed in April 1976. This meant the end of the Playa, Bravo, Pino Suárez and Cortés Lerdo lines and 112 years of tramway operation on the city's main street. Only the Reforma Zaragoza and Villa del Mar lines ran after that date.
But tram fans kept coming and, as a sort of compensation, SCTUSUV rebuilt open tram 8 as 001 for special tourist service to the beach. The city's new "Tranvía del Recuerdo" (Nostalgia Streetcar) was dedicated on 23 October 1976. The picture below was taken at Parque Zamora in 1979 [Earl Clark]: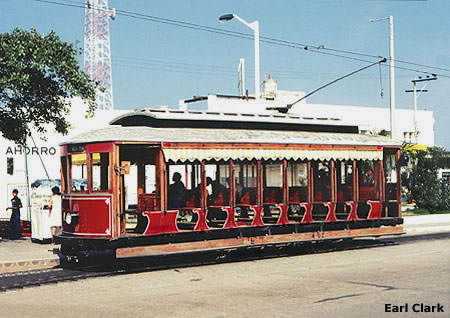 Here is an inside view of 001 in March 1978. Note the center aisle. The special fare of "$2.00" (2 pesos) is displayed on both sides of the door [AM]: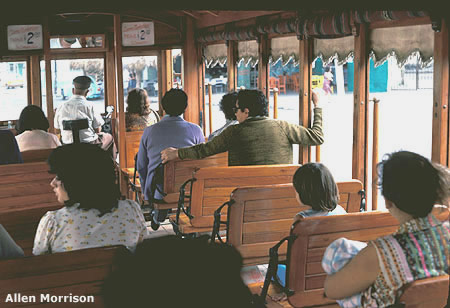 And here are two of the tickets that were used [AM]: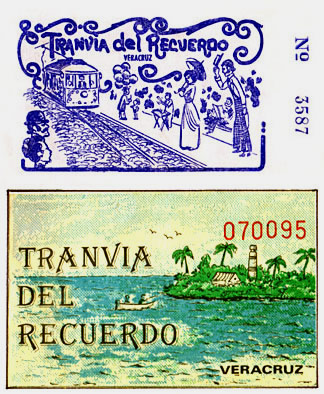 The "Tranvía del Recuerdo" ran for five years until the system closed completely on 16 August 1981. The tramway employees took the cars out for a final run two days later.
Open car 15 went to a park in Villahermosa, Tabasco state. Tram 6 was sold to the Texas Transportation Museum in San Antonio and cars 9 and 19 went to Trolleyville near Cleveland, Ohio. "Tranvía del Recuerdo" 001 went to San Francisco and operated in that city's Trolley Festival in 1984 and 1985. It was returned to Veracruz in the 1990s, was restored, and is nicely displayed today in Parque Zamora in the center of town [see map]. The photograph below was taken in November 2012 [Thomas Kautzor]: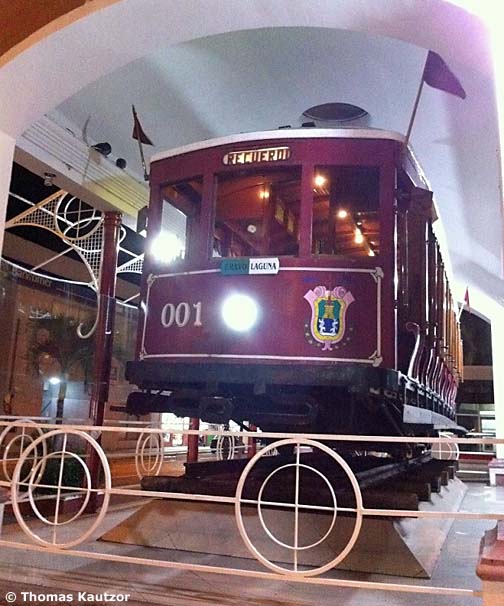 There are many more views of Veracruz trams online. Dave's Electric Railroads has enlargeable photographs of numbers 15, 204, 212, 601, 603, 610 and unidentified Hartford and Los Angeles cars.
BIBLIOGRAPHY (in order of publication)
Though all the trams that ran in Veracruz are believed to have been built in the United States, its transport journals published very little about the Mexican port, so most of the information on this web page came from other sources. In addition to the documents listed below, the author is indebted first of all to Harold E. Cox for invaluable data on tramcar orders. He must also thank the tramfans who wrote trip reports and collected other valuable information about the wonderful place that - for so many years - was Veracruz.
Paula Kollonitz. Eine Reise nach Mexiko im Jahre 1864. Vienna, 1867. Reference to "die auf Schienen geführten Omnibusse" (omnibuses driven on rails) on p. 232.
Gustavo Baz & E. L. Gallo. History of the Mexican Railway. Mexico City, 1876. "From Vera Cruz to Jalapa" on p. 196 describes the interurban mulecar line.
Ireneo Paz. Nueva Guía de México. Mexico City, 1882. "The Railways from Veracruz to Jalapa and Mexico" pp. 603-605 describes the long mule line.
Frederick A. Ober. Travels in Mexico and Life among the Mexicans. St. Louis, 1883. Long description of a ride on the interurban tramway to Xalapa, pp. 186-193.
Mexico. Comisión Geográfico-Exploradora. Plano Topográfico de la Ciudad y Puerto de Veracruz, 1:10,000. Mexico City, 1907. Large street map shows the animal tramway right before electrification.
"Center-Aisle Open Cars for Vera Cruz, Mexico" in Brill's Magazine (Philadelphia), April 1908, pp. 81-83. Description and two photos.
"Veracruz Now Has Electric Tramways [sic] System" in Modern Mexico (Mexico City), 7 July 1908, pp. 3 and 19. Long article about the inauguration.
Great Britain. Naval Intelligence Division. A Handbook of Mexico. London, 1919. Large street map shows electric tram lines in detail.
Manuel B. Trens. Historia de Veracruz. 6 vols., Mexico City, 1947-1950. References to the Veracruz-Jalapa interurban line on pp. 34-35, 111 and 155-156 of vol. VI.
Laurence R. Veysey and M. D. Isely.. "Electric Railways of Mexico" in Timepoints (Los Angeles), July 1953, pp. 1, 4-9. Probably the first tramfan survey of Torreón, Tampico, Mexico City, Veracruz and Celaya. Fascinating text, but no pictures or map.
Lawrence Veysey. "Vera Cruz: The Operating Museum that Shows a Profit" in Headlights (Hoboken, NJ), January 1955, pp. 1-3. A revision of Veysey's 1953 report, with track map and 11 good photographs.
Luis León Torrealba. "Expansion at Veracruz" in Headlights (Hoboken, NJ), November 1965, pp. 6-7. Update with map, car roster and six photographs.
Jack Sweetman. The Landing at Veracruz: 1914. Annapolis, 1968. Nice 2-page street map shows the first three electric tram routes. (Map similar to 1919 British map above).
Martin Jenkins. "The Tramways of Mexico: Vera Cruz" in Modern Tramway (London), September 1974, pp. 299-305. Detailed survey with map, roster and nine photographs.
Peter W. Rees. Transportes y comercio entre México y Veracruz, 1519-1910. Mexico City, 1976. Translation of the author's 1971 thesis, "Route Inertia and Route Competition", at University of California, Berkeley. References to the Veracruz-Jalapa interurban line on pp. 111, 128-129 and 139.
"Vera Cruz" in Traction & Models (Indianapolis), April 1979. Text and six photographs of Veracruz trolleys, pp. 10-12.
Francisco Garma Franco. Railroads in Mexico: An Illustrated History. 2 vols., Denver, 1985 & 1988. Translation by Hector Lara Hernández and Ben B. Massie of the author's unpublished manuscript. Description of the Veracruz-Xalapa tramway in vol. I, p. 13 and vol. II, pp. 72-76 & 224. Map and pictures.
"South of the Border" in Electric Lines (Hicksville, NY), September-October 1989, p. 2. Four color photos of Veracruz trolleys.
Bernardo García Díaz. Puerto de Veracruz. Veracruz, 1992. Brief tramway description. Two extraordinary photographs of the 1908 electric inauguration, pp. 132-133.
Marta García de Benaglio. Historia de los tranvías del Puerto de Veracruz (1863-1981). Veracruz, 1992. Wonderful 106-page tramway history, with numerous maps, rare photographs and other documents. Detailed study of the 1864 line.
return to
INTRODUCTION & INDEX MAP
Copyright © 2003-2103 Allen Morrison - ALL RIGHTS RESERVED