The Tramways of
Yucatán
BY
Allen Morrison
This chapter is divided into five parts.
Go to
Part 1: Introduction, Urban Lines
Part 2: Intercity Lines
Part 4: The Last 50 Years
Part 5: Bibliography
Part 3: Plantation Railways
Aside from the conventional intercity lines noted in Part 2, Yucatán had hundreds and hundreds of kilometers of narrow-gauge track that connected the henequen plantations with the steam railroad stations and the towns. Some lines just operated around and between plantations, with no connection to steam railroads. An article in Engineering News dated 6/9/1890 noted "200 to 300 miles of these light portable railways" [see BIBLIOGRAPHY]. In an article in Trains Magazine, James Terrell estimated 2,500 miles (4,000 km) of hacienda railway in 1931. The Enciclopedia Yucatanense counted 3,000 km of such track in 1936.
The original purpose of these railways was to transport the henequen crop from the fields to the ports for shipment abroad. As business grew, the tracks were extended and used also to transport workers around the large ranch grounds, between plantations, and from the plantations to their homes in nearby towns. (Hacienda Yaxcopoil, near Chocholá, covered 100 sq. km. / 39 sq. mi.) The postcard view below, from about 1905, shows henequen fiber drying on a ranch near Izamal [see map] [col. AM]: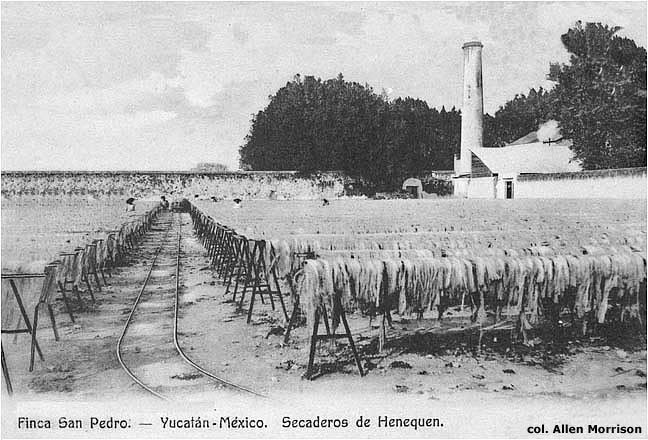 Most of the plantation railways used 500 mm / 1 ft 7.5 in track gauge, shown above. The metric aspect indicates European origin; U.S. manufacturers would have supplied 2 ft / 610 mm gauge. The 1907 Anuario records a few other gauges - 400 , 600, 700, 750, 900 and 930 mm, but they were not common.
The Engineering News article of 1890 [see above] continues: "The track [. . .] was all made in the Decauville works in France. The rolling stock, however, has been made in Yucatán, with the exception of the first-class passenger cars, which come mostly from John Stephenson of New York City." In 1911 author Henry Case observed: "Every pound of these rails, and attending light freight platform cars, are plainly of French or Belgian origin." But in his 1984 article James Terrell noted that he found wheel sets marked "Carl Koch Inc., N.Y., 1917." Passenger equipment is known also to have come from other manufacturers in the USA and Europe. Arthur Koppel AG in Berlin, Germany, built plantation equipment for Mexico, including this crude 8-passenger model [Arthur Koppel, Ferrocarriles: see BIBLIOGRAPHY]: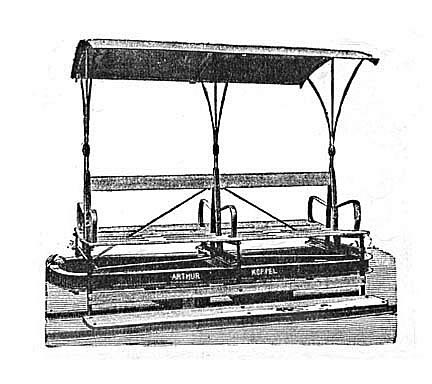 Koppel also built this "passenger car with 2 platforms and 2 chain brakes". It is larger and more elegant and protects from sun and rain, but seats only 4 [Arthur Koppel]: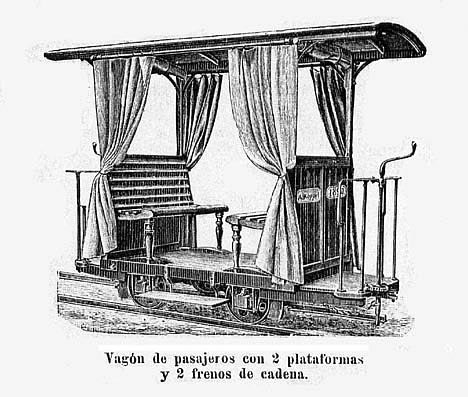 The Koppel model below also seats 4 and has plenty of drapes, but does not have separate platforms for the driver [Arthur Koppel]: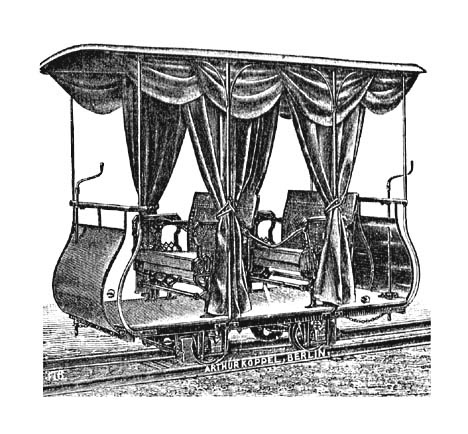 Jackson & Sharp in Wilmington, Delaware, built this elegant 8-passenger model for Yucatán. Except for the smaller wheels, it could pass for a conventional tram. It was designed for 600 mm gauge [Street Railway Review, Chicago, 15/12/1897, p. 866]: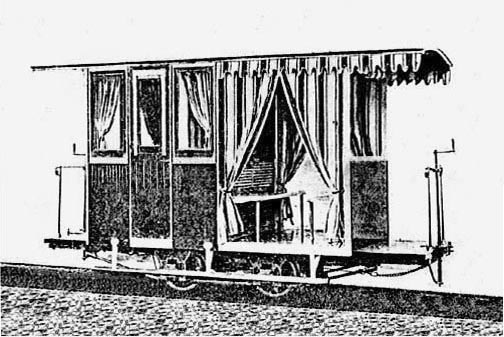 In 1902 John Stephenson Co. in Elizabeth, New Jersey, built the vehicle below for the Kanachén plantation near Maxcanú [see map]. The car measured 1.8 m x 2.4 m / 6 ft x 8 ft. Track gauge of this railway was 750 mm / 29.5 [Street Railway Journal, NY, 6/9/1902, p. 337]: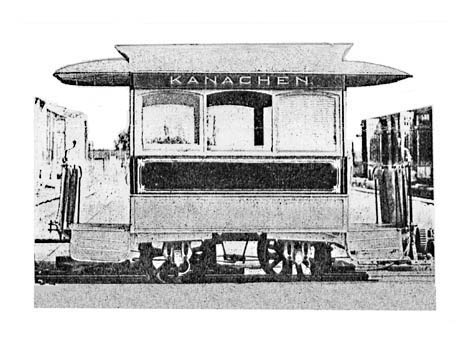 J. G. Brill also built cars like that for Yucatán. The photograph below shows a similar model - but even smaller - on the Kanachén plantation three decades later! Its origin is unknown [Transportation, NY, 5/1931, p. 33; courtesy Ken Fletcher]: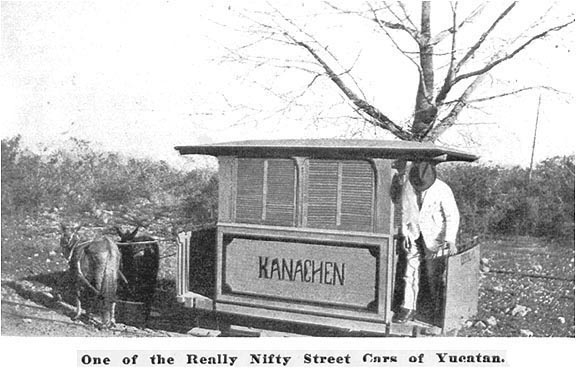 Some of the vehicles on these lines were designed for the plantation owners and staff and resembled the vehicles that ran on the intercity lines described in Part 2. Two such cars were preserved in a museum at Hacienda San Bernardo near Maxcanú [see map]. A 1978 article in the magazine México Desconocido [see BIBLIOGRAPHY] included the photograph below of a tram built in Bélgica (Belgium):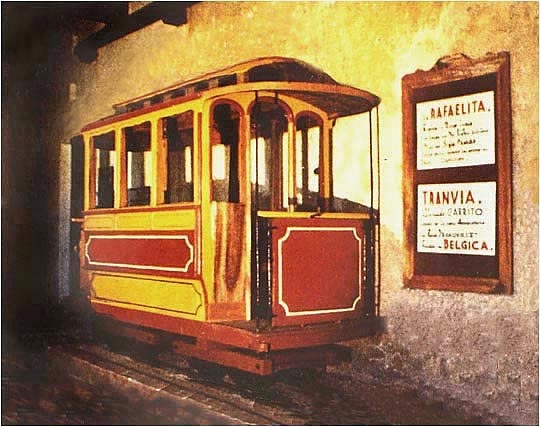 At last report, the Hacienda San Bernardo was closed for renovation and the trams may have been moved to Hacienda Poxilá, between Chocholá and Umán [see map].
On location as on maps and in books, the plantation railways were often confused with the ordinary intercity lines. In the description below of a train trip across Yucatán, the Handbook of Mexico notes the "tramways" along the way [see BIBLIOGRAPHY]. Some are ordinary interurban lines, but others are probably plantation railways. Distances from Mérida and track gauges are noted in imperial scale: 15.5 miles = 25 km; 1 ft 7.5 in = 500 mm; 2 ft 5.5 in = 750 mm; 3 ft = 914 mm: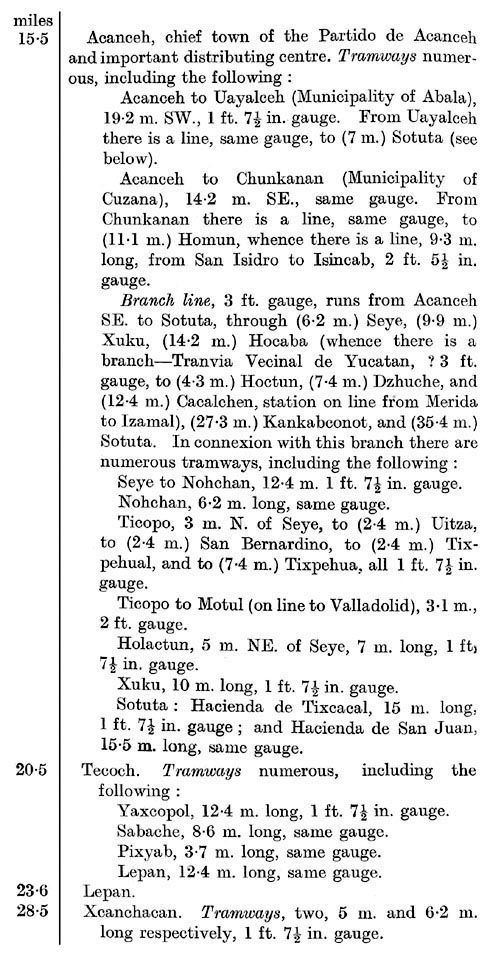 There seems to be very little photographic record of Yucatán tramways in operation during the 1930s and 40s. Fortunately, pictorial evidence resumes in mid-century when the lines were discovered by tramway enthusiasts from the United States: see Part 4.

Go to
Part 1: Introduction, Urban Lines
Part 2: Intercity Lines
Part 4: The Last 50 Years
Part 5: Bibliography
return to
INTRODUCTION & INDEX MAP
Copyright © 2004-2104 Allen Morrison - ALL RIGHTS RESERVED