Close-up of the view above [col. AM]: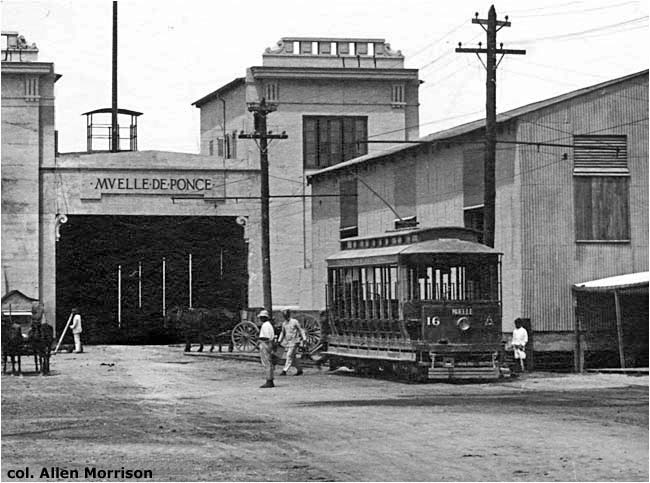 Operation continued normally through the 1920s, but bus competition increased and on 9 December 1927 Ponce Railway & Light Co. filed a petition with the Public Service Commission for abandonment of the line [see Stone & Webster Journal in the BIBLIOGRAPHY]. The 25-year-old Brill cars carried their last passengers on Christmas eve 24 December 1927. It was one of the earliest closures of an electric tramway in the hemisphere [see list]. Ponce Electric Co. was absorbed by Puerto Rico Electric Power Authority in 1937.
The "linen type" postcard below shows the pier around 1940 [see map of port area]. All rails and rail vehicles have disappeared [col. AM]: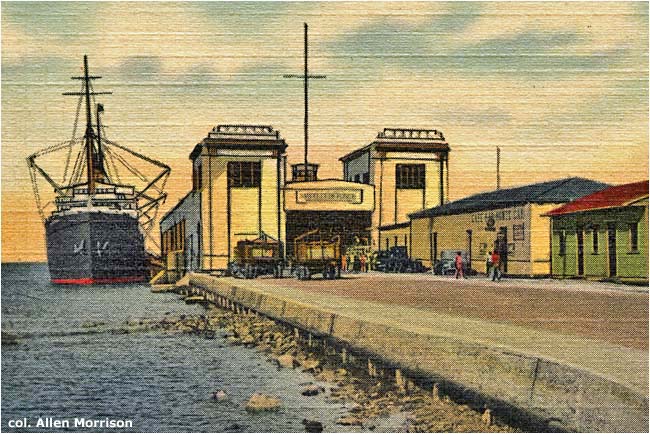 The port area was extensively rebuilt in the latter half of the 20th century, without any trace of the structures shown on these old postcards. The area is served today by the standard gauge Chemex Railroad, which is the only industrial rail line on the island.
Maps linked on this page:
1880 map of Ponce-Playa steam line
1902 map of Ponce-Playa electric line
1927 map of Playa-Muelle extension
all-time Ponce tramway map
BIBLIOGRAPHY
(in order of publication)

José Jimeno Agius. Población y Comercio de la Isla de Puerto Rico. Memoria de 1885. Madrid, 1885 [reprinted in1918 in Boletín Histórico de Puerto Rico, vol. V]. Survey of citizens and commerce. A footnote at the bottom of p. 294 notes animal tramways, each 2 km long, connecting Ponce and Mayagüez with their playas. The Mayagüez line existed, but no confirmation could be found of a horsecar line in Ponce in 1885, or at any other date. The distance from town to beach is approximately 4 km, not 2 km.
United States. 57th Congress, 1st Session, Senate. Document No. 76: Electric Street Railway, Ponce, P.R. Washington, 1901. Ordinance signed by President Theodore Roosevelt granting W. S. H. Lothrop permission to construct an electric tramway in Ponce. The first part of the 4-page document is reproduced here.
Stone & Webster Public Service Journal. Boston, 1907-1915 (continued as Stone & Webster Journal 1916-1932). This monthly publication has numerous articles, some with illustrations, about its electric power and railway installations in Ponce. See especially issues of 1907, 1908 and February 1928, which has an announcement of the tramway closure.
Poor's Manual of Railroads. New York, 1868-1924. The section on Ponce Electric Co. on page 2500 of the 1912 edition says that Ponce Railway & Light Co. operates 6 motor cars, 3 trail cars and 3 "other" cars (?) on 4.8 miles of meter gauge track. What were the "other" cars? What was the origin of the third trail car? See reproduction here.
Eduardo Neumann. Verdadera y Auténtica Historia de la Ciudad de Ponce. Ponce, 1913 [reprinted 1987]. The "Carros Eléctricos" section on pp. 114-115 briefly chronicles both steam and electric tramway development.
McGraw Electric Railway List or Directory. New York, 1910-1932. Annual surveys describe staff, installation and operation of electric railways in North America and the Caribbean Islands, including Puerto Rico. The 1918 and 1924 editions are quoted here.
United States Army Corps of Engineers. Port Facilities at Ponce, Porto Rico [sic]. Washington 1927. Nice map of the port area shows the route of the "trolly" line from Ponce Playa to the wharf . Reproduced here.
Roger Aponte Pargas. El desarrollo histórico del tranvía eléctrico de Ponce: 1898-1927. Ponce: University of Puerto Rico, 1987. Master's thesis treats the development of Ponce's electric tramway in detail.
Adolfo de Hostos. Tesauro de Datos Históricos. 5 volumes, Río Piedras, 1990-1995. Thesaurus of Puerto Rican history. The "Ponce – Tranvía" section on p. 391 of vol. IV notes important milestones in the city's tramway development. The "Tranvías de Sangre" paragraph on p. 572 of vol. V references the Jimeno Agius text of 1885, listed above.
Archivo General de Puerto Rico. Fondo de Obras Públicas. Inventario Sub Fondo Ferrocarriles y Tranvías. San Juan, 2005. List of railroad and tramway proposals. The Ponce tramway section on pp. 139-141 notes tramway proposals in 1864-1865.
Roger W. Aponte. Railroads of Puerto Rico/Ferrocarriles de Puerto Rico. Elaborate bilingual website with history, maps, photographs, articles, timetables, etc., of every railroad and tramway that is known to have existed on the island. Photographs of Ponce trams and links to old maps of both its steam and electric tram lines. Recommended.
–––––––––––––––––––––


Much of the information on this page is derived from research conducted many years ago by Ponce resident Roger W. Aponte. Without his help this survey would have been much less accurate and complete. The author wishes to express his profound gratitude to Sr. Aponte and also to Juan J. de Lara of Ponce, to Angel Rodríguez Cardona of San Sebastián, and to Dave Deyo of Somerset, Massachusetts, for their contributions and generous assistance in the preparation of this page.
–––––––––––––––––––––
Also see
The Tramways of San Juan
and
The Tramways of Mayagüez

and my index of
ELECTRIC TRANSPORT IN LATIN AMERICA
If you have comments, criticism or suggestions,
please e-mail me!
This page was placed online on
10 June 2010
Copyright © 2010-2110 Allen Morrison
ALL RIGHTS RESERVED
TOUS DROITS RÉSERVÉS
TODOS LOS DERECHOS RESERVADOS
TODOS OS DIREITOS RESERVADOS
ALLE RECHTE VORBEHALTEN