The Trolleybuses of
SANTIAGO
Chile
BY
Allen Morrison
Chile's capital is the fifth most populous city in South America, after São Paulo, Buenos Aires, Rio de Janeiro and Bogotá. Most of the metropolitan area is flat, but the Andes begin in the eastern suburbs, which are about 40 kilometers (by air) from the Argentine border. Santiago had South America's first horsedrawn street railway in 1858 and one of its largest electric tramway systems between 1900 and 1965 [see Santiago chapter of The Tramways of Chile]. It had three trolleybus eras: an experimental line in 1940, a large system with 200 vehicles between 1947 and 1978, and a new 7 km line with 32 trolleybuses from 1991 to 1994. The first two periods are discussed in Part A.
Part B: 1991-1994
After the Santiago trolleybus system closed in 1978, the Empresa de Transportes Colectivos del Estado transferred its remaining vehicles and equipment to its system in Valparaíso. The Valparaíso system, in turn, ceased operation on 30 November 1981 and the government agency was dissolved. On 26 April 1982 a group of Valparaíso businessmen acquired the assets of the former ETCE – vehicles, infrastructure, operating rights – and formed a new company, Empresa de Transportes Colectivos Eléctricos. A new trolleybus era in Chile had begun.
The new ETCE restored Chile's 35-year-old Pullman trolleybuses and established a first-class transport operation in the city. In June 1987, with a surplus of vehicles, it announced a plan to build a new line in Santiago, between Escuela Militar metro station and Las Condes [see map]. Some of the Pullman vehicles were rebuilt in a streamlined mode with rectangular headlights, larger windows, new livery and new seats. News of the Chilean trolleybus revival spread worldwide and proposals to build new trolleybuses for Chile came from Argentina, Brazil, Romania and Japan. Norinco (North China Industries) in Shenyang sent a vehicle that tested in Valparaíso on 2 January 1990 [see Valparaíso page]. This photograph was taken at the Valparaíso depot on 25 March 1991 [Michael Roschlau]: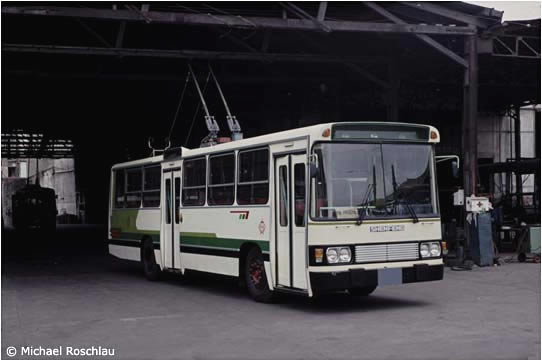 ETCE contracted Norinco to build eight of its "Shenfeng" model. It also purchased 31 used vehicles from trolleybus systems in Zürich, Genève, Schaffhausen and St. Gallen, Switzerland. Six FBW trolleybuses from Zürich arrived at the Valparaíso docks on 22 September 1991 [Sergio González]: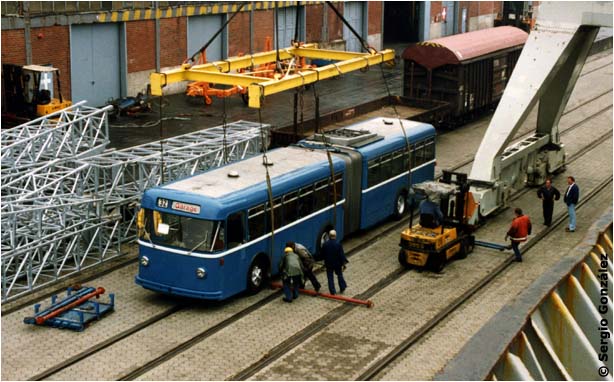 The driving force behind the trolleybus revival was Valparaíso entrepreneur Pedro Massai Barrios, who more than any other person was responsible for saving the trolleybuses of Chile, their reconstruction, the acquisition of additional equipment from abroad, and the installation of the new line in Santiago. Here is Chile's trolleybus hero relaxing on one of his Pullmans in September 1991 [Sergio González]: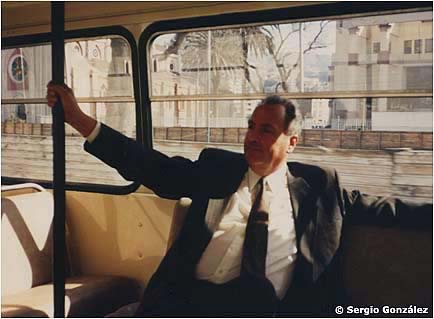 Progress on the Santiago project continued, but a new route was chosen: instead of Av. Apoquindo on the city's east side, trolleybuses would cross the river and run north along Av. Independencia [see map]. A depot was constructed near the racetrack and ETCE created a subsidiary, Empresa de Trolebuses Santiago, to operate the new service. It printed tickets [col. AM]: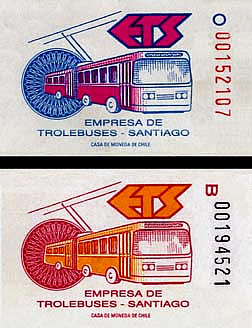 The Shenfeng trolleybuses arrived at the port of San Antonio on 19 December 1991 and were trucked to Santiago. Inauguration of the new line was delayed because a law forbade the operation of old buses on city streets. 2,600 microbuses had been retired earlier that year and their owners were not pleased with the ETS project. But permission was finally granted and Santa Claus drove one of the three Swiss vehicles that opened the city's new trolleybus line on 24 December 1991. License plate DR 5666 identifies Zürich trolleybus 109, renumbered 502 in Chile [La Segunda, Santiago, 24/12/1991; col. Diego González Vargas]: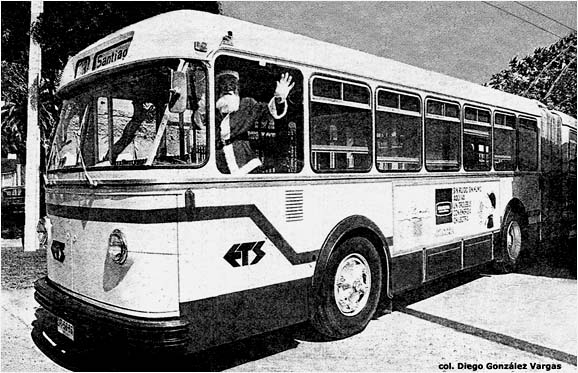 The other two Swiss trolleybuses that participated in the inauguration were driven by conductoras. The use of women drivers was one of the unusual aspects of the Santiago trolleybus operation [El Mercurio, Santiago, 12 January 1992]: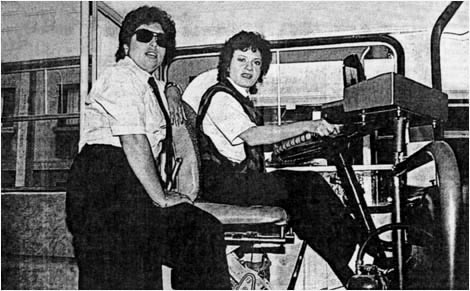 On 24 and 25 December trolleybuses ran only from the depot on Coronel Alvarado to Calle Gamero [see map]. Starting 26 December they continued across the river to Estación Mapocho and the following 19 January completed the circuit to Calle París (south on San Antonio, north on Mac Iver). By the end of January all 30 trolleybuses of the initial fleet were running on the line: 18 Pullmans built in the U.S.A. and rebuilt in Chile, #101-118; 4 articulated FBW trolleybuses from Switzerland, #501-504; and the 8 new Shenfengs from China, #601-608. But they were not the only vehicles using the overhead wires . . . [El Mercurio, Santiago, 28 December 1991]: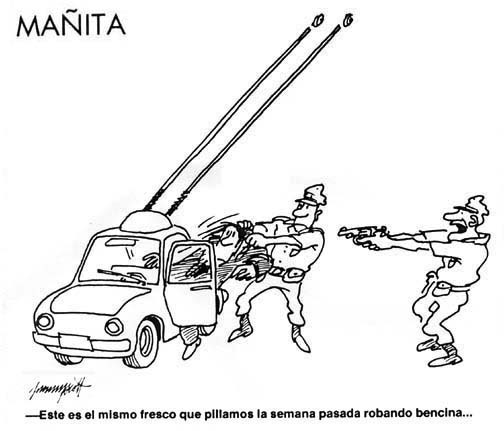 ("This is the same wise guy we caught last week stealing gasoline . . .")
Since ETS was a subsidiary of ETCE in Valparaíso, vehicles were occasionally transferred between the two systems. Trolleybus 146 from St. Gallen and at least five trolleybuses from Genève, #32, 96, 99, 617 and 643, came to Santiago in the following years. On 12 July 1993 ETS discontinued revenue service along Av. Hipódromo Chile and extended its wire on Av. Independencia 3.2 km north to Calle Nueva Los Zapadores [see map].
The following seven photographs were taken in April 1994. The first shows Shenfeng trolleybus 607 on Calle J. M. Caro near Estación Mapocho. "387" is the route number assigned by the city in 1993 [AM]: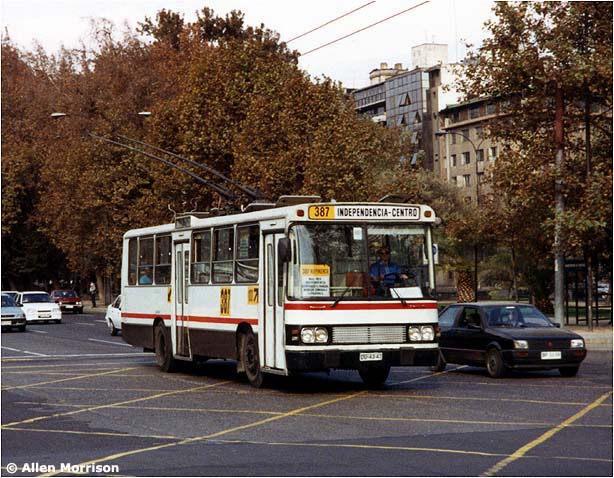 Pullman 111 in the picture below was obviously rebuilt to look like the Shenfeng above. The models are readily distinguished by the black radiator grill on the American. 111 was numbered 818 when it ran in Santiago many years before [AM]: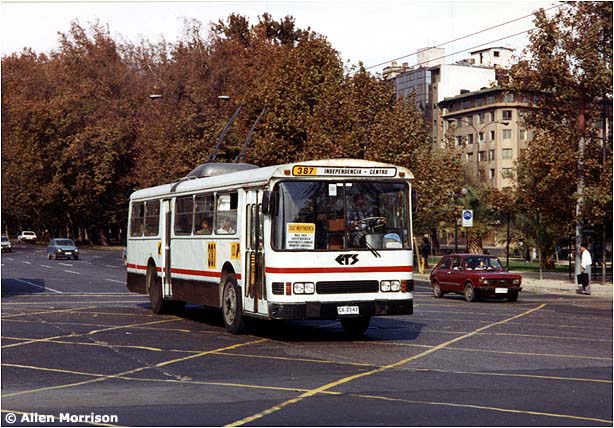 Pullman 107 is one of two trolleybuses labeled "ECOTROL" = Ecológico Trole. Built for Valparaíso in 1952 as number 729, it was one of three Valparaíso vehicles that went to Santiago 40 years later [AM]:
Rear view of Pullman 101 near the bridge over Río Mapocho [see map]. It was numbered 871 when it ran on the old ETCE system [AM]: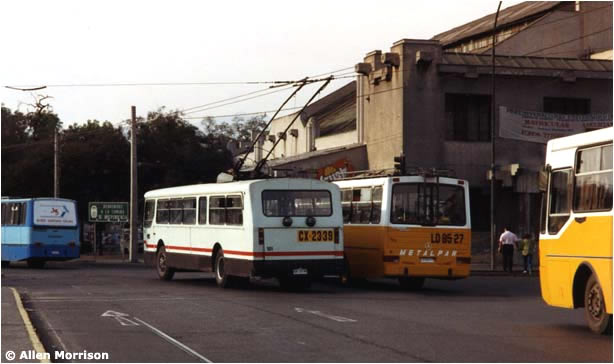 501 was built in 1959 for Zürich, where it was numbered 107 and painted blue [see second photograph above]. In the picture below it is crossing the Alameda (Av. Bernardo O'Higgins) at the jog between Calles San Antonio and San Francisco [see map] [AM]: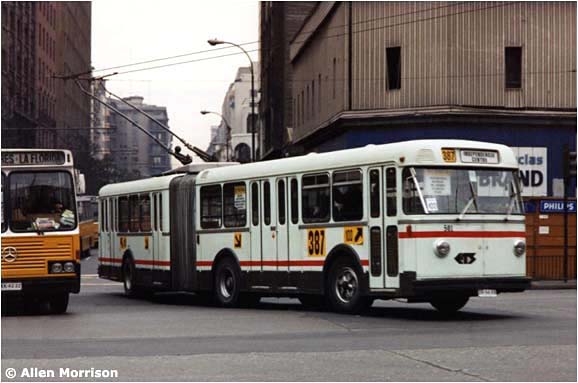 Genève trolleybus 32, built in Switzerland in 1965, kept its Swiss number in Chile. It was traveling southbound at Plaza Chacabuco [see map] during a torrential rainstorm in April 1994 [AM]: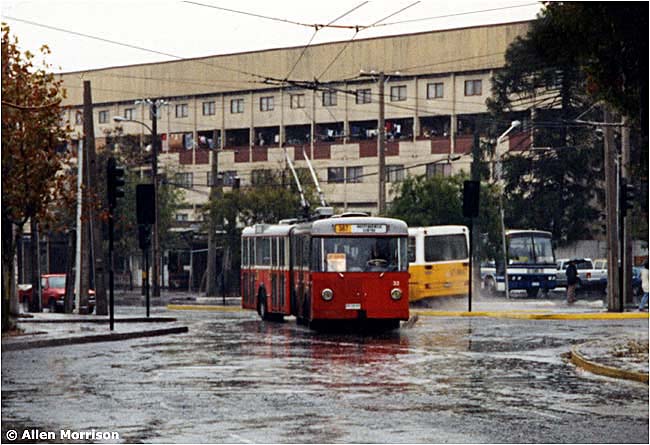 Inside an articulated Swiss trolleybus on a rainy day in Santiago [AM]: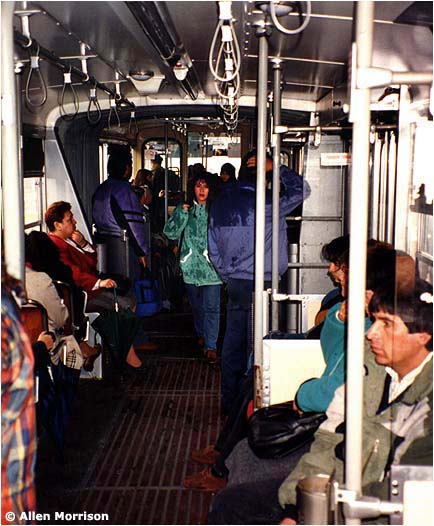 The picture below shows the Coronel Alvarado depot [see map] after employees struck the system for higher wages in March 1993. Alas, it was a portent of things to come [El Mercurio, Santiago, 29 March 1993]: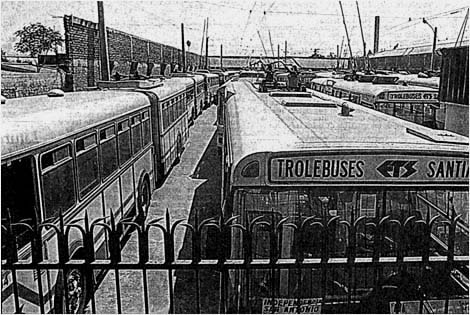 The ETS trolleybus line ran for the last time on Saturday night 9 July 1994, after barely 30 months of operation. The government of Santiago – a city with the worst air pollution in the southern hemisphere – did little to promote electric transport. Gasoline buses were allowed to operate along Av. Independencia and steal ETS passengers, in violation of its contract. The owners of the gasoline buses cut ETS cables and collided their vehicles, intentionally, with the trolleybuses. ETS lost passengers, could not pay its electric bill and Chilectra, the state-run electricity company, turned off its power. The oil lobby had won. The polluters were victorious. The cartoon below was published the following week [El Mercurio, Santiago, 17 July 1994]: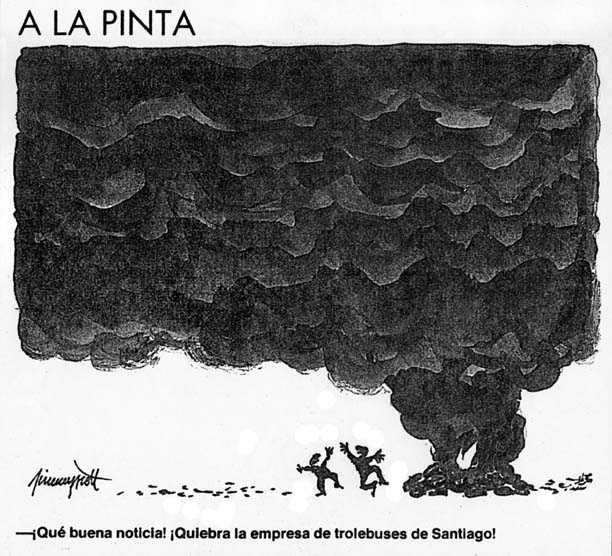 ("What great news! The Santiago trolleybus company is bankrupt!")
ETS had a franchise to build another trolleybus line along Av. Irarrázaval to Plaza Egaña, which would have duplicated one of the original trolleybus routes of 1947-1978 [see map]. In March 1992 a new company, Empresa Nacional de Transporte de Pasajeros, announced that it had purchased 50 trolleybuses in Russia for 10 new trolleybus routes in Santiago. In 1998 Mayor Jaime Ravinet renewed the plan for a trolleybus line to Las Condes and promoted other lines west to Quinta Normal and north to Huechuraba. In 2001 Metro de Santiago proposed the construction of new trolleybus routes to feed its new underground line on the north side: trolleybuses would run again on Avenidas Independencia and Av. Recoleta . . .
None of these lines was built. The Russian trolleybuses never arrived. But Santiago seems never to stop trying to build trolleybus lines. Perhaps the famous line in nearby Valparaíso, which celebrated 50 years of operation in 2003 and is now a Monumento Nacional, reminds Santiaguinos that they are missing a good thing.

BIBLIOGRAPHY
(in order of publication)

"Proyectan Retorno de Trolebuses" in El País (Santiago), 21/6/1987. Long article about trolleybuses with description of proposals, including a line to Las Condes. Photograph of remodeled Pullman 821 in Valparaíso.
"Cinco milliones de dólares costará reponer los troles en Santiago" in El Mercurio (Santiago), 7/7/1987. The reconstruction project in Valparaíso. Plans for Santiago. Large picture of Pullman 804.
"Trolebuses: Aliados contra la contaminación" in La Época (Santiago), 16/8/1987, pp. 15-19. Impressive magazine-style article about trolleybuses as weapons again air pollution. Good general trolleybus survey, history of ETCE transformation. 12 color photographs!
"Trolebuses no dejarán Valparaíso" in El Mercurio (Valparaíso), 10/7/1987. Reconstruction of 15 trolleybuses for the new line in Santiago. Assurances that trolleys will continue to run in Valparaíso.
"De los caballos a los trolebuses" in El Mercurio (Valparaíso), 3/12/1987. General trolleybus history and plans to install them in "otros puntos del país" (other parts of the country), including Santiago.
"Trolebuses De Regreso" in El Mercurio (Santiago), 5/12/1987. Details of the new line planned in Las Condes.
"Santiago: S.A. mixta para retorno de trolebuses" in El Mercurio (Valparaíso), 4/8/1989. Formation of new company to import trolleybuses and operate them in Santiago.
"Viejo trolley" in Hoy (Santiago), 11/3/1990. New trolleybus line will begin operation in July [1990] between Estación Mapocho and Plaza Chacabuco. Most of the vehicles will be supplied by Norinco of China.
"En septiembre retornan trolebuses a Santiago" in El Mercuro (Santiago), 14/3/1991. New trolleybus line on Av. Independencia will begin operation in September [1991].
"4 millones de dólares cuesta la extensión de la ETC en Santiago" in El Mercurio (Valparaíso), 16/3/1991. Director Pedro Massai assures that the new Santiago project will not affect trolleybus operation in Valparaíso. Notes friction with bus company owners who do not want trolleybuses to run in Santiago.
"La Vuelta del Trolley" in El Mercurio (Santiago), 16(?)/6/1991. Sunday supplement about the return of trolleybuses to the capital. Six large photographs of trams and trolleybuses.
"El Viernes Se Inaugura Recorrido de Trolebuses" in El Mercurio (Santiago), 5/12/1991. Next Friday the Minister of Transport will inaugurate the new trolleybus line between Plaza Chacabuco and Av. Bernardo O'Higgins. Details of the operation and plans for future lines.
"Postergan Puesta en March de Trolebuses" in El Mercurio (Santiago), 6/12/1991. Subsecretary of Transport delays the inauguration of trolleybus line because, he says, a law forbids the operation of old buses in the city. Perhaps it can open when the Shenfengs arrive from China.
"En Cuarentena Barco que Trae Los Trolebuses" in El Mercurio (Valparaíso), 8/12/1991. The eight Chinese trolleybuses are stranded in Caldera because their ship is infected with boll weevils . . .
"Llegará una nueva partida de trolebuses de China Popular" in El Mercurio (Valparaíso), 19/12/1991. The ship carrying the eight Norinco trolleybuses has arrived in San Antonio and will be unloaded today.
"Correa llamó a no boicotear troles" in El Mercurio (Santiago), 25/12/1991. The transport minister asks the owners of the gas bus companies not to interfere with the operation of the new trolleybus line.
"Estreno con Aplausos" in El Mercurio (Santiago), 29/12/1991. Three Swiss trolleybuses, two of them driven by women, inaugurate the new line on Christmas Eve. Chinese "Shenseny" trolleybuses also took part. The new installation cost $4.5 million.
"Trolebuses son novedad del año" in La Tercera (Santiago), 30/12/1991. Large crowds ride the trolleybuses during the Christmas holidays. Two nice photographs.
"Nos Vamos por el Alambre" in El Mercurio (Santiago), 12/1/1992. "We're Going by the Wire." Two-page article about the first two weeks of operation. Interviews with passengers and the women drivers. Four large pictures.
"Se restauraron en Valparaíso: Tradicionales troles tienen positiva acogida en Santiago" in El Mercurio (Valparaíso), 2/2/1992. ETCE has finished sending its vehicles to the capital, says that trolleybuses could run in other cities.
"Partida llega en próximos 90 días. Compran trolebuses rusos" in El Mercurio (Santiago), 19/3/1992. First of several (false) reports about the purchase of 50 trolleybuses in Russia.
"Entrarián en Operación a Fines de Año: 50 Trolebuses Rusos Inician Sus Recorridos por Diversas Comunas" in El Mercurio (Santiago), 6/8/1992. The new Empresa Nacional de Transporte de Pasajeros announces that 50 trolleybuses are being loaded onto a ship in Russia and 8 to 10 new trolleybus lines will run in Santiago by 1993.
"Huelga legal en servicio de trolebuses" in El Mercurio (Santiago), 29/3/1993. Picture and brief description of the workers' strike.
"Deudas Terminaron con Trolebuses en Santiago" in El Mercurio (Santiago), 16/7/1994, p. C-7. Long description of the ETS failure. Statement by Pedro Massai. Government did not support $5 million investment. Gas buses were not supposed to use Av. Independencia. Deliberate collisions with the trolleybuses. Cables cut.
"Una opción diferente" in El Mercurio (Valparaíso), 14/8/1994. Newspaper editorial laments the failure of the Santiago project, caused by economic problems, government indifference and "gasoline bus owners who resorted to conduct at odds with healthy competition."
"Trolebuses: nuevos intentos en la ciudad" in La Tercera (Santiago), 19/8/1998. Plans for trolleybus lines in Las Condes and Huechuraba, a district north of the city [see map].
"Ciclovías y troles en Santiago Poniente" in La Tercera (Santiago), 20/8/1998. A new transport system – probably with trolleybuses – will begin operation next March.
"Trolebuses reaparecerán en Santiago Poniente" in La Tercera (Santiago), 20/8/1998. Santiago's mayor says that trolleybuses will run in reserved lanes on the city's west side.
This page is dedicated to the memory of Sergio González Pavesio of Viña del Mar, who among many favors supplied the articles above. The author would also like to thank the following persons for their assistance: Raúl Moroni, Sebastián López and Diego and Mario González Vargas in Santiago; Pablo Serra in Los Andes; Álvaro Rojas Reyes in Valparaíso; and Steve Morgan in Portland, Oregon, USA.
See my index of
ELECTRIC TRANSPORT IN LATIN AMERICA
If you have comments, criticism or suggestions,
please e-mail me! Leo y escribo español.
This page was placed online on
31 October 2006
Copyright © 2006-2106 Allen Morrison
ALL RIGHTS RESERVED