The Tramways
of
Mexico City
(Ciudad de México)
BY
Allen Morrison
The Mexico City chapter is divided into four parts.
Go to
Part 1: Animals, Steam and Gasoline
Part 2: Early Electrics
Part 4: The STE in Color
Part 3: After the Revolution
Mexico adopted a new Constitution in 1917 and operation of the street railway system in the capital was returned to Mexico Tramways Company. The postcard view below shows Plaza de la Constitución ("el Zócalo") in 1919 [see map]. The tram station upper right is the same structure shown in a horsecar view in Part 1. Note the baggage compartment on the trailer lower right [col. AM]: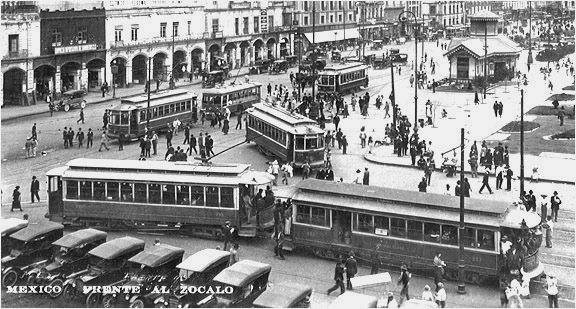 The small arch-roof tram in the photograph above is one of six "Birney" cars that the Canadian company ordered from American Car Co. in St. Louis in 1918. These were its first imports since 1907. The new 4-wheel vehicles were numbered 70-75 [col. Instituto Nacional de Antropología e Historia]: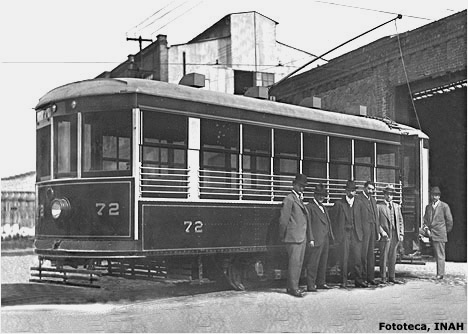 Mexico Tramways Co. continued to construct vehicles at its Indianilla shops, not only for the capital but also for tramway systems in other cities. In 1921-22 it built nine large cars for Guadalajara. The mysterious vehicles that opened the electric tramway in Puebla in 1924 probably also came from Indianilla; its 10-km route to Cholula was part of a 162-km interurban line planned in 1909 [see Part 2].
Mexico City's tramway system reached its peak in the 1920s. The November 1925 edition of Electra, MTC's monthly magazine [see BIBLIOGRAPHY], reported 321 passenger motor cars, 20 single-truck passenger trailers, 82 double-truck passenger trailers, 43 freight motor cars, 60 freight trailers, 29 funeral motor cars, 27 funeral trailers and four "special" cars running on 348.61 km of track. The company had 4,012 employees.
It imported two other groups of trams after the war, including 50 center-door cars from Brill between 1924 and 1927. The "Peter Witts", numbered in the 600s, were unidirectional but had doors on both sides for loading from center platforms in the street. The photograph below was taken in 1953 - in a period when seemingly every tram in Mexico had advertisements for Corona beer on the front and Raleigh cigarettes on the side. Some of these cars were later sold to Veracruz [J. W. Higgins]: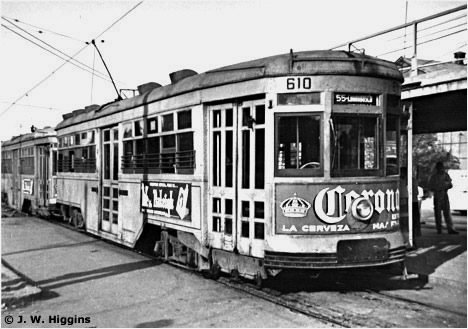 Later in 1927 MTC placed another order with Brill, for 30 double-end cars numbered 500-529 (replacing an earlier group of trams numbered 500-507 . . .). These were the last trams that Brill built for Mexico and the last vehicles that the Canadians brought from abroad. Car 505 below was photographed in 1955 [Earl Clark]: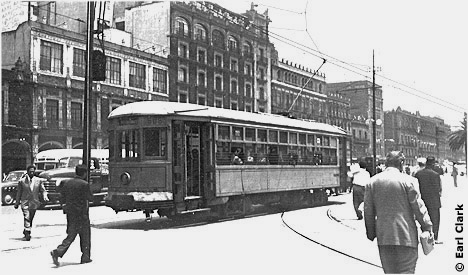 An MTC carpenter built a replica of tram 705 - an employees' favorite which worked the Xochimilco-Tulyehualco line [see map]. The meter-long model operated during the 1930 Christmas season on a track constructed in the lobby of the MTC office building on Calle Gante [Electra, México, 1/1931, p. 16]: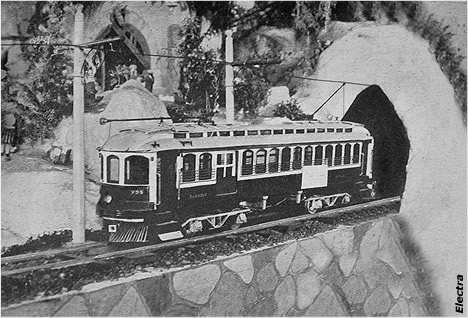 The rest of the photographs on this page were taken after World War 2, even though the vehicles were built many years earlier. They are presented in the order of their fleet numbers, which is not necessarily the order in which they were built.
The photo below, taken in 1953, shows a reconstruction of one of the original Brill trams of 1899 [see Part 2]. Is the boy in the foreground also taking a picture? [J. W. Higgins]: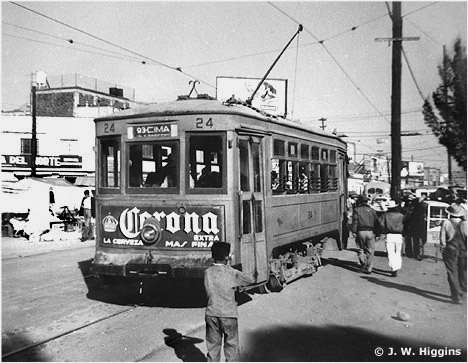 Tram 142, below, was built by American Car Company about 1904. It was photographed on the Zócalo in 1953 [J. W. Higgins]: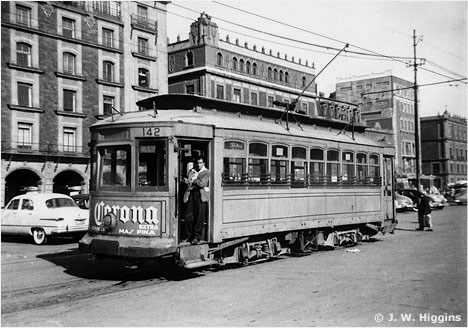 Number 171 was built by St. Louis Car Co. in 1930 for Oklahoma City, USA. It was sold to Mexico City in 1947 and photographed on the Zócalo in 1955 [Earl Clark]: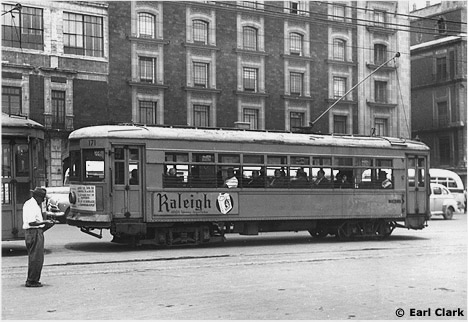 In contrast to tram 24 above, which had six side windows, car 234 had twelve windows and twice as many doors. It was one of a group of 18 vehicles, numbered 215-240, built by Mexico Tramways Co. in 1908. The picture was taken near Indianilla shops in 1953 [J. W. Higgins]: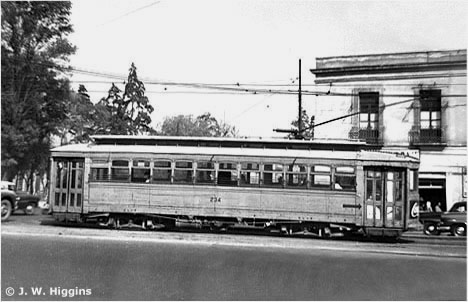 The Guadalajara page of this website has a photograph of tram 243, one of nine built by Mexico Tramways Co. for Guadalajara in 1922. When the Guadalajara system closed in 1944, cars 241-249 returned to Mexico City, where they ran another dozen years.
Tram 362 below was one of 12 vehicles, numbered 359-370, from American Car Co. order 528 of 1904. They were rebuilt without their clerestories in 1920. This picture was taken in 1955 [Earl Clark]: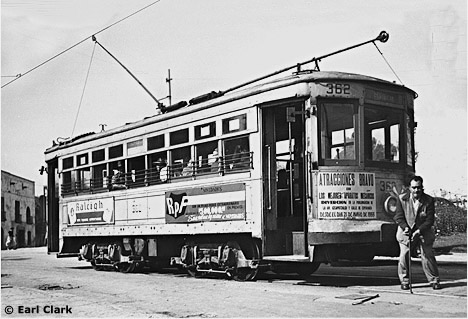 Eleven-window 424, photographed in 1953 at Chapultepec Park [see map], is a classic American Car Co. design from the early 20th century. Mexico Tramways Co. also built vehicles like this at its Indianilla shops [J. W. Higgins]: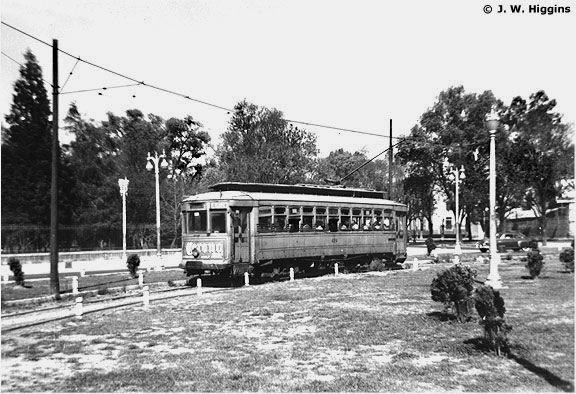 Rebuilt tram 496 had 26 windows below and 13 "standee" windows above! It was photographed at Villa Obregón loop [see map] in 1953 [J. W. Higgins]:
Number 544, photographed in 1955, had 11 standee windows on the side and four more at the end [Earl Clark]: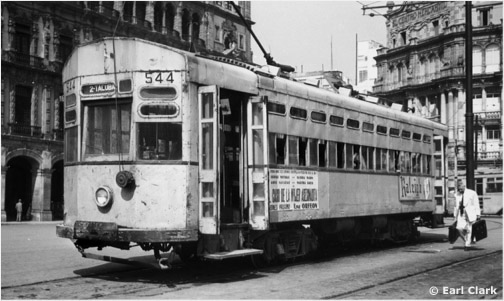 Standee windows were also a feature of unique car 680, built in 1953 in an obvious attempt at a "PCC" design. Like the city's genuine PCCs, 680 was unidirectional but had doors on both sides. The picture below was taken in 1955. There is a color view of the same tram in Part 4 [Earl Clark]: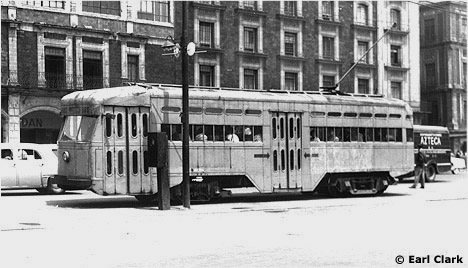 Between 1946 and 1948 Mexico City purchased 88 trams secondhand from Providence, Rhode Island, which had been built in the 1920s by Wason and Osgood Bradley in Massachusetts. Ex-Providence 793 was photographed in 1953 at Alexander Pushkin Park, at the intersection of Avenidas Cuauhtémoc and Obregón [J. W. Higgins]: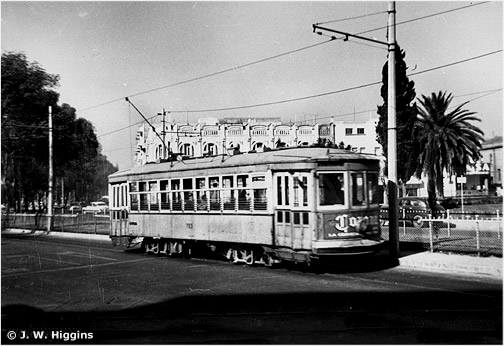 The city's 800-series, which served its suburban lines for many years, began with an order for 25 vehicles from St. Louis Car Co. in 1907. Other orders followed and MTC built and rebuilt clones at its Indianilla shops. This dramatic view of 886 was captured on the Zócalo in 1955 [Earl Clark]: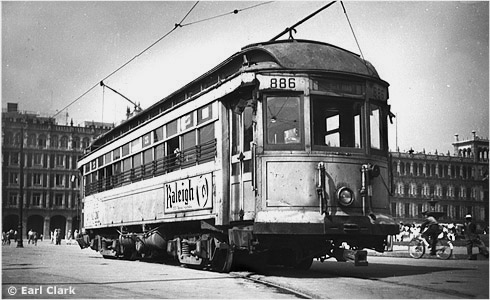 The Mexico City tramway system had a large fleet of "work" cars of every type and size. Single-truck freight motor 1301 was photographed at Indianilla yard [see map] in 1955 [Earl Clark]: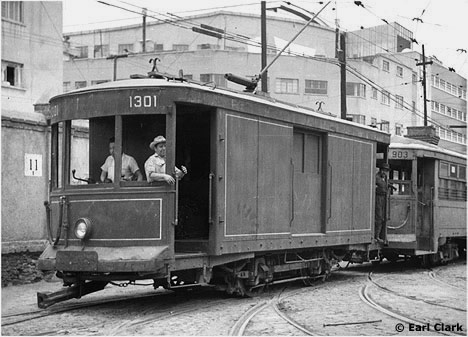 So much for the rolling stock in the 1950s [see also Part 4]. Abandonment of the tramway lines began in the 1930s. MTC closed its Granada route, the last animal-powered tramway in the Federal District, in 1932 [see Part 1 and milestones map]. In 1934 it closed the Tulyehualco line beyond San Gregorio and the gasoline-powered tramway from Azcapotzalco to Tlalnepantla [see area map]. More closures followed World War 2 [see Part 4].
Friction between the Canadian company and its Mexican employees had been festering since the 1920s and the latter finally struck for higher wages in February 1945. The government accused Mexico Tramways Company of poor service and broken contracts, confiscated its property and formed a new agency, Servicio de Transportes Urbanos y Suburbanos, to run the cars. The latter was reorganized as Servicio de Transportes Eléctricos in 1947 but MTC did not give up control completely until 25 January 1952. The Departamento del Distrito Federal finally purchased the assets of the Canadian company for 13,975,000 pesos and STE still operates the trams and trolleybuses in the Federal District today [see Part 4].
BIBLIOGRAPHY (in order of publication)

Mexico Tramways Company. Mechanical Department. Replacement Cost Estimate of Each Type Car to Include Entire New Equipment [sic]. Mexico City, 22/7/1922. Chart supplies financial data and fleet numbers of 573 trams of 48 types.
Mexico Tramways Company / Mexican Light & Power Company. Plan of Mexico City. México, 10/1923. Detailed street map with track layout of entire tramway system, including Tlalnepantla, La Venta and Tulyehualco lines.
[Mexico Tramways Company.] Recapitulation and Summary: Car Equipment Data. Mexico City, 26/11/1924. "Sheet Twelve" notes fleet number, builder, construction and reconstruction dates, measurements and data on trucks, brakes and electrical equipment of every tram in fleet.
"Front Entrance Center Exit Cars for Mexico City" in Brill Magazine (Philadelphia) 11/1924, pp. 205-207. Description, diagrams and photographs of the new model.
"Los Grandes Servicios Públicos de México" in Electra (México), 11/1925, pp. 28-29. Concise history with six interesting photographs and data on current tram fleet.
"Importantes Reformas en el Servicio de Tranvías" in Electra (México), 4/1927, pp. 18-22. Changes in routes and route names. Fare charts for suburban services, including Tulyehualco, La Venta, the Tlalnepantla gasoline line and the San Fernando horsecar
"Treinta Nuevos Carros de Pasajeros Serán Puestos en Servicio" in Electra (México), 4/1928, pp. 19-20. Nice article with text and diagram of the new Brill trams.
"Thirty More Cars for Mexico City" in Electric Railway Journal (New York), 12/5/1928, p. 795. Photo, diagram and stats of the last trams that Brill built for Mexico.
"Historia del Servicio de Tranvías" in Electra (México), 5/1929, pp. 4-5. Brief summary with two photos.
"En 37 Años, los Tranvías e México han Transportado a Cinco Generaciones" in Electra (México), 9/1929, pp. 6-7. Nice résumé with descriptions of the Tulyehualco, Coyoacán, La Venta, Ixtapalapa and Azcapotzalco lines.
Electra (México), 12/1930 pp. 9 & 16, and 1/1931 p. 16. Untitled news items about model trams built by employees. Source of the fifth photo above.
Compañía Mexicana de Luz y Fuerza Motriz / Compañía de Tranvías de México. Mapa de la Ciudad de México y Alrededores. Hoy y Ayer. México, 1932. Strange, stylized, distorted street map with Aztec symbols around the sides. Track detail of the tramway system, from Tlalnepantla to Xochimilco. (Original is no doubt in color; author has a black/white reduction.)
Guía América. Carta General de la Ciudad de México. México, 1933. Large street map shows tram routes from Mixcoac to Villa de Guadalupe.
Compañía Mexicana de Luz y Fuerza Motriz / Compañía de Tranvías de México. [No title.] México, [1935]. Unnamed, undated street map of Mexico City shows track detail for tram lines between Mixcoac and Villa de Guadalupe. Realistic; not stylized like the 1932 map above. Information seems to be from late 1935.
Jorge Joseph. "Los Tranvías en México: Su Historia y su Problema" in Hoy (México), 20/1/1945, pp. 62-66. Nice survey in news magazine - on the eve of nationalization. Eleven photographs from the Archivo Casasola.
T, Philip Terry. Terry's Guide to Mexico. Boston, 1947. "Tramways" section on pp. 530-532 lists 19 Urban Lines, 8 Suburban Lines and 8 Shuttle Lines.
"Death Toll in Trolley-Car Collision in Mexico Passes 60, With 90 Injured" in New York Times (New York), 23/2/1953, p. 1. Article and large photo of the disaster on the La Venta line.
Laurence Veysey, Raymond DeGroote, J. W. Higgins, Herman Rinke et al. "The Street Railways of Mexico City" in ERA Headlights (Hoboken, NJ), 5 and 6/ 1955. Superb survey with text, 18 photographs, 2 maps and a detailed car roster based on official company lists.
Glen D. Bottoms & Luis León Torrealba. "Mexico, D.F. Where Tramlines Are Still Being Built" in ERA Headlights (Hoboken, NJ), 7/1974, pp, 1-7. Nice article with 2-page map (showing tram and metro lines) and 13 excellent photographs.
Martin Jenkins. "The Tramways of Mexico. Part 1: Mexico City" in Modern Tramway (London), 7/1974, pp. 232-241. A major survey with map (showing tram, trolleybus, metro and railroad lines), charts and six photographs. Excellent detail on route development (and closures) and the car fleet.
Gabriel Esparza Velázquez, ed. Los 101 Años del Transporte Eléctrico en la ciudad de México. México, 2001.
Joel Álvarez de la Borda, Javier Lazarín Guillén & David Luvín Guzmán Pérez. Ciento un años de Transporte Eléctrico en la Ciudad de México. Index page of the Internet version of the printed text above: 12 chapters, dozens of pages, maps, photographs and other illustrations.
Manuel Aguirre Botello. Los Tranvías de la Ciudad de México, 1850-1971. This website - under construction - will provide a complete survey of tramway development in Mexico City. The map of the Rutas de Tranvía de la Ciudad de México, 1930-1950 is an extraordinary document. Pass the cursor over a route name on the list and the route lights up!
Go to
Part 1: Animals, Steam and Gasoline
Part 2: Early Electrics
Part 4: The STE in Color
Return to

INTRODUCTION & INDEX MAP