The Mechanically-Powered Tramways of
Alamo, Campeche, Guanajuato, Matamoros, Mazatlán, Monclova, Querétaro, Tlaxcala, Toluca, Villahermosa and Xalapa
BY
Allen Morrison
Mexico had tramways in about 1,000 towns. Most of the vehicles were drawn by horses or mules, but some were pulled by small locomotives - and others acquired gasoline motors in the 1920s and 30s. This page presents a sampling of Mexico's mechanically-powered tramway lines. Order is alphabetical and the choices are random. Criteria were variety of operation and quality of illustration. There are separate pages on the animal-powered lines and the tramways of Celaya and Yucatán. For the electric systems see the map on the title page.
The first illustration shows a tramway (of sorts) that may not even exist. An electric line does not belong here, but since it is unidentified there is no other place to put it. This is the cover of a publication that provided a lot of information for this study [col. AM]: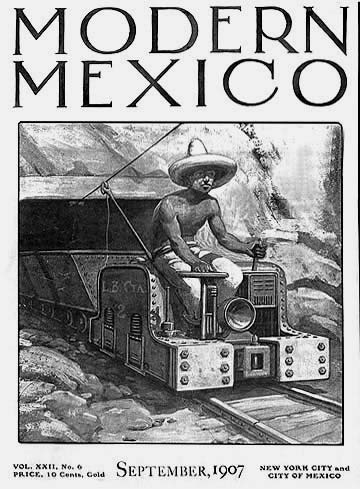 Alamo
is a small town in Veracruz state, near the coastal city of Tuxpan. The Penn Mexican Fuel Company operated a 762 mm gauge railroad between the oil fields near Alamo and the docks at Zapotal. Length was 22 km. PMFC's line was not a tramway in the usual sense, but its passenger service was more primitive than that offered by many tram lines. The locomotive was built by H. K. Porter in Pittsburgh. Note the umbrella [postcard, col. AM]: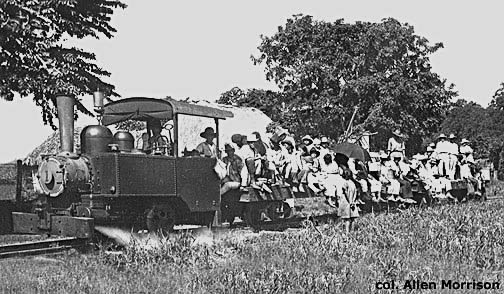 The postcard below shows diesel power in a later period. According to its caption, this is Av. Independencia in Alamo [col. AM]: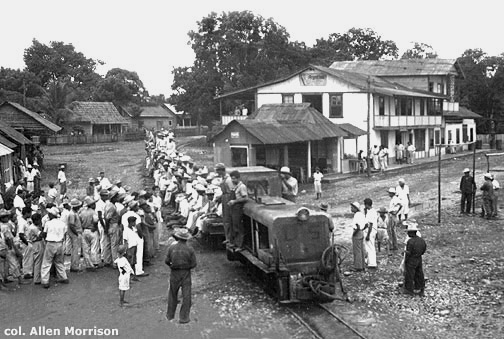 Campeche
is the capital of Campeche state on the Yucatán peninsula in eastern Mexico. The city had a local tram system and was also the focus of several interurban lines. A 4 km animal tramway which opened from Campeche to Lerma in 1882 was the first railway of any kind in Campeche state. The gasoline-powered car below is lettered "TRANVIA DONDE". Sebastián Dondé was Campeche's chief tramway entrepreneur. Location is unknown [postcard, col. AM]: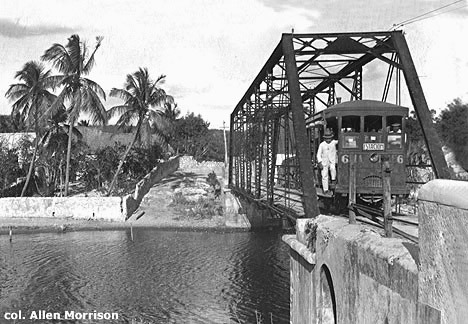 Guanajuato
is the capital of the state of the same name, in the geographical center of Mexico. Guanajuato had several tramway companies, which used both animal and gasoline power. The photograph below shows the inauguration of a drainage tunnel on 15 September 1910 by Mexican President Porfirio Díaz. Tracks were laid in the tunnel for use just that day; this was not a normal tramway route. It is not clear how these vehicles were powered [col. AM]: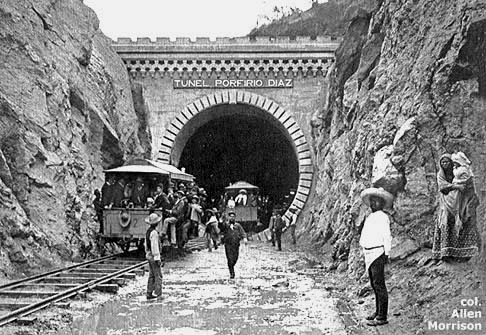 Matamoros
is on the Rio Grande - called Río Bravo in Mexico - in the northeast corner of Tamaulipas state. The city of Brownsville, Texas, lies across the river and a standard-gauge tramway from Matamoros to the ferry terminal at Santa Cruz opened in 1873. The Ferrocarril Urbano de Matamoros y Santa Cruz planned to electrify the line in 1908 and extend it over a bridge to the U.S.A., but the international tramway never happened. (See pages on international tramways in Nuevo Laredo and Ciudad Juárez.) FUMSC tried petrol power in the 1920s [postcard, col. AM]: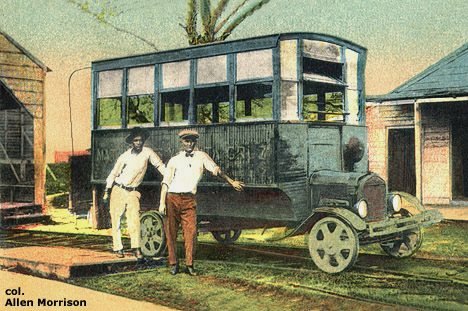 Here is a later view of the same tram shed at Santa Cruz, viewed from another direction. There is a later vehicle inside. The waiting area on the left leads to the ferry terminal behind. Operation continued until about 1940 [postcard, col. AM]: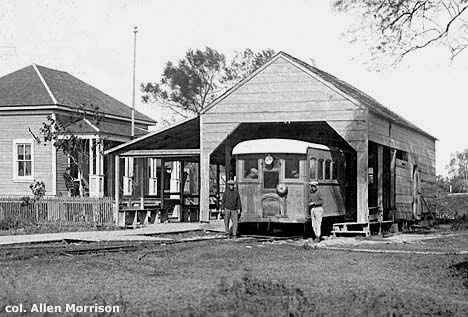 Mazatlán
is a busy port and vacation resort in Sinaloa state, on the Pacific Ocean. Mazatlán boasts that its beach is 26 km long. The Ferrocarril Urbano de Mazatlán built one of Mexico's first street railways in 1876, and had 6 km of 3 ft gauge track by 1905. Small steam locomotives replaced some of its mules in 1908. But the system closed in 1913, another victim of the Revolution [col. Juan Viladrosa]: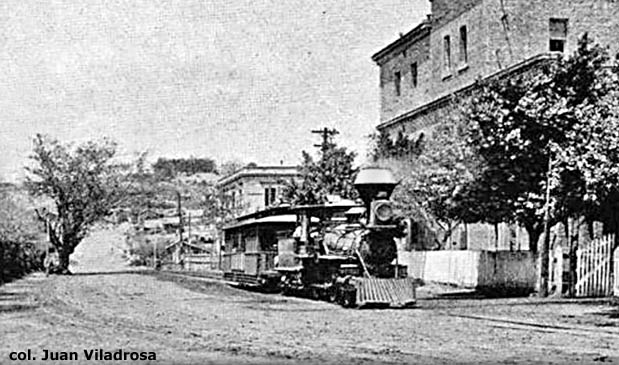 Monclova
is the third-largest city in Coahuila state, after Saltillo and Torreón, in northern Mexico. Monclova is about 100 km north of Monterrey (in Nuevo León state). Not much is known about its tramway operations, although in the period 1898-1907 the Compañía de Tranvías de Monclova ordered several passenger and freight cars from J. G. Brill Co. in Philadelphia. The gasoline-powered tram shown on this postcard was photographed in the suburb of Villa Frontera. Hotel América in the background had rooms starting at $1 that had both cold and hot running water [col. Christopher Walker]: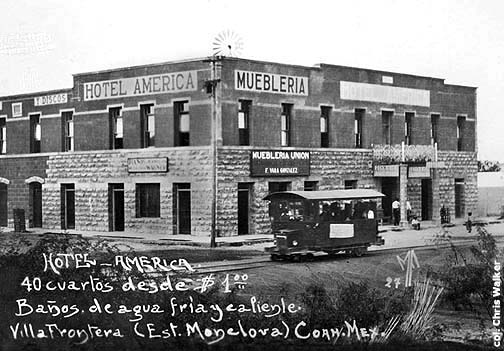 Querétaro
is the capital of the state of the same name, about 200 km northwest of Mexico City. It is an historic city that was assigned "World Heritage" status by UNESCO in 1996. Tranvías de Querétaro began operation in 1883, with cars from John Stephenson in New York. J. G. Brill Co. in Philadelphia sent more vehicles in 1903. Some of them, like tram 6 below, were later outfitted with gasoline motors for use on the 11 km suburban line to Pueblito. The tramway closed in 1936 [col. Manuel Aguirre Botello]: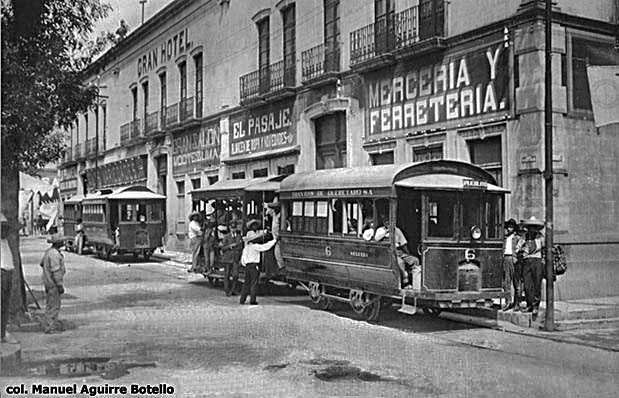 Tlaxcala
is the capital of Tlaxcala state, Mexico's smallest. Despite its strategic location between Mexico City and Puebla, Tlaxcala was never reached by steam railroad. The Apizaco-Puebla branch of the Mexicano reached nearby Santa Ana in 1869, and a standard-gauge, 8.5 km mule tramway opened from Santa Ana to Tlaxcala in 1882. In 1910 the line was sold to the Mexicano, which replaced mule power with gasoline. The tramway closed in 1942. The illustration below was copied from a place mat found in a Tlaxcala restaurant [col. AM]: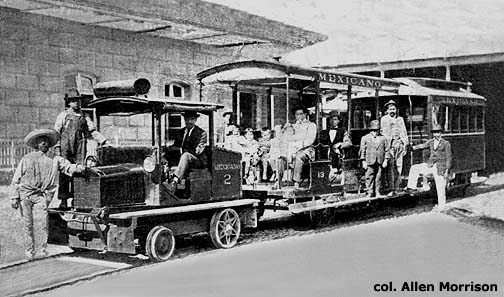 Toluca
is the capital of México state, which surrounds the Distrito Federal on the west, north and east. It is 64 km west of Mexico City and was the intended destination in 1909 of one of its interurban lines, which got only as far as La Venta [see Part 2 in Mexico City section]. Toluca opened a 914 mm gauge horsecar system in 1882 and built a 16 km extension west to Zinacantepec and San Juan de Las Huertas in 1884. The photograph below shows a gasoline-powered vehicle on this line in February 1938. Toluca's last streetcar ran in 1946 [Charles V. Hess]: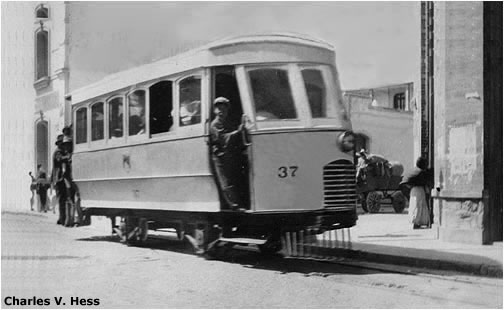 Villahermosa
is the capital of Tabasco state. The city was called San Juan Bautista until 1916. Tranvías Tabasqueños opened a 914 mm gauge tramway in 1887 and the Ferrocarril Urbano de San Juan Bautista opened a 750 mm gauge line in 1893. TT introduced gasoline trams in 1918. According to the caption on this postcard, this gasoline tram is coming down Calle de la Constitución. Note the half-buried rails in the foreground [col. AM]: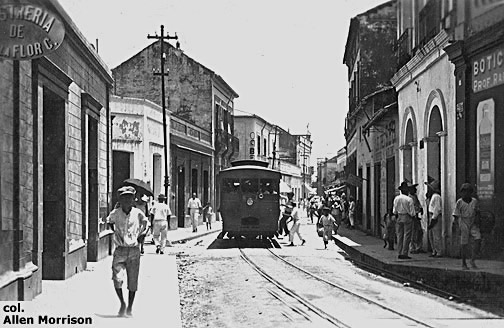 Xalapa
is the capital of Veracruz state. (The city's name is sometimes written Jalapa; the official, correct spelling today is Xalapa.) In addition to its local tram system, Xalapa was the terminus of the 114 km horsecar line from Veracruz, the world's longest, which opened in 1875. Xalapa built another interurban tramway, 12 km long, to Coatepec in 1877. In 1895 Jalapa Railroad & Power Co. of New Jersey projected a 76 km electric railway from Xalapa to Córdoba - which, if built, would have been the first electric railroad in Mexico. Steam locomotives opened the first 18.6 km of the line, as far as Teocelo, in 1898. The railway was never electrified and never reached Córdoba. Gas railcars replaced the locomotives in 1926 and service ended in 1945. Ferrocarril Jalapa-Teocelo 3 posed for the postcard below [col. AM]: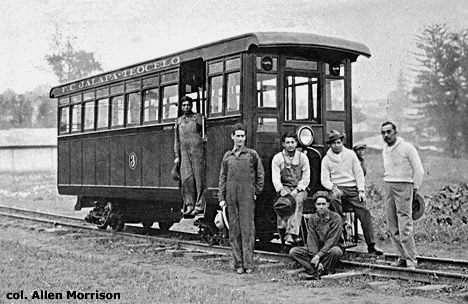 Most of the data in the descriptions above came from the following documents published by the Mexican government:
Secretaría de Fomento, Colonización e Industria. Anuario Estadístico de la República Mexicana, 1893-1907. Mexico City, 1894-1912. Annual inventories of "Ferrocarriles urbanos" and "Ferrocarriles foráneos" report the motive power, track gauge and length of Mexico's tramway systems.
Secretaria de Comunicaciones y Obras Públicas. Departamento de Comunicaciones Terrestres. Estadística de Ferrocarriles y Tranvías de Concesión Federal, 1922-1934. Mexico City, 1926-1935. Continuation of the survey above - but only of lines with federal franchises, i.e., intercity lines. No tramway surveys were conducted between 1907 and 1922.
see page on
Animal-Powered Tramways
return to
INTRODUCTION & INDEX MAP
Copyright © 2003 Allen Morrison - ALL RIGHTS RESERVED